Located on a narrow plot of land facing Seattle's Puget Sound, the Elliott Bay House offers breathtaking views of both the sound and the Olympic Mountains. Designed by FINNE Architects, the "crafted modernism" residence features a dramatic roof line as it reaches out towards the water views.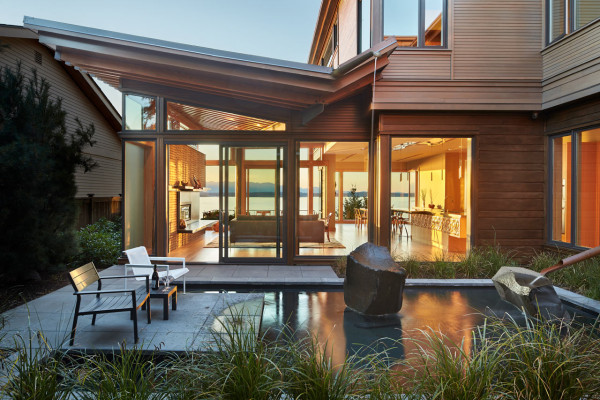 The house wraps itself around a reflecting pool within a south-facing courtyard. "Floating" within the pool are two basalt boulders. The pool not only offers a sense of serenity, it gathers all of the home's roof drainage from a 10 foot waterfall that's created via a downspout on the roof.
The living room offers the spectacular views along with its own dramatic feature on the ceiling – exposed wood beams. Floor-to-ceiling windows draw your eyes to the outside framing various scenes.
The home is sustainable and highly energy efficient by being insulated 40% higher than code. A radiant hydronic heat system facilitates lower operating temperatures with higher comfort levels.
The kitchen has beech cabinets with a topographic CNC-milled pattern that looks like rippling water.
The wood and steel stairs were completed with water jet-cut steel railings that are based on a pattern of hand-drawn brush strokes.
Photos by Benjamin Benschneider.

Design From Around The Web