Coates Design, working with Smallwood Design & Construction, completed the Ellis Residence (located on Bainbridge Island) in 2009. It is the first LEED Platinum single family home in the state of Washington outside of Seattle.
Some of the home's green features include a green roof, photovoltaic array, geothermal heating, and rainwater harvesting.
From the architects:
Certified by the United States Green Building Council with its highest rating, LEED Platinum, this project exemplifies the latest in green building and sustainable design techniques. Perched high upon Yeomalt Bluff, this home enjoys a commanding 180 degree view of the Puget Sound and Seattle. It features a 70% energy use reduction compared to an average North American home through the use of geothermal heat, photovoltaic energy collection, solar hot water, thermal massing, and heat-recovery technologies. Key features include: rain water collection cisterns, radiant floor heating, site-milled wood trim, triple-glazed windows and a vegetated roof.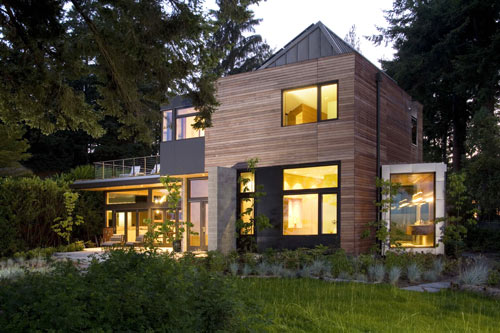 Photos by Coates Design.

Design From Around The Web