The new body of work by Philadelphia-based artist Matthew Cox is hauntingly beautiful, each with the contrast of the stark, ghostly x-rays and the familiar characters and body parts — sewn with colorful embroidery thread.
The contrast of decorative and technical come together through what Cox says is the "redefinition of materials," each having beauty and purpose on their own and then deciding to "lay one over the other." Each piece is richly textured and shows an amazing level of depth and dimension, almost as if the x-ray is coming to life.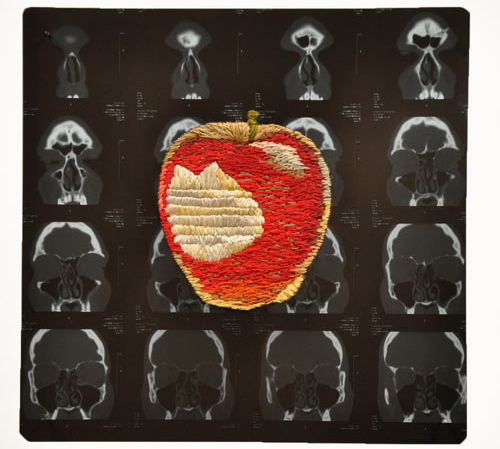 His recent foray into the use of iconic figures came from having chest x-rays with pronounced hearts exposed, which led to what he calls the "Heartthrobs" series – Snow White, David Bowie, Miss Piggy, and Olive Oyl. He sees his work evolving into the use of Eastern religious avatars and Greek mythological figures.
Matthew Cox is represented by Jonathan Ferrara Gallery, Pentimenti Gallery and Packer/Schopf Gallery.