All season long I've been waiting for cooler temperatures to arrive in Southern California and what happens when they finally do? I'm thinking about taking a vacation to warmer climates, but that's only because I came across the new Beach and Jungle suites at the award-winning Hotel Esencia, a luxury boutique hotel where you can enjoy art and design in complete rest & relaxation. The hotel had acquired more than 10 acres for its beach-front property in Tulum, Mexico, along the Xpu Ha beach, making room for six new Beach Suites and five new Jungle suites to be added to the hotel's 29 existing bedrooms and suites.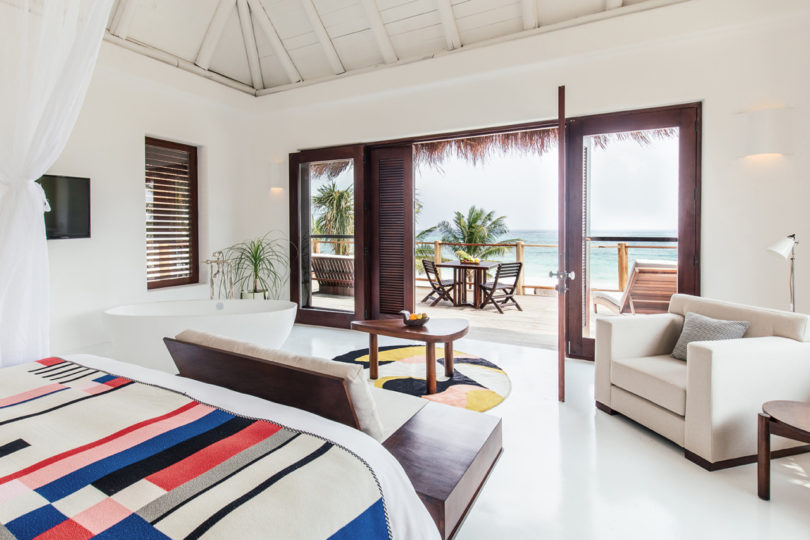 The Beach Suites are named for their unobstructed sea views and located directly on the sand, while the Jungle Suites overlook the hotel's lush, tropical gardens. Both types of suites are made for you to instantly relax and unwind upon entering with king size bedrooms, a double bathtub positioned right in front of the sea, and in-room sound and smart TV systems when you're sick of the view (not sure when that'll be though). The light and airy rooms also feature custom furnishings and artworks by local Mexican artisans, custom fabrics and a collection of art and design books for you to peruse in leisure.
The room's white-washed aesthetic continues into the bathroom where you can choose between an indoor or outdoor shower. Wood accents help to break up the space and the double sink gives you all the space you need to get ready.
The suites at the Hotel Esencia are also furnished with art, antiques and collectibles, including traditional mid-century furnishings and works by Pablo Picasso, Le Corbusier, Pierre Jeanneret, and Serge Mouille.
The hotel is also welcoming a new destination restaurant overseen by Dimitris Ktrivesis who will be creating fusion of Peruvian and Japanese cuisine using fresh ingredients from Mexico's Yucatan peninsula. Chef Demitris is an alumnus of the Michelin-starred El Bulli restaurant in Spain and the chef behind Mistrura in Mkykonos, La Pantera Negra in Athens and Anahi in Paris.
What: Hotel Esencia
Where: Carretera Cancun-Tulum Predio Rustico Xpu-Ha lotes 18 y 19, Calica, 77710 Playa del Carmen, Q.R., Mexico
How much? Rooms start at approximately $532 per night.
Highlights: Beach Suites with unobstructed sea views and located directly on the sand, and Jungle Suites that overlook the hotel's lush, tropical gardens.
Design draw: Light and airy rooms that feature custom furnishings and artworks by local Mexican artisans, custom fabrics and a collection of art and design books.
Book it: Visit Hotel Esencia's website

Design From Around The Web