With spectacular views of Ibiza's west coast, Villa Terramar is a vacation home like no other. The ultra-modern, two-building residence is split over several floor-like layers and sits within the natural habitat that surrounds it over the beach of Cala Tarida. With a quirky and super fun color palette, the unusual design, by Andres Jaque Architects, forms to the sloping lot it's nestled into. For this month's Destination Design, we explore the colorful wonderland that is Villa Terramar, which we originally discovered back in 2010.
This house looks like the kind of house you'll want to bring a bunch of friends along with to party and relax with all week long. Luckily, the place sleeps eight within its four bedrooms.
There are multiple outdoor spaces for relaxing so you can lay back and peep the sandy beaches in the not-so-far distance. If you'd rather stay inside, there are floor-to-ceiling glass windows for gazing from the interior.
All of the glass blurs the division between outdoors and in so guests feel like they're living in the natural surroundings.
There are two pools, one infinity pool that sits right off the main living room and kitchen areas, while the other, smaller one is below the main house.
The interiors keep the same color scheme as the exterior – the floors, walls, and ceilings are all the eye-catching aqua. It definitely gives off the beach house vibe, doesn't it?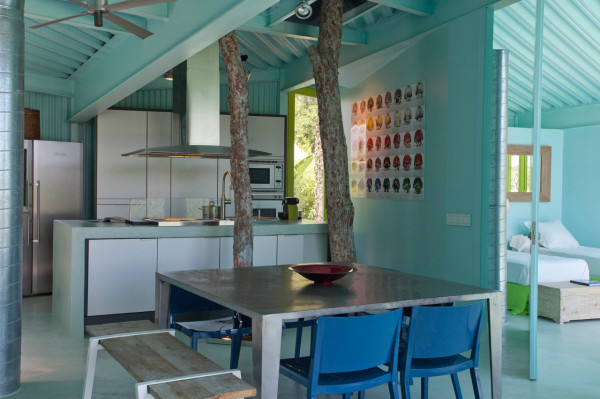 No matter what bedroom you're in, you have similar, drool-worthy views.
I love how they didn't disrupt the landscape too much because they kept the original trees and built the house around them.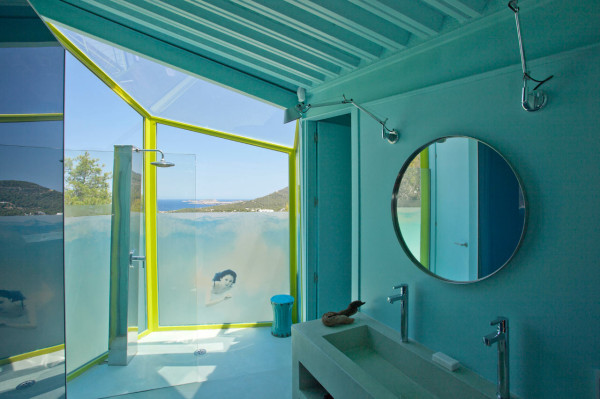 What: Villa Terramar
Where: Ibiza, Spain
How much? Entire home from €430 a night or €3010 a week
Highlights: Plenty of space for your family or group of friends with stunning views over Ibiza's west coast and two pools to lounge by.
Design draw: A quirky and colorful villa with a completely unique design that you'll never forget.
Book it: Go here to book it.
Go virtually on vacation with more design destinations right here.