Escape to Mexico to Minimalist Luxury at Villa Tulum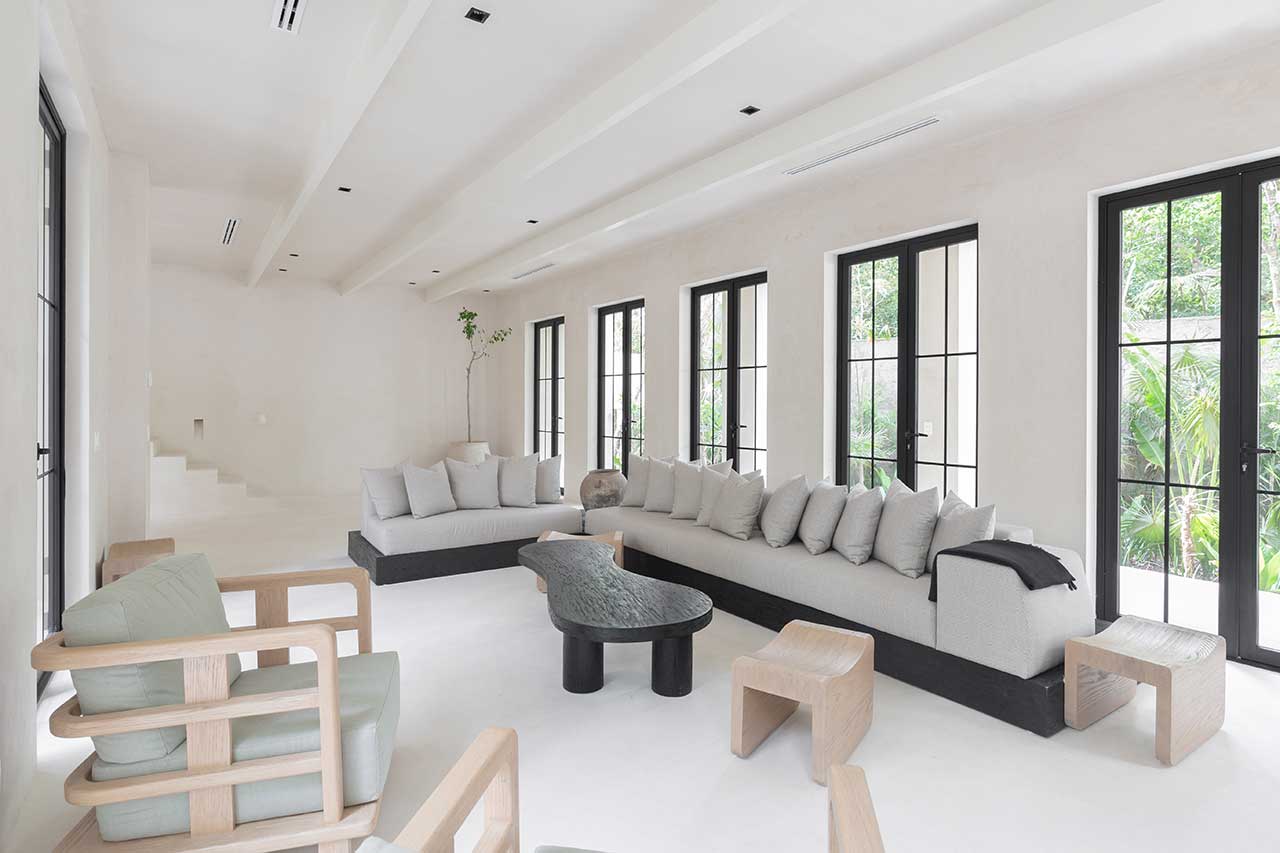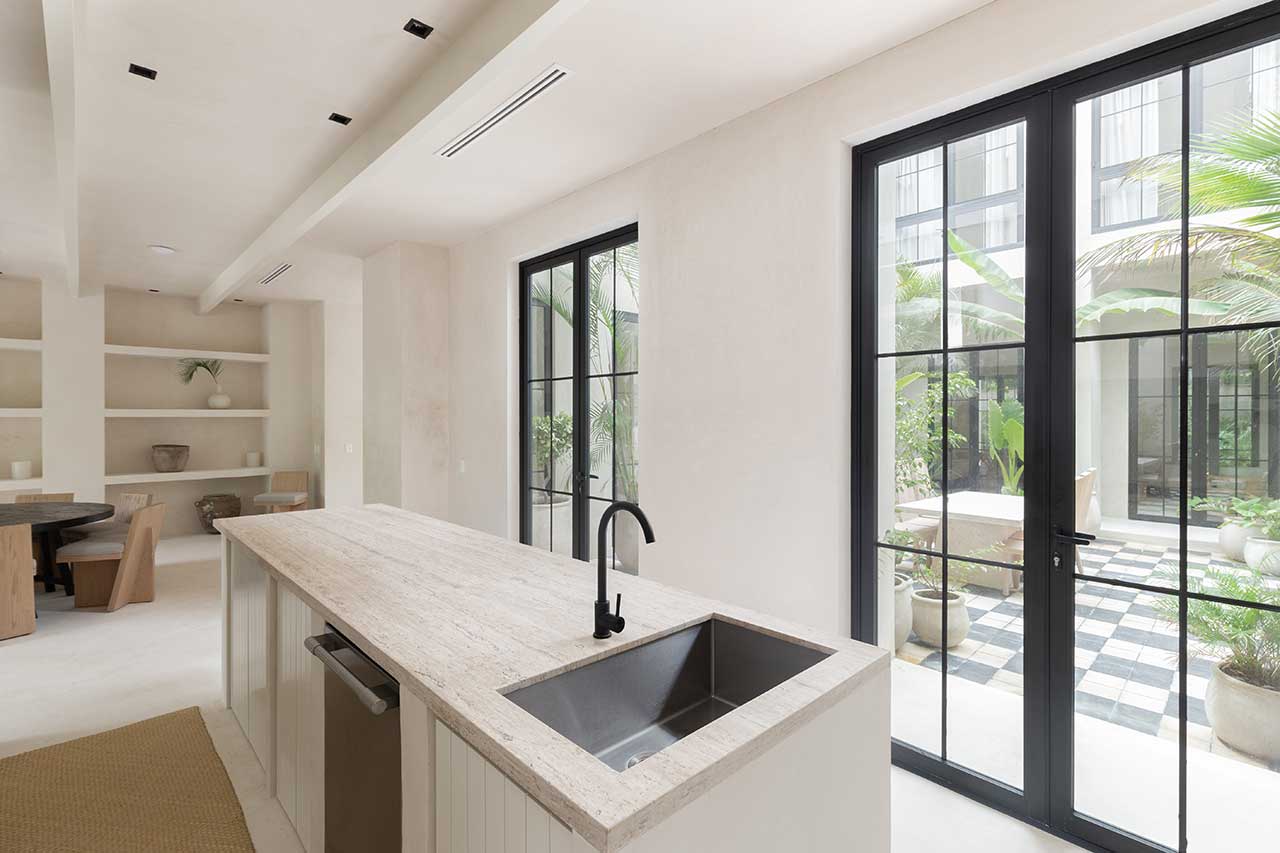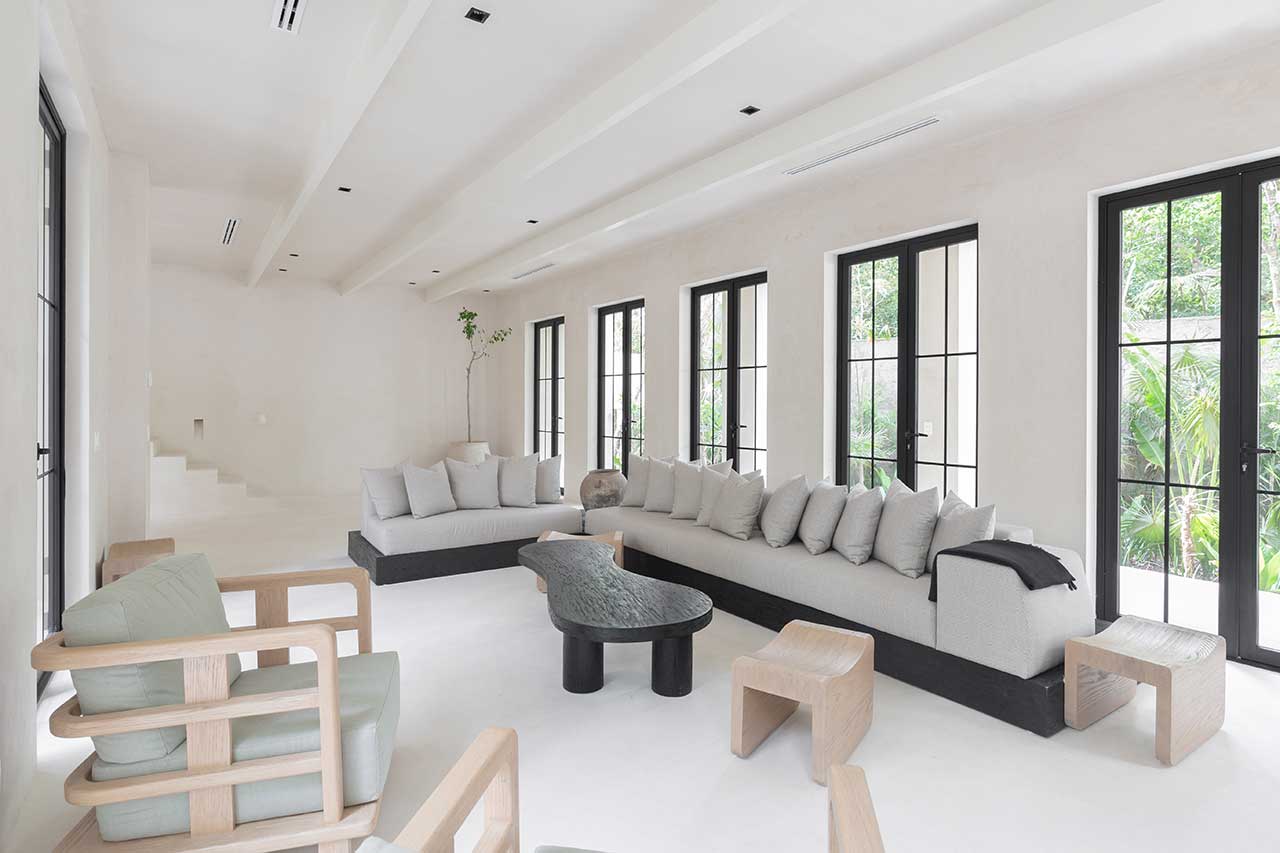 Escape to Mexico to Minimalist Luxury at Villa Tulum
1/35 Photos
2/35 Photos
3/35 Photos
4/35 Photos
5/35 Photos
6/35 Photos
7/35 Photos
8/35 Photos
9/35 Photos
10/35 Photos
11/35 Photos
12/35 Photos
13/35 Photos
14/35 Photos
15/35 Photos
16/35 Photos
17/35 Photos
18/35 Photos
19/35 Photos
20/35 Photos
21/35 Photos
22/35 Photos
23/35 Photos
24/35 Photos
25/35 Photos
26/35 Photos
27/35 Photos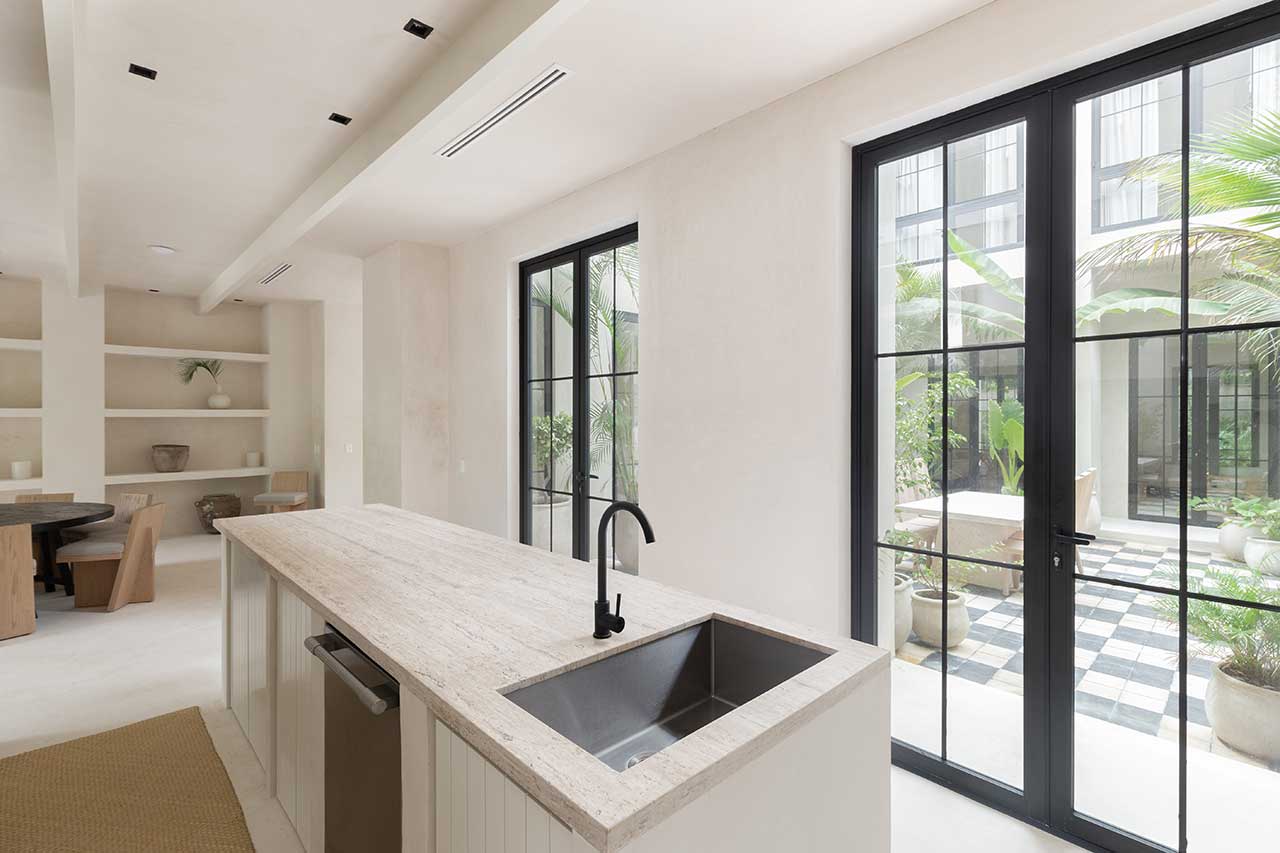 28/35 Photos
29/35 Photos
30/35 Photos
31/35 Photos
32/35 Photos
33/35 Photos
34/35 Photos
35/35 Photos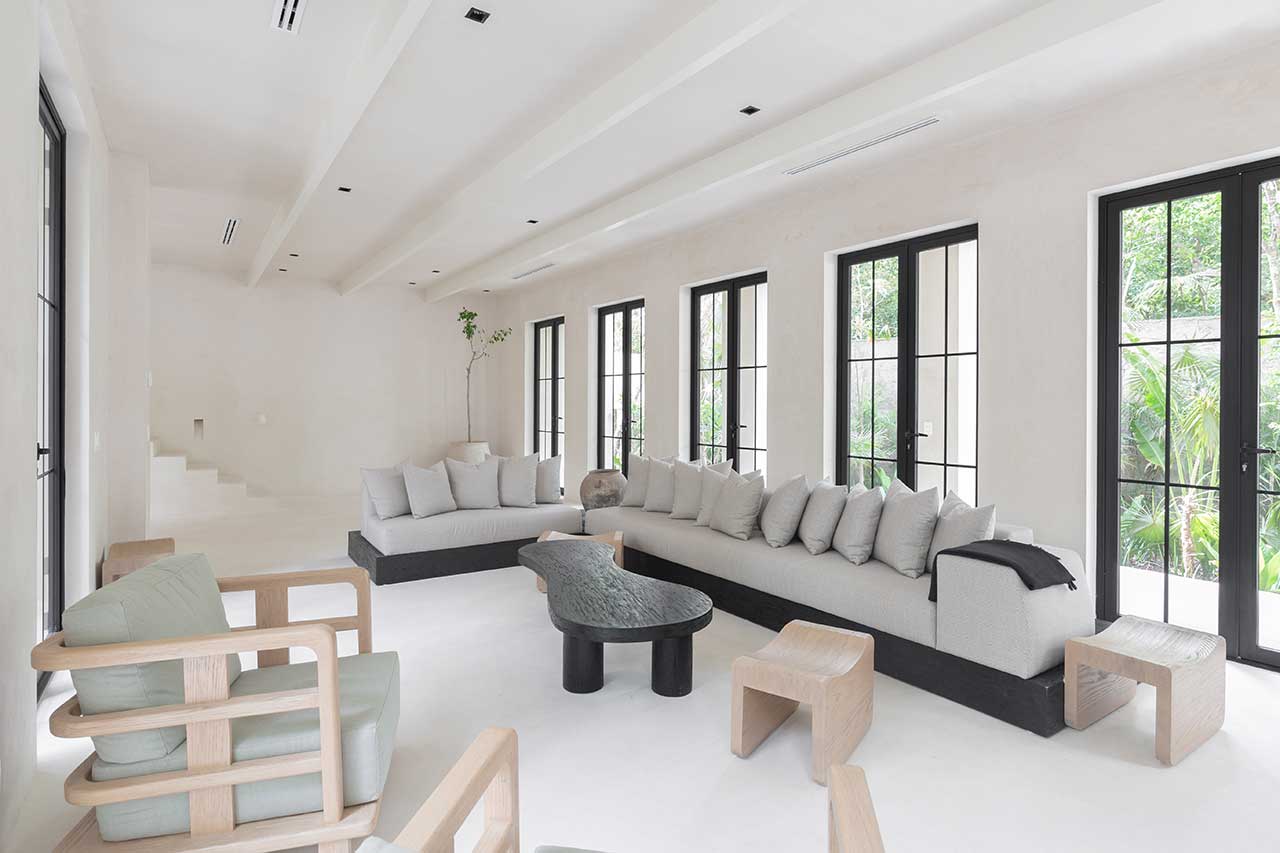 If you're ready to pack your bags and get away, you might want to check out Tulum, Mexico, and this rental that exudes minimalist luxury and maximum relaxation. Located in Aldea Zama, Villa Tulum is a few short minutes away from the heart of Tulum and the beaches making it perfect for those who want privacy without complete seclusion. The modern interior begins with white walls, floors and ceilings that create a calm, soothing backdrop. Black framed windows punctuate the white walls, while the furnishings boast clean lines and neutral hues for an elegant yet comfortable vacation retreat.
The living spaces are stripped of extraneous details making the villa feel open and casual but it's clear all the design elements were well thought out. Lots of windows and matching doors allow natural light through while framing views of the tropical greenery outside.
Built-in shelving provides plenty of storage space in the kitchen and dining room for both necessities and decorative objects.
Wooden objects and textured materials warm the interior spaces as not to feel stark.
The bedrooms are furnished with just the basics with each being outfitted with a platform bed and single lounge chair.
One of the coolest features are the pair of outdoor soaking tubs. They're attached to the exterior with plants surrounding them for privacy and relaxation.
The pièce de résistance is the massive rooftop deck complete with multiple seating areas and dining spaces, along with a pool that will make visitors feel like they're swimming on the treetops.
Villa Tulum spans almost 7,000 square feet and sleeps 8-10 people, and included in its price is daily housekeeper and concierge services. Before rushing off to book it, you should know it does come at the steep price of €1,901 and up per night. That's roughly $2,252 a night, so you might want to grab nine of your favorite people to share it with! It looks worth it though, doesn't it?
The pool deck is the perfect spot for watching sunsets every day.
For more information on Villa Tulum, visit welcomebeyond.com.
Welcome Beyond is a stylish alternative to the sea of mainstream hotel booking websites. Founded by Oliver and Chris Laugsch, two brothers from Germany who have based their small, but expanding company in Berlin, the site features a thoughtfully curated selection of small hotels and vacation rentals currently available in 38 countries around the world. Many of these hand-picked properties are truly original in their style and reflect their owners' passion for distinctive architecture and design. What all their properties have in common is that they're exclusive — in the best sense of the word. Each is singular, memorable and definitely worth writing home about. With close to 300 properties, this is the perfect opportunity for those design-minded travelers on the hunt for unique places to stay. Explore Welcome Beyond vacation listings HERE.
This post contains affiliate links, so if you make a purchase from an affiliate link, we earn a commission. Thanks for supporting Design Milk!