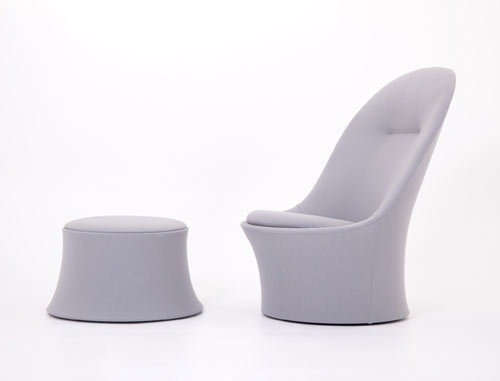 Eva, Anderssen & Voll's first major launch, will be presented at 100% Norway during 100% Design in London.
Eva was designed for Juvet Landskapshotell in Norway, a hotel designed by Jensen & Skodvin that is a part of the Norwegian National Tourist Routes Project. The hotel was recently awarded "Best small hotel" in Travel + Leisure Magazine Design Awards 2010 and offers a unique experience of the relationship between people, architecture and nature.
According to the designers, Eva draws inspiration from this sensation of dwelling at the forest floor amongst mossy rocks, ferns and tree trunks. It also draws inspiration from Norwegian folkloristic archetypes — monoblock chairs carved from solid logs. The chairs and the ottoman together aim to mimic the compositions of nature rather than nature itself. The products join traditional construction in wood and modern textile technology, and the designers worked with Innofa in Tilburg NL to develop a special knitted wool textile that stretches and contracts when you tilt the chair. The Eva series is being made by Norwegian company LK Hjelle.
Photos by Hjelle.

Design From Around The Web