Richard Clarkson Studio launched a new collection of homewares called Executive Objects that are made for the tabletop. The items in the collection follow a manifesto that stems from the studio's design style and ideology, stating that each object must be:
1) minimal in style
2) geometric in form
3) honest in material
4) elegant in simplicity
5) sculptural to the core.
Check out this slightly meditative video to witness the attention to the tiniest of details:
Bloc is an unassuming brass square that opens bottles or can sit elegantly on your desk as a paperweight as it weighs about 15 oz (ideal for popping open a cold bottle at the end of the day).
Spoke is a flat pack fruit bowl that resembles a bike wheel as its design was inspired by the spoke-hub mechanism.
Poise is a self-balancing cement + brass candlestick holder that is both strong yet delicate when paired with a long candle, like a dancer en pointe.
Nodes are brass wall-hooks that can be installed independently or in multiple configurations (in rows, lines, asymmetric clusters) to fit what you choose to hang on your wall, like an art gallery.
Last but not least, Lean is a bookend that clamps to tabletops and only locks into place once books are leaned against it.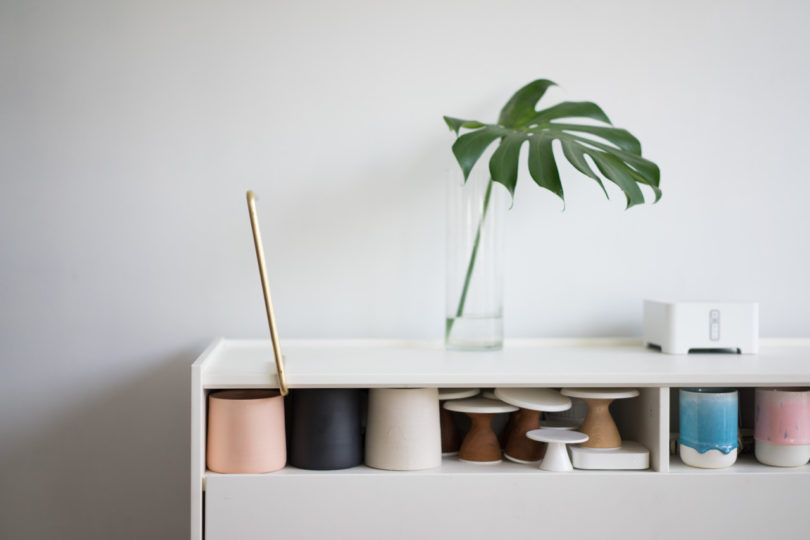 To purchase an item from the collection or to learn more, visit Richard Clarkson.

Design From Around The Web