A small, one-story house in North Madrid becomes a totally custom-made experiment by PKMN architectures for a woman named Yolanda. The home once belonged to her grandmother, and now Yolanda has moved back into a house where nothing stands still and things change, just like people and our needs.
Take a look: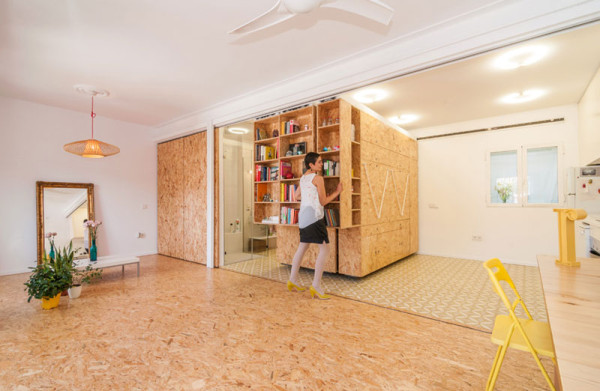 Each of the custom structures moves, as needed, throughout the day – the bed disappears after she wakes up. After coffee in the kitchen, things move to reveal the shower.
For a mid-morning appointment, a casual sitting area with a display of books is featured.
A large dining table folds down so she can entertain guests.
The pods can be pushed together or separated, depending on her needs, each on a simple industrial railing system. On the ends of each is a bookshelf for extra storage space.
The three separate pods allow for a multitude of uses where normally these functions would be placed in different rooms. Now, everything is housed in conveniently moving sections.
Check out all the items that can be stored away in each section:
Photos by Javier de Paz García.

Design From Around The Web