Have you noticed a shift in interior design trends in the past few years? With home prices hitting record highs, owning an affordable place might mean settling for something smaller than your dream home. This means that when designing a home, homeowners and interior designers need to get a little creative to maximize spaces and make them multi-functional.
Laundry Moves Beyond the Basement
For example, laundry rooms are being moved from traditional areas like the basement or garage to be closer to the master bedroom or living space, making them more accessible and more visible to houseguests.
When every inch of a small home matters, choosing the right accessories and fixtures is important. BLANCO, a leading German manufacturer of sinks and faucets, was inspired to design a series of sinks that would fit multi-functional spaces without sacrificing style. The LIVEN™, for example, is a compact laundry sink that is extra deep; making it perfect for soaking garments and tackling any deep cleaning jobs (your dry cleaner is going to miss you). With additional accessories that fit over your sink, like a stainless steel basket, you are able to keep your cleaning tools nearby and free up space. The LIVEN™ sink, crafted of BLANCO's patented SILGRANIT® material, is heat- and chip-resistant and comes in a multitude of colors; making it durable enough for constant use and stylish enough to fit into your home's design.
Maximizing Small Spaces
For smaller homes, the PRECIS™ sink is the ideal choice because its compact size (it comes in 24" and 27", among other sizes) and undermount detail is made to maximize space. BLANCO takes it to the next level by designing a Floating Grid, a convenient rack that's perfectly sized to sit approximately 4-5" off the PRECIS sink bottom. This gives you a second surface to prep and clean when you don't have time to get to the dirty dishes already in the sink (and perfect for messy cooks like me who don't clean as they go while cooking). This second sink level can also act as a trivet to free up even more counter space. With the PRECIS, your sink works harder for you, as it now becomes a cleaning and prepping station.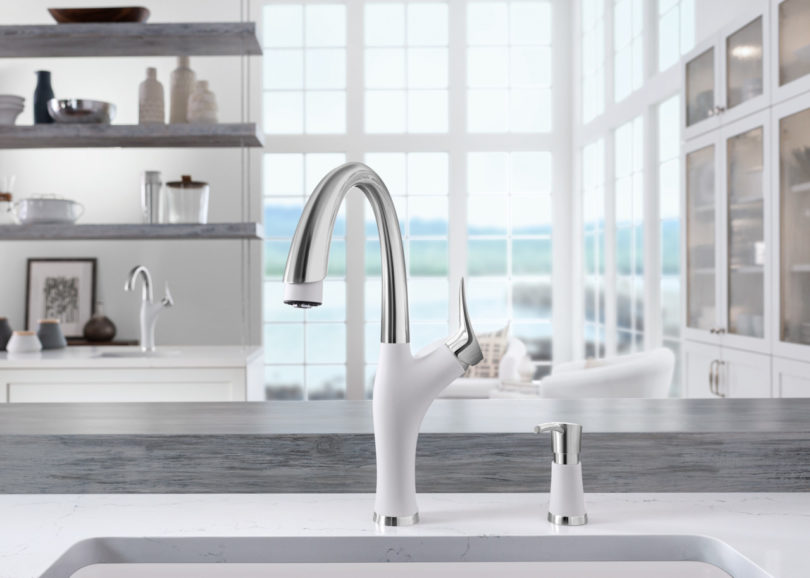 Open Concept Living Areas
In today's homes, rooms are more exposed with the concept of open space living being widely embraced. With smaller homes, the investment of knocking down walls helps create wider, more inclusive spaces that make the house feel bigger and more open. However, since the living room is now just a glance away from the kitchen, it's important for homeowners and interior designers to have a variety of options in materials and colors so that one room doesn't clash with another. Choosing a faucet finish that fits in with the living area a few steps away has become an important detail when designing a space. BLANCO considers the ARTONA™ a "livable" kitchen faucet because of its organic style and ability to coordinate with their eight SILGRANIT® colors that are universally complementary with any living room, no matter its style or aesthetic.
So the next time you're redesigning or renovating a room, stop to consider how you currently use it and open your mind to how you can adapt it for different uses. With BLANCO, the possibilities are endless in creating versatile, multi-functional rooms that you'll enjoy using for years to come. To learn more about BLANCO's extensive selection of faucets and sinks, visit blancoamerica.com.