London-based studio Extra&ordinary Design and Madrid-based artist Eileen Ng collaborated on the handmade Teumsae vase series that was inspired by plants pushing their way up through cracks in the pavement. Extra&ordinary Design created the Jesmonite vases, while Eileen Ng crafted all of the handmade paper flowers that both complement the forms and colors of each of the vases they're paired with. The decorative floral displays come in five variations, each offering new ways to showcase the paper flowers, proving that a vase doesn't have to only be the typical tall tabletop design.
Teumsae on wall is a set of four units that mimic plants growing through gaps in stone fences. They're shown with Ng's flowers that are fluid in form to balance the lines of the vases.
Teumsae on wall also comes in a singular version that can be mounted at three different angles to create a mix of flower arrangements. Ng's flowers bring a softness to the angular vase as they sprout from the split opening.
Teumsae on wall is also available in a standing version that rests at a 30 degree angle with the paper stems emerging up and out into the air.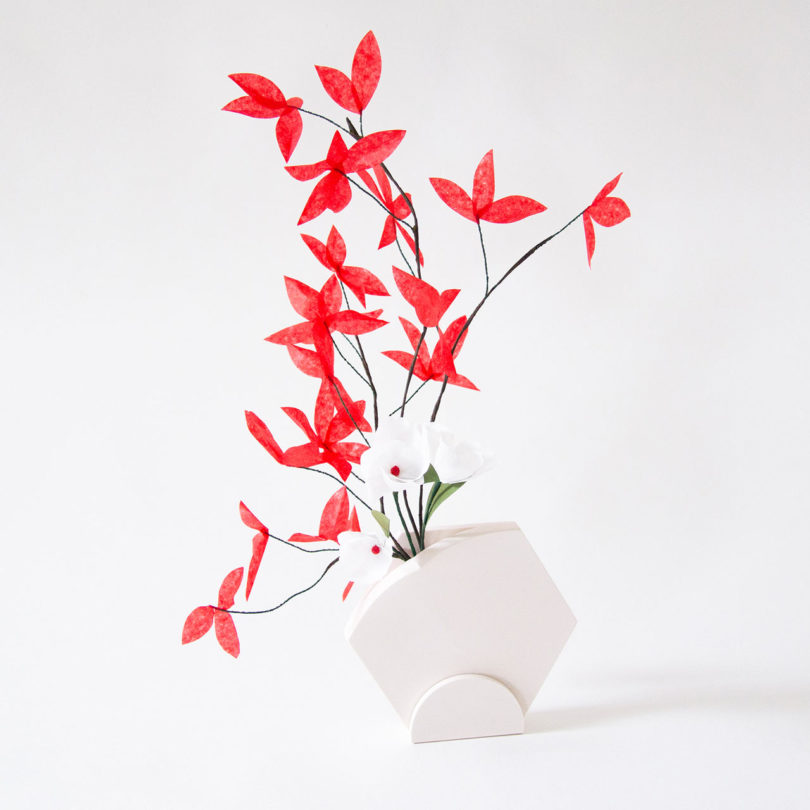 Teumsae in layers comprises three components in varying sizes and depths that are arranged and layered for playful visual interest. The lightly toned flowers softly rise above the gentle curves of the layers for a delicate result.
And lastly, Teumsae on table includes three vases that range in height with each featuring a four-way split allowing foliage to escape through the top. Ng made wild foliage pieces that rest at different angles and heights for a playful and unruly contrast to the fixed, solid feel of the vase.
The Teumsae vase series is available through Extra&ordinary Design here.

Design From Around The Web