F5: Reetika Vijay Shares Her Culture, a Daily Wind-Down Routine + More
F5: Reetika Vijay Shares Her Culture, a Daily Wind-Down Routine + More
1/11 Photos
2/11 Photos
3/11 Photos
4/11 Photos
5/11 Photos
6/11 Photos
7/11 Photos
8/11 Photos
9/11 Photos
10/11 Photos
11/11 Photos
Reetika Vijay is the Managing Principal for IA Interior Architects' Boston office. She brings with her over 25 years of experience in a leading role of strategic planning, managing, designing, administering, and negotiating a wide variety of project types. Reetika and her team are responsible for the design of millions of square feet of workplace, each impacting and improving lives.
In addition to her role in Boston, Reetika serves on the IA Interior Architects Enterprise Leadership Team, and is also the co-founder and executive sponsor for IAReach, a firm-wide program supporting local and global charitable initiatives throughout IA's global footprint. She holds several honors, such as Boston Real Estate Time's 2019 Top 10 Most Influential Women, India New England's Outstanding Women of 2020, and Interior Design Magazine's HiP For Greater Good Award Winner in 2021. Reetika also serves on the Advisory Board for Massachusetts Center for Prevention of Cruelty Against Children. When not at work, she can be found spending her time in Wayland, Massachusetts with her husband and two children.
Today, Reetika joins us for Friday Five!
1. YHS (Yoga, Hydrate, Shower)
The Jersey Shore gang had GTL (gym, tan, laundry), I have YHS (yoga, hydrate, shower). The stress of each day can take a toll as we juggle work, family, and life. YHS is what I selfishly consider my self-care time every evening. I usually begin with an escape to a curated environment: warmth, fireplace, dim lights, and aromatics. It's amazing how powerful environment can be in the space of mind and body. The act of Yoga draws the stressors from my brain and muscles. Post-yoga hydration "cleanses" the toxins and a hot shower is the finishing touch, washing away all of the stress from my  day. The entire act of YHS is purifying for me, both emotionally and physically, enabling me to rise to conquer the following day.
2. Sparkle
I love sparkle. It comes in many shapes and forms, but the obvious representation is physical: bling! I love it on my clothes, my accessories, and especially my design accents. The proper impact requires balance, and when personalized correctly provides that eye-catching lift in spirit, energy, and style. Sparkle comes in intangible forms, as well. It presents itself in people, in conversations, and in moments. This type of sparkle is not always obvious, but when drawn out brings dimensionality to what could be a very singular interaction. I look for sparkle in the staff I hire, the friendships I build, and the activities I pursue. All of these bring joy to my life.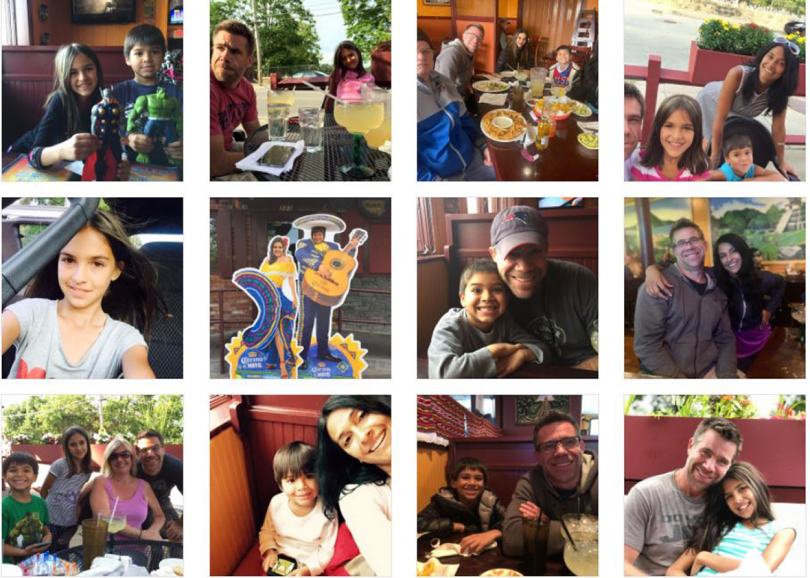 3. Paisanos
For almost every Saturday night over the past 15 years, my husband, my children, and I have frequented the same Waltham, Massachusetts Mexican/Guatemalan restaurant. Some call us crazy, some call us loyal, but everyone questions what is driving our love for this one restaurant. Paisanos is not glamorous, it's not fine dining, and you will never find it on any list of Michelin starred restaurants. It's a hole-in-the wall with great food, local characters, and the best margaritas in town. Upon entry, you're greeted by the colorful personalities of waitstaff and regulars. The wood-adorned Latin-themed interiors, TV screens alternating sports, and Keno provide a cozy yet active backdrop. Paisanos is more than a restaurant, it's an evolving memory for my family and I.
4. Landscapes
I find landscapes extremely soothing. How can something so unplanned, so organic, so alive be equally as balanced, dimensional, and textured? They transform location to location, day to day, season to season. Desert, forest, mountains, ocean… all delight the senses with sound, smell, touch, and sight. No matter what culture, what political persuasion, what experiences one brings, we can all come together to admire natural beauty. Landscape inspires me when it comes to design. I strive to translate the inherent principles of nature into a built environment that enchants.
5. Indian Influences
When people find out I was born in India, they hardly believe me. Admittedly, we moved from New Delhi, India when I was only one, and my entire childhood was spent in Maine. I married an American (non-Indian) man and speak little Hindi. I am still Indian, however, and very proud of my heritage. Wherever I can, I showcase my culture. My home is adorned with Indian accents: artwork, pillows, jewel and gold tones. There is something so elegant in a neutral, modern palette accented by culture and tradition. I cook Indian meals and am beyond excited that they have become my children's favorite. And Bollywood? I follow the biggest stars on Instagram, paying attention to fashion and happenings alike. I am Indian and very proud of it!
Work by Reetika Vijay: