Israeli architect Raanan Stern renovated this two-story family home by bringing it out of the 1970s and into the present with a new space plan, maximum natural light, and a super fun color palette. The open concept plan breathes new life into the home and fills each space with bright light and an airy feel.
The ground floor received all new flooring, uniting the entire space and making it flow. Simple columns help define the "rooms" without the closed off feeling that an entire wall would bring.
The kitchen colors are created from exposed birch surfaces and olive painted wood.  By adding the pops of green in various spots, the kitchen avoids being a sea of natural wood. Multicolored pendant lights were added at various heights about the island table. They were originally lamps from the 1970s that were dismantled and turned into the lights you see now.
The walls are painted a bright white letting the furnishings take the stage.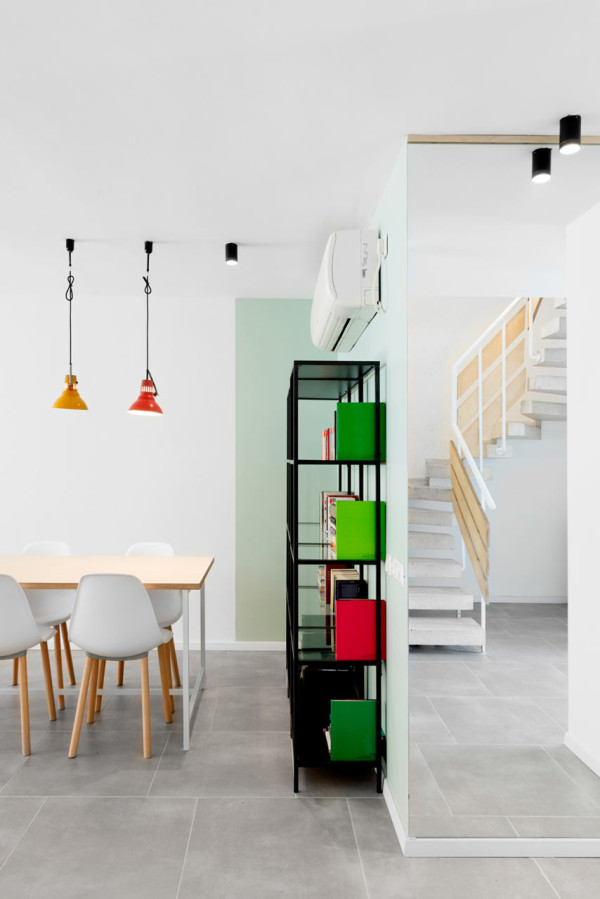 The original terrazzo staircase was saved and renovated by adding a new wooden handrail that softens the massive risers that are fixed to the walls.
In the master bedroom, a closet forms the headboard of the bed on the other side, while creating a corridor and a private bathroom.
The eldest son has a bedroom with his own bathroom open to the room. A minimum partition keeps the design simple and functional.
Photos by Gidon Levin, 181 degrees.

Design From Around The Web