The 2018 Consumer Electronics Show (CES) will be remembered for many things: an unexpected winter deluge that left attendees scrambling for cover and the Las Vegas Convention Center leaking from every corner, the ensuing nearly 2-hour blackout, a jaw-dropping 146-inch television, the unexpected ornamental splendor of a chandelier-like 50-Qubit quantum computer, the emerging horizon of 8K displays, and the confluence of smart home devices into cohesive experiences available wherever we go.
Exhibitors at this year's show honed in on evolutionary refinements; compared to previous shows, the overall "wow" factor was dimmed, but there was a palpable sense the promise of smart technology was finally coalescing into a more cohesive experience versus the patchwork landscape that has characterized connecting the smart home category.
Integration of AI and voice command seemingly spilled forth from nearly every corner of the show, with personal robots continuing to dazzle attendees (despite their charm, none were truly yet ready for primetime), and the biggest players like Google, Amazon, Samsung, and Intel all staking claim to tying the loose shoelaces of smart technologies vying to take control of the home, office, and automobile.
Exciting for some, while horrifying for others, the Internet of Things (IoT) technologies at CES promise a future with an increasing amount of listening and speaking between user and machines. This also means technology's presence is evolving beyond the need for traditional physical controls or interfaces, integrating invisibly into previously unexplored forms (though we still stand in appreciation of the tactile…long live dials and buttons!).
After surveying countless products across numerous halls and meeting rooms, we present our picks for the most interesting designs and technologies at CES 2018 below: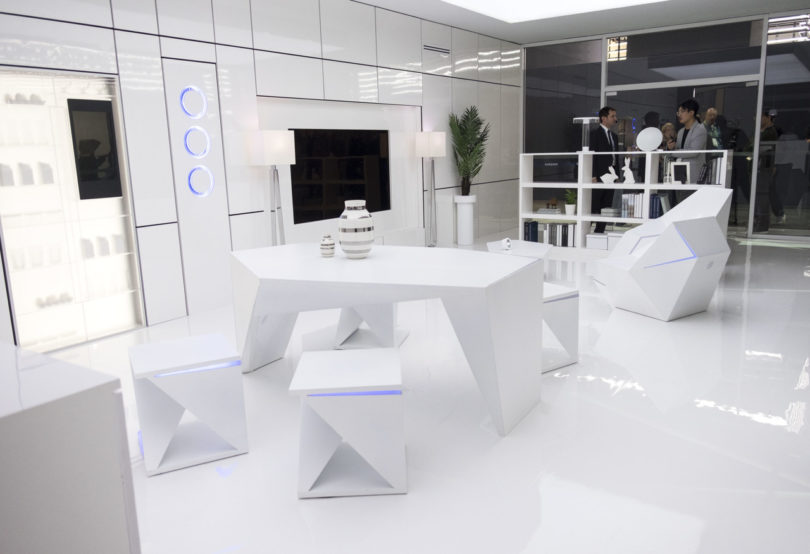 Samsung "Bring Objects to Life" Concept Home
Samsung's blindingly pristine concept "home" caught our eye with its futuristic interior decor, one envisioning not only a stain-free existence, but also homes where the perpetual aid of a cloud-powered AI exists everywhere. Samsung promises their SmartThings-powered ecosystem will simplify and unify the increasing amount of connected devices into a singular experience aesthetically executed (as showcased in the rest of their CES exhibit), and their all-white home of the future gave us a glimpse how it might all work.
Hidden inside furniture, underneath bathroom counters, and even inside a planter pot, Samsung's voice-activated Bixby digital assistant followed a presenter across numerous spaces and situations, turning on and off televisions, air conditioners, ovens, and lights by voice. Privacy concerns aside, voice operated ecosystems will become the defacto standard by which users will operate smart home technologies. Whether it's Samsung, Amazon, Google, or Apple that eventually wins out is yet to be seen.
Nokia Sleep
There are sleep monitoring devices aplenty, but Nokia's elegantly executed mattress pad is smaller and less intrusive than most. Their grey band-aid shaped Wi-Fi monitoring device slides under each side of the mattress, where it records a sleeper's heart rate and the duration+depth of sleep cycles – including snoring – syncing with Nokia's Health Mate app to generate a sleep score. Additionally, Nokia Sleep is engineered to work with the IFTTT app, which means sleep-beneficial settings like lighting, temperature, and blind controls can be automated to the user's preferences each night without lifting a finger.
SimpliSafe Home Security System
We're well acquainted with the SimpliSafe security system, having owned and used the first generation system across two apartments, where it operated as a diligent and silent sentry. The latest iteration is smaller and supposedly more intelligently responsive to environmental cues when an uninvited intruder attempts to enter. But perhaps most noticeable is the security system's refreshed design, compliments of design firm, IDEO. We can't help but recognize and admire the keypad's resemblance to Dieter Rams' Braun calculator!
Beoplay H9i Wireless Headphones
We're feeling a tinge of buyer's remorse after purchasing a pair of wireless noise-cancelling headphones (the very capable Sony WH1000XM2) after trying on a set of luxe Beoplay H9i headphones behind closed doors at CES. Bang & Olufsen's upgraded flagship headphones are now capable of 18 hours of playback – enough for the longest direct flight with hours to spare – improved noise cancellation, and a transparency mode to permit ambient sounds and conversation filter through when conversation calls. There's even a proximity sensor that will put playback on hold, recognizing when headphones are removed. But it's designer Jakob Wagner's gracefully elegant design of leather and aluminum that makes these headphones an audiophile heirloom.
Philips Skincare Assessment
With its small two-pronged design, the Philips Skincare Assessment looks sort of like an overseas's outlet adapter. What it's really designed to do is to measure how much water and oil lays beneath the skin of your face across specific target spots. With each light press, data is directly sent to an app that in turn produces a personalized skin report. Over time, users can identify problem areas related to sun exposure, sleep habits, diet, and hydration, and change habits (and of course, products) accordingly.
L'Oréal UV Sense
Yves Béhar's "fingerprint" is all over the design of this diminutive and discreet device engineered to turn a fingernail into a solar-powered UV monitoring device. Partnering with L'Oreal, Béhar determined the most unobtrusive, yet continually exposed part of the body is our fingernails; many already accessorize their fingers with polish or fake nails, making it an ingenious spot to adhere a biometric device for weeks at a time, and possibly change sun exposure habits and save lives.
Polaroid Root Play 3D Pen
Polaroid's CES display pulled us in with their display of intricately "drawn" models constructed with their new 3D pen printer. Outfitted with filament formulated with glue mixed with wood particles, the resulting mixture is super lightweight, strong, and available in 3 different wood finishes for free-drawing creativity.
Sony Life Space UX 4K Projector
Got $30,000 to spare? Positioned at the apex of Sony's Life Space UX product line, the native 4K resolution LSPX-A1 projector only needs 9.6 inches of distance between unit and wall to create a 120 inch picture. The Sony projector certainly unlike any other projector, housed inside a "premium furniture-like design" with a "marble top, half mirror finished aluminum frame, and wooden shelf." And those legs at each end? They're organic glass tube tweeters!
LifeFuels
Our very first stop at CES began with a drink…but a healthy one. LifeFuels won a CES Innovation Award in the Sports, Fitness and Biotech Category this year for their app-connected, customizable drink-mixing water bottle system intended to boost every sip of water with vitamins, nutrients, and flavor at the push of a button (I was given a sample to taste, but told formulations were still in the process of being finalized). Think of it as a personalized, multi-flavor Gatorade dispenser.
Sensio Air
Is it an Art Deco sculpture? A mini bronzed football? More than a few noses found themselves pressed against the glass at the CES Innovation Awards showcase in an attempt to determine the purpose of the shiny object. Those 220 perforations on top of the environmental monitoring device monitor air for wayward particles, notifying users via app when allergens have exceeded safe amounts and could possibly trigger a reaction.
Rapael Smart Peg Board
Fashioned after traditional pegboard therapy games intended to improve hand/eye coordination and upper extremity function amongst the injured, this 2018 CES Innovation Award winner utilizes auditory and visual feedback to aid patients' progress back toward recovery. We commend the playful and simple design for inviting interaction and progress to those who most need it.
Pro-Ject  VT-E BT Turntable
It's not the very first vertical turntable, but this is the first wireless vertical stand turntable (via Bluetooth), and it's definitely an eye-catching design that doesn't require a lot of space. Pro-Ject carries a solid reputation for smooth and dependable turntables, so we expect this one to perform as well as their non-vertically oriented and wireless, Pro-Ject Juke Box E.