I never thought I'd be posting a firehouse on Design Milk, yet here it is: FDNY's Rescue Company 3 designed by Ennead Architects. Rescue Company 3 is one of NY's most highly specialized units and its new design has received awards from Architect Magazine and New York Construction Magazine.
The new 23,000 sf building for Rescue Company 3 in the Bronx is located on a mid-block site in an area largely occupied by light manufacturing buildings. The principal façade presents an open, yet secure street presence. Its oversized FDNY-red apparatus doors are the primary design element, expressing the building's identity as a FDNY facility. Alternating glass and metal panels fill the void between the apparatus doors and building shell, which is flanked by metal and masonry.
The exterior is fantastic, and the inside follows suit.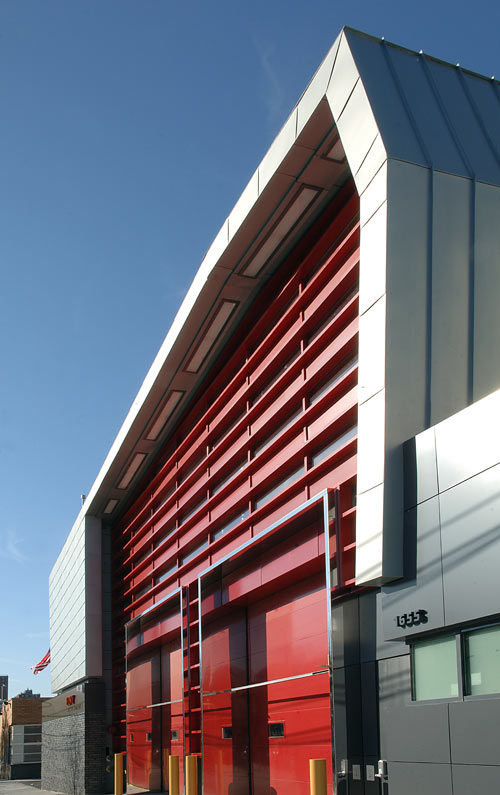 The building relates to its site, both structurally and materially. Structural concrete and ironspot masonry define the base, which contains spaces for vehicles, various workshops and storage. The base supports a steel framework and folded zinc roof and walls.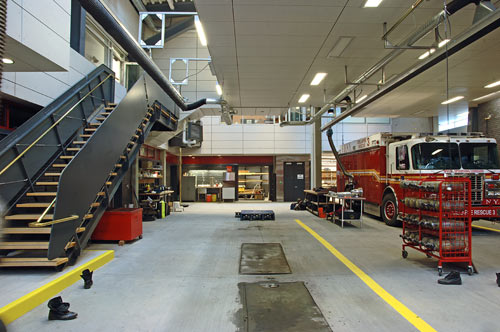 The Apparatus Rigs — "rolling toolboxes" — contain an extensive collection of equipment that is rigorously organized and stowed in compartments arrayed around the vehicles. Similarly, the firehouse is a "stationary toolbox," with work areas, storage rooms and support spaces in proximity to the vehicles. The lumber storage and prep room is located at the rear of the Apparatus Bay to permit convenient loading of the Collapse Rig.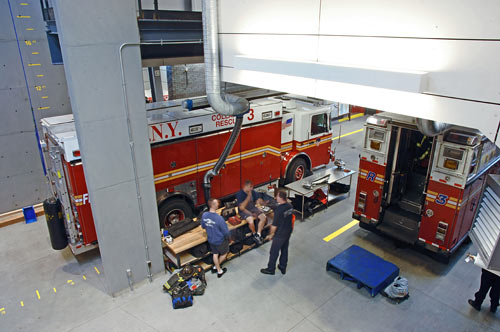 Rescue 3 firefighters practice and hone their unique skills in dedicated training areas. Adjacent to the Training Wall on the ground floor of the Apparatus Bay is open space for practicing rescue procedures and testing and maintaining rescue equipment.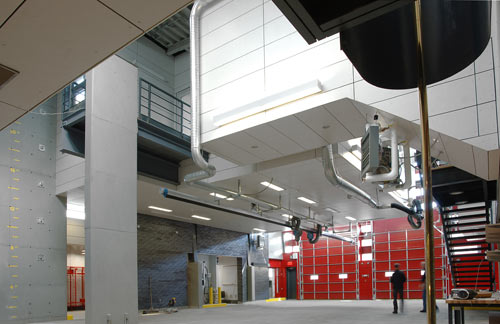 Functions are stacked: physical work areas and storage occupy the ground and basement levels; rest, study and dining are at the second level; and training and fitness spaces are at the mezzanine level. Skylights and clerestory windows admit ample daylight, creating a comfortable indoor environment.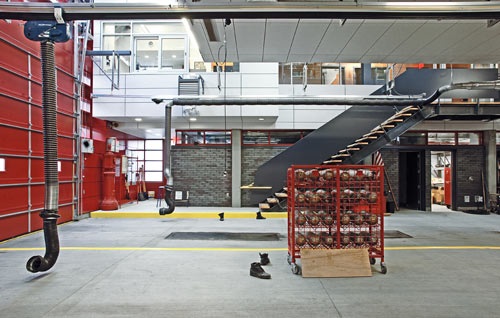 The Apparatus Bay — a "theater of operations" with all programmatic elements radiating around and above — is the primary organizing element of the design. All spaces in the building are strategically located relative to the Apparatus Rigs.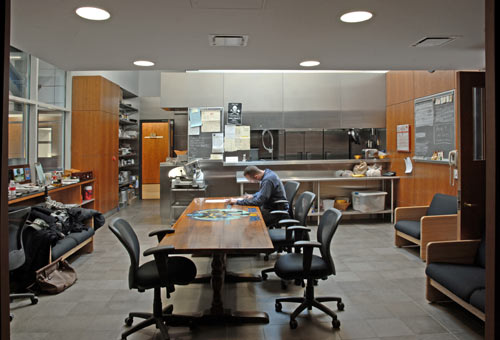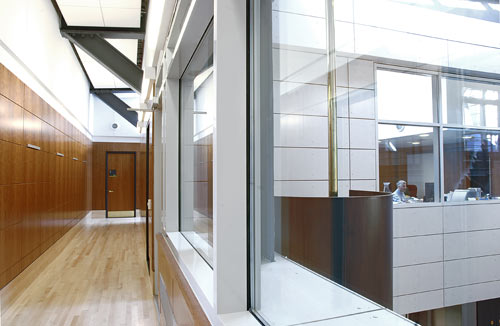 A visual connection to the Apparatus Bay from spaces surrounding it on the second and third levels is accomplished by means of large expanses of glass. Further, its visibility from all areas of the building reinforces the Bay's critical importance.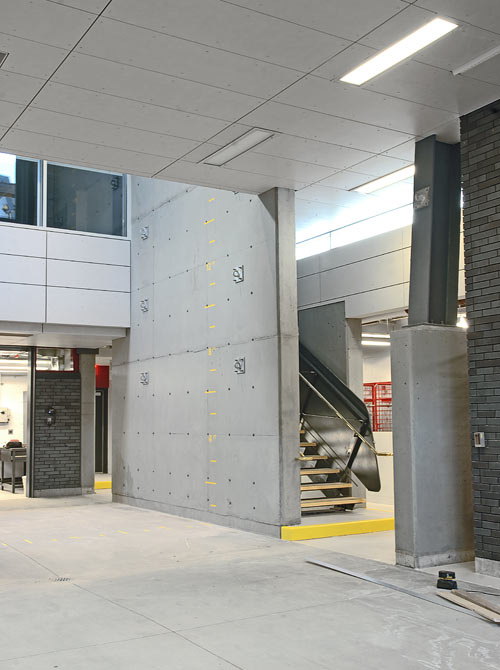 A 35'0"-high Training Wall, which extends vertically through the building and pierces the metal shell of the building at roof level, is accessed from multiple levels and supports a variety of training exercises.
Clients: Fire Department, City of New York / FDNY, Rescue Company 3
The City of New York Department of Design and Construction
Architect: Ennead Architects LLP
Design Partner: Todd H. Schliemann FAIA
Management Partner: Timothy P. Hartung FAIA
Associate Partner for Design: Wm. Jack T. Phillips AIA
Associate Partner for Management: V. Guy Maxwell AIA
Project Architect: Anthony L. Guaraldo
Project Team: Gary L. Anderson AIA, Charmian C. Place, Carlyle Fraser, Joerg Kiesow, Ryan P. Meeks, Si-Yeon Min, Yekta Pakdaman-Hamedani, Gergory L. Smith, Todd Van Varick
Cost Estimator: M.T. Peters & Associates Inc.
Structural Consultant: Robert Silman Associates, P.C.
MEP Consultant: WSP Flack + Kurtz
Specification Writer: Robert Schwartz and Associates
Building Department Expediter: Jerome S. Gillman Consulting Architect, P.C.
Elevator Consultant: Iros Elevator Design Services, LLC
Environmental Graphics: Poulin + Morris
Lighting: Brandston Partnership Inc.
Geotechnical/Civil: Langan Engineering & Environmental Services
Construction Manager: LiRo Program and Construction Management, P.C.
General Contractor: Brickens Construction, Inc.
Plumbing: Ace Contracting, Inc.
HVAC/Fire Protection: Northstar Mechanical, Inc.
Electrical: MetroYork Electrical, Inc.
Fuel Oil: Empire Environmental
Building Department Expeditor: Design 2147, Ltd
Top photo ©Jeff Goldberg/Esto for Ennead Architects. All others ©Aislinn Weidele/Ennead Architects.