Beloved designer Eva Zeisel may have passed away in 2011, but her iconic designs and aesthetic live on through partnerships, like with FilzFelt. The felt and acoustic panel brand has turned her most popular shapes that were once ceramics, and translated them into modular acoustic tiles for the wall, in the Eva Zeisel Collection.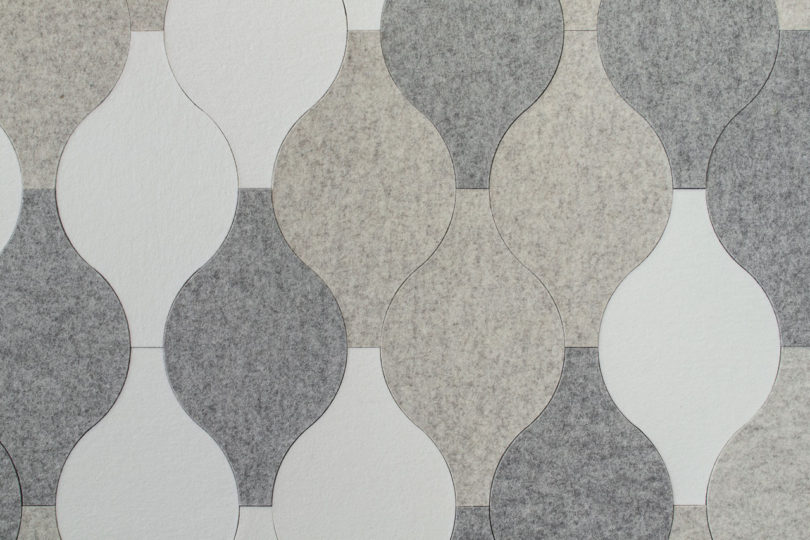 The sound softening tiles in graphic shapes, which were inspired by the human body and things found in nature, fit together to form soft patterns of murals or total wall coverings. Each tile is made from lightweight, virgin PET acoustic substrate that's available in 63 color options, letting you create just about any type of colorway you wish – bold or subdued.
The Spindle Block tile was derived from Zeisel's Bellybutton Space Dividers that she designed back in 1958.
The playful Fish Block resembles a school of fish swimming across your wall, or they can be rotated to look more scale-like.
The Hourglass Block comes from her Hourglass Space Dividers where the tiles nest together to create a zigzag effect.
Bottle Block was inspired by Zeisel's prototypes of Coca-Cola bottles she designed. Each tile rotates next to the other to establish wavy vertical and horizontal lines.
Here, the Goblet Block and the Vase Block are paired together for a more dynamic, S-curved pattern.