Located in Washington State's Methow Valley, on the eastern edge of the North Cascades, the Mazama House sits near a large meadow and is flanked by native trees. Designed by FINNE Architects, the house is made up of two volumes – a grounded, two-story bedroom wing and a raised volume for everyday living that hovers above the ground with the help of exposed steel columns.
By raising the main volume, they get uninterrupted views and they're above the top of where the snow generally accumulates.
The roof of the living volume changes pitch along the length of the structure warping upwards on the ends.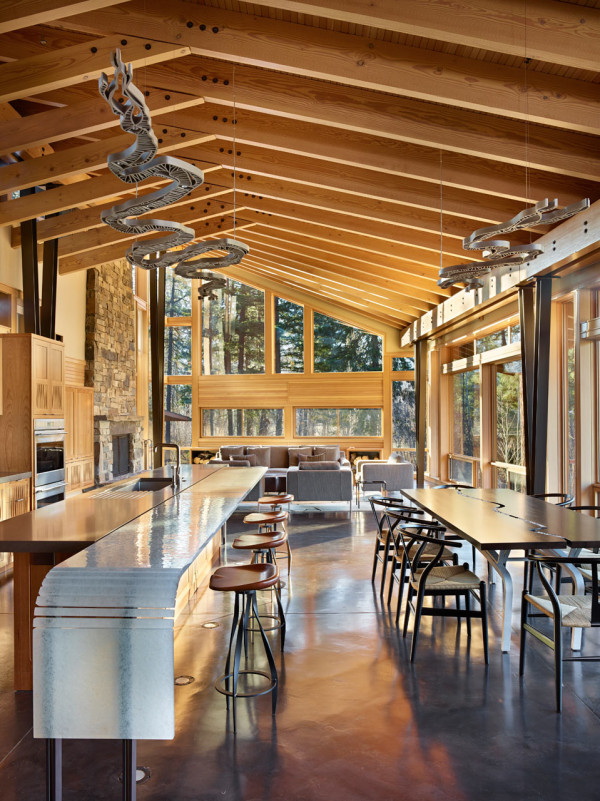 Exposed wood beams in the main pavilion gradually change as the roof does.
The house is another step in FINNE's interest in the idea of crafted modernism, with cast bronze inserts at the front door, variegated laser-cut steel railing panels, a curvilinear cast-glass kitchen counter, waterjet-cut aluminum light fixtures, and many custom furniture pieces.
They incorporated more than 12 pieces of custom furniture and lighting into the main volume.
Sustainability was important during the design and building phases. The used 40% higher insulation values than required by law, radiant concrete slab heating, efficient natural ventilation, large amounts of natural lighting, water-conserving plumbing fixtures, and locally sourced materials. Besides high-performance windows, they also have concealed shades.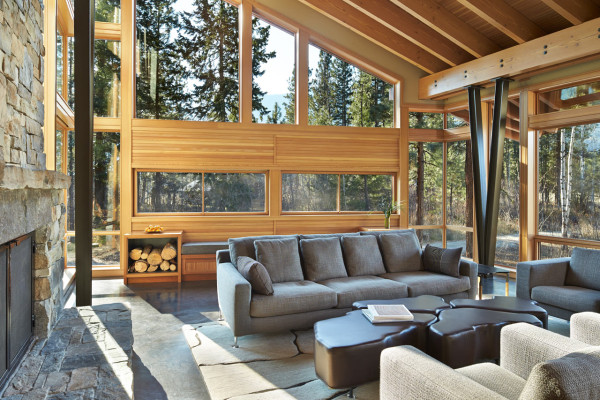 Photos by Benjamin Benschneider.