What is it like to be a well established heritage brand in your own country, only to find yourself as the innovative upstart on the other side of the globe? Luxury New Zealand based kitchen manufacturer Fisher & Paykel's origin spans back to 1934 when Sir Woolf Fisher and Maurice Paykel founded the company as an appliance import venture. The global company is now expanding upon their success across the South Pacific and introducing American design professionals and consumers to a complete line of products representing an uncompromising eye for simplicity, innovative technologies, and a holistic sense of the kitchen's prominence in the modern home.
An introduction to Fisher & Paykel best begins with a visit to one of their five Experience Centers dotting the globe. Their newly opened 6,500-square-foot Costa Mesa Experience Center recently joined New York, Toronto, Shanghai, and Sydney as locations for Fisher & Paykel's hands-on creative showrooms offering installers, builders, customers, and curious design journalists the opportunity to preview a wide breadth of the brand's catalog in a setting where touching is not only permitted, but invited.
Fisher & Paykel made great efforts to create a showroom showcasing contemporary New Zealand  design. That includes all of the furniture within the showroom.
-Fisher & Paykel Product Specialist, Tyler Smith
Greeted with an aromatic and soothing cup of New Zealand kawakawa green tea, visitors are invited to browse a curated selection of Fisher & Paykel appliances, each thoughtfully arranged to evoke aspirations of homes where food and socializing unfold with regularity. Solutions on display include modular appliances catering to space conscious urban lifestyles all the way up to enormous double-wide refrigerators suited for the largest of kitchens, alongside the most luxe flush-fit integrated refrigeration solutions designed to blend into kitchen cabinetry inconspicuously.
Regardless of category, finish, or dimensions, every Fisher & Paykel product shares a design and engineering DNA expressing an appreciation for the tactile and details appreciated over a lifetime of use. Controls and technologies serve the needs of the everyday; dials click confidently with every turn, doors close to a graceful conclusion, and button interfaces offer intuitive access and control without requiring menu diving that often hinders digital display operations of competing brands.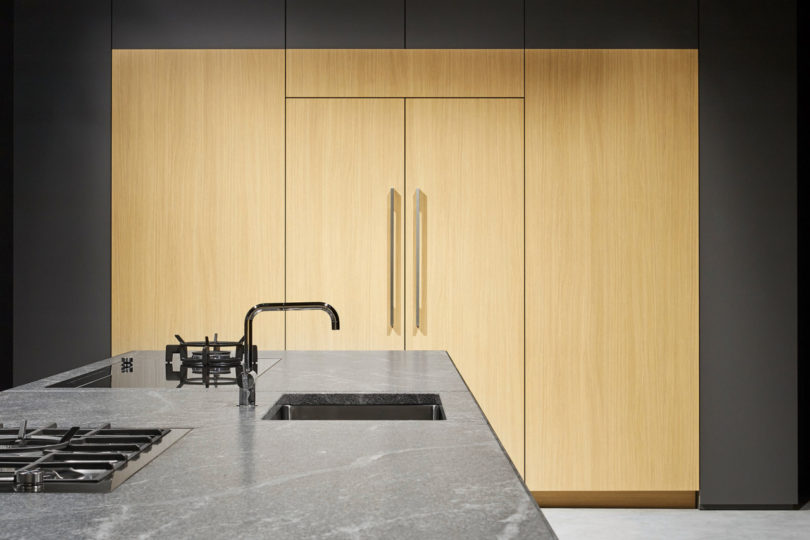 Instead of incorporating the sheen of dazzling displays or apps, Fisher & Paykel invests in features earning appreciation over time. An example: their best freestanding refrigerators are covered in a oleophobic surface (EZKleen) that keeps fingerprints from marring their stainless steel finish. Even our lunch-stained fingers couldn't leave a mark.
"We believe simplicity and clarity is paramount…our development teams are set up to encourage a creative tension within the design process, attempting to find the balance between industrial design and engineering. But we never sacrifice function for the sake of form, and always attempt to refine those forms to ultimately be pleasing to see and use on a daily basis by our customers," explains Shane Rehm, Vice President of Product at Fisher & Paykel while pointing out the dial and grate detailing gracing both their Classic and Contemporary lines of freestanding ranges.
Fisher & Paykel's history as a New Zealand born brand offers a unique story, noting the Kiwi design scene has remained mostly unknown to North Americans. But after visiting the Fisher & Paykel Costa Mesa Experience Center, it seems those keen to good design will come to appreciate Fisher & Paykel for their efforts in extolling the virtues of the subtle and simple as an expression of luxury.
Can't make it to Costa Mesa? Visit the Fisher & Paykel booth at KBIS/IBS 2019 in booth C5831 to experience their respect for food, obsession with product details, the contemporary design culture of New Zealand.
To learn more about Fischer & Paykel firsthand, visit one of their five Experience Centers located across the globe.