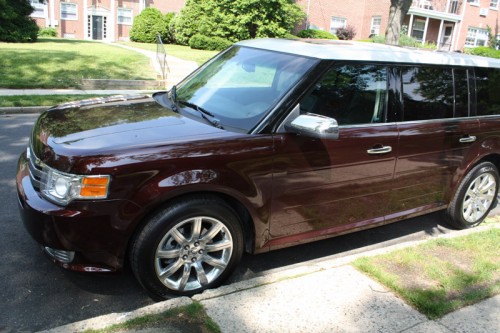 Since getting the Ford Flex for the weekend, I've been thinking a lot about how to craft my own story behind the Ford and my family. Before I get to that story, I want to give you some of "the goods". Let's take a look at the Ford Flex's design in more depth.
I have to say, I'm really into the boxy look right now. I love pre-fab housing, and the Flex reflects that styling with its boxy appearance. I have to say, it's right up my alley. I also dig the white roof, although it would be a pain to clean. That being said, I'm not so sure everyone will feel the same way about its styling. The Flex is quite different in look than your standard SUV, and since this is a crossover, it's teetering between SUV and station wagon.
One instant thought was that this is a great car for families. Now, I don't have a large family, and we can't have the dogs in the test car, so I am unable to accurately comment on that. However, in looking at the amount of space in the back, I can see how you can easily fit 4 kids in the back, maybe 2-3 Great Danes, or a litter of 12 puppies. Not fit for alpaca, though.
Now on to the videos.
First, let's do a walk around. There is a very cool button on the key that allows you to pop the trunk, which raises completely on its own.
OK, I am a huge nerd, but the cup holders have lighting where you can change the colors based on your mood! The voice-activation is fairly easy if you're tech-savvy, but it has its frustrating moments. The navigation is ultra cool. We have a TomTom, but the Ford's system blows it away. The system also has a built-in photo album.
Oh yeah, and Mr. Design Milk and I are huge fans of SIRIUS, which we have in our own car, and we love SIRIUS 39. Shout out to The Fat Boys!
One of the coolest parts of the back seating area is this freezer/refrigerator combo:
A few other things I was impressed with:
Each person practically has their very own sunroof!
The seats were extremely comfortable.
It was very very quiet and smooth while driving, and it handles like a car not a huge truck.
Heated seats always win my heart.
A back-up camera shows you what's behind the car so you don't run over any kids or bikes.
Keyless entry.
Areas for improvement:
It's very big, and although it doesn't drive as such, it takes some getting used to.
It would be a great added eature to have monitors in the head rests for the little ones.
Given the sophistication of the navigation and audio system, it was surprising that the sound was average.
For more on the Flex, check out the Flex homepage or their YouTube channel and for more of my silly videos, see my Ford Flex playlist on YouTube.
Stay tuned for my next post sharing my own personal Ford story and my photo gallery.

Design From Around The Web