Forust + fuseproject's 3D Printing Transforms Wood Waste Into Beautiful Vessels
Forust + fuseproject's 3D Printing Transforms Wood Waste Into Beautiful Vessels
1/6 Photos
2/6 Photos
3/6 Photos
4/6 Photos
5/6 Photos
6/6 Photos
There's a popular saying that we're all prone to "fail to see the forest for the trees," an evocation communicating the pitfalls of our blindness of the problems (or potential) of a situation in its entirety. It's an apt expression when it comes to the mounting problem of material waste produced annually in manufacturing wood products; each scrap and flake of sawdust by themselves are minuscule, but the sum and scale adds up to considerable figures. Forust and fuseproject's Vine collection proposes one way to redirect some of that industrial wood waste, re-materializing today's discarded waste into tomorrow's cherished home products using a high-speed 3D printing process.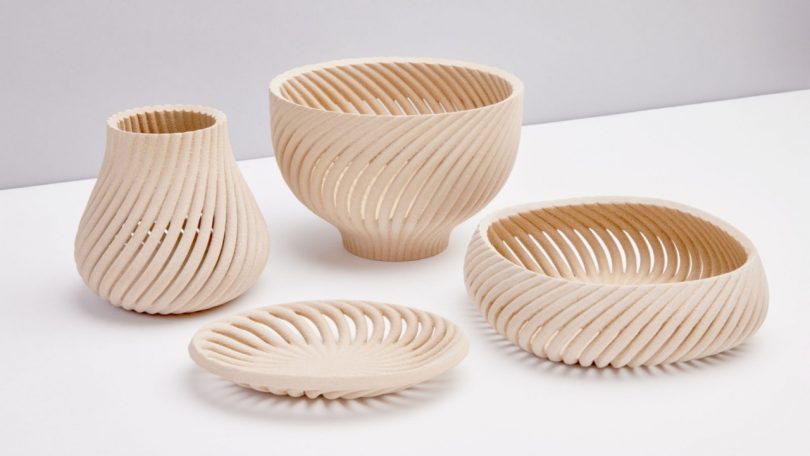 Forust specializes in offering high-speed 3D printing technology to architects, designers and manufacturers, allowing creatives to tap into additive printing technologies using two wood industry byproducts – sawdust and lignin – to produce isotropic, high-strength, sustainable wood parts that in turn can be used to prototype or manufacture custom wood pieces for home decor, interiors, transportation and architectural design. With the Vine collection, the scale is small, but the results are beautiful –  swirling organic silhouettes designed by fuseproject's Yves Behar where texture represents form, and vice versa.
The technology is impressive not only the tactile and aesthetic beauty of a wood product vs. the plastic finish popularly associated with 3D printing, but Forust's process also has the ability to mimic almost any wood grain, from Ash to Zebrano, Ebony to Mahogany.
The four beautiful artifacts – a vessel, bowl, basket, and tray – are surprisingly modestly priced, starting at just $20 for the smallest piece and $52 for the largest bowl, each an attainable design object that hopefully live out there years treasured rather than trashed.