Italian ceramic firm CEDIT – Ceramiche d'Italia has been producing ceramics in Italy since the 1950s. They are known for innovative production techniques that rely on extensive material testing and design research. Yet, within the firm, there is also a strong commitment to the cultural legacy and artistic lexicon of Italy. Combine that with the company's penchant for collaborating with some of the leading names in architecture, art and design and have something truly great. The list of collaborators is impressive: Ettore Sottsass, Alessandro Mendini, Bob Noorda, Sergio Asti, Giulio Confalonieri, Gino Marotta, Bruno Munari, Achille and Piergiacomo Castiglioni, Mimmo Rotella, Ken Scott. This focus on collaboration has made CEDIT a unique example of creative avant garde and invention.
The brand, re-launched on the international stage in April 2016 by Florim, still retains that exquisitely hand-crafted feel paired with the latest technologies. It's from that place of juxtaposition that CEDIT continued focus on collaboration shines.
As part of the rebirth of the brand, CEDIT launched the Archeologie collection, designed in collaboration with Italian painter Franco Guerzoni. Since the 1970s, Guerzoni's work has focused on articulating his personal exploration of the world of archaeology. For this collaboration, he delved into the Italian fresco tradition. He was particularly captivated by the 18th century strappo technique of removing frescos from a plaster wall surface. Used by museums and cultural institutions, this is the least invasive way of separating a fresco from the wall it was painted on. The plaster layer with the fresco is carefully lifted, leaving only traces of the pigment behind. He calls it "a journey into the interior, revealing the experiences, memories, signs and symbols the wall has absorbed over the centuries."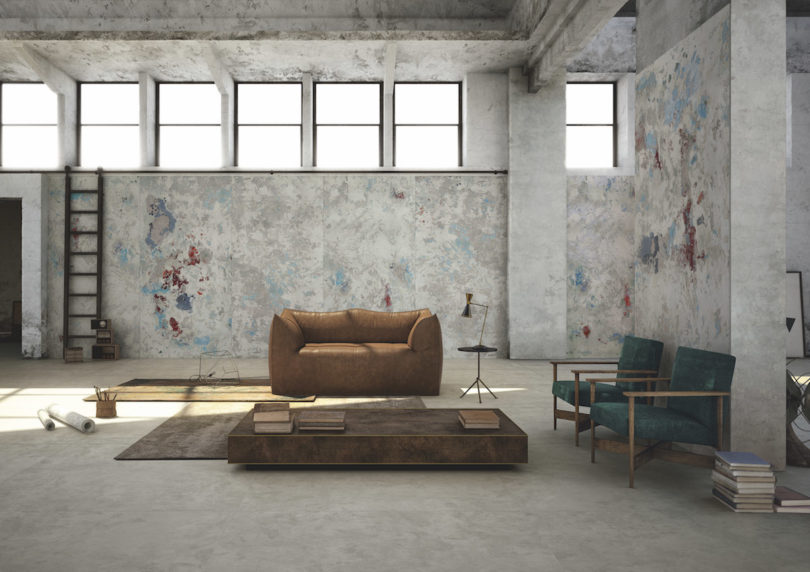 Throughout Italy these fresco remnants are visible in ancient Roman ruins and Renaissance villa walls. These vestiges of the past reminded Guerzoni of a book waiting to be opened. It was this fascination with the hidden stories in the layers of the walls of Italy that inspired the Archeologie collection.
For those of us not blessed with the architectural legacy of Italy, the Archeologie collection allows you to have a piece of that cultural heritage no matter where you are. The series of flat ceramic slabs is composed of complex backgrounds. The effect of the dense pigmentations and the layers of powdered colors and chalky materials give the feeling of the shadow of a fresco… of past memories… of old stories. These past recollections are made possible by the technological capability that the Florim group brought to the brand. An ability to create such large, yet high quality, ceramic slabs paved the way for a completely fresh approach to the architectural space. There is perhaps nothing more transportive than the way these Italian design traditions are paired with sophisticated modern production techniques. With walls like these, who needs a plane ticket?
Learn more at ceditceramiche.it and download the catalogue here.