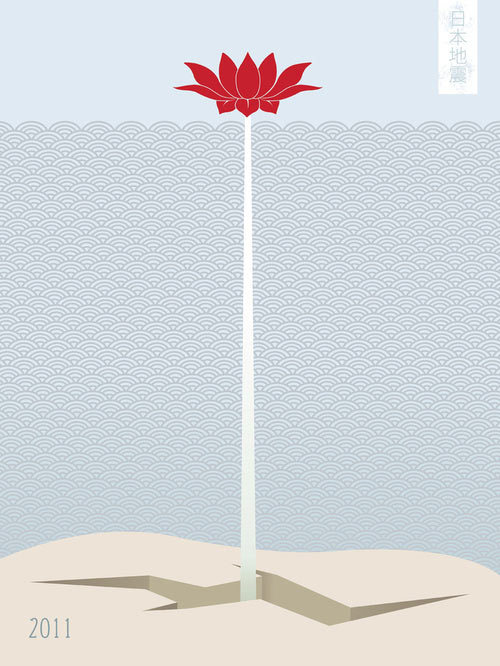 When I went to add prints to The Design Milk Dairy this week, all I could think about was Japan. Therefore, I decided to add just one print that I really loved from Linda Yuki Nakanishi, who will be donating all profits from the sale of this poster to the Canadian Red Cross efforts for the victims affected by the recent tsunami and earthquakes. Buy the poster here.
This is what Linda says about her poster design:
This poster represents the resilience of the Japanese people. The lotus symbolizes birth and rebirth, and the red lotus in particular represents love, compassion and passion (much of which is needed for the people of Japan).

The lotus is a flower that is born from the mud of the earth, fights its way through the depths of the water to bloom into the air and sunlight. This is how I view Japan, as a country that teaches their people to be strong and to endure. This is also what my parents taught me, even though we live an ocean away in Canada.
Following in Linda's footsteps, Design Milk will be donating all profits from The Design Milk Dairy sales in March to the Red Cross. Please donate in any way, shape or form. Consider purchasing any Society6 print using this link, donate directly to the Red Cross, buy a Shelterbox, or do something else.
In an ongoing effort to support independent artists from around the world, Design Milk is proud to partner with Society6 to offer The Design Milk Dairy, a special collection of Society6 artists' work curated by Design Milk and our readers. Proceeds from the The Design Milk Dairy help us bring Design Milk to you every day.

Design From Around The Web