Society6 has just introduced outdoor pillows to their lineup of products and boy am I glad they did because, now that I'm living in Southern California, I can take full advantage of outdoor furniture and textiles.
To celebrate the launch of these fine accessories, I thought I'd round up pillows that reflect the current trendy summer graphic motifs I'm seeing:
Above:
1. Chevron: Still trendy. Stripes: Never go out of style.
Teal Stripes and Arrows outdoor pillow by Allyson Johnson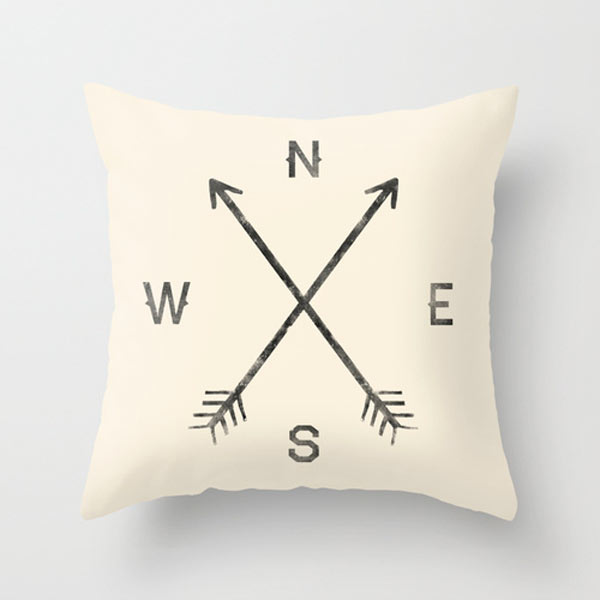 2. Arrows and compasses. Good for more than just hipster logos!
Compass outdoor pillow by by Zach Terrell
3. Half Moons. A new trend!
Half Moon pattern outdoor pillow by Heidi Gosen
4. Ombre. Yes it's still here.
Blue Ombre outdoor pillow by Siobhaniaa
5. Dots. Little dots, big dots. Dots all over.
Dots outdoor pillow by Marie Yates
6. Feathers.
Feathers outdoor pillow by Holly Trill
7. Triangles. They are here to stay, guys.
Summer Triangles outdoor pillow by Her Art
I actually like all these pillows together, too! Grab some of these and other products and take advantage of FREE SHIPPING on Society6 through Sunday worldwide (excludes Framed Art Prints, Stretched Canvases and Throw Pillows with insert) on Society6.
In an ongoing effort to support independent artists from around the world, Design Milk is proud to partner with Society6 to offer The Design Milk Dairy, a special collection of Society6 artists' work curated by Design Milk and our readers. Proceeds from the The Design Milk Dairy help us bring Design Milk to you every day.

Design From Around The Web