To celebrate the launch of the CT Hybrid, Lexus recruited six young artists from different mediums and asked them to create two original works based on three themes: Challenge, Empower, and Escape. Each piece must challenge the common perceptions of the theme. But there's more to this challenge: they only have 24 hours house to create each piece. Lexus followed each of them around with cameras to capture the process of creation. Learn more about Fresh Perspectives at freshperspectives.msn.com and check out the final works.
Jeff Nishinaka is a Los Angeles-based paper sculptor who broke onto the scene when there really wasn't a paper art scene at all.
Thirty years later, he's still a pioneer papercutter working on anything from a sculptural fine art piece to advertising campaigns to fashion displays. His commitment to the environment is also notable: he only uses recycled paper in his work, vegetable-based inks and recycles as much as he possibly can. He says, "I'm very analog in this digital age."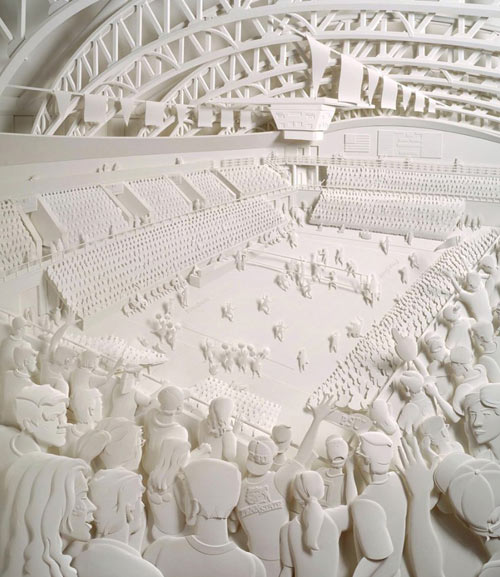 Jackie Chan is an avid collector of Jeff's work and he's created paper art for Coca-Cola, Universal Pictures, and Penn State.
Click here to see Jeff's final piece for Challenge: "Cliff Notes" in which he builds a house on a cliff out of paper.
Check out this great interview with Jeff over on RubyHornet and Jeff's bio on the Fresh Perspectives website.
See more at freshperspectives.msn.com and stay tuned for our last Fresh Perspectives interview with Craig Thornton. Feelin' kinda sad that this series is coming to a close…
Design Milk has partnered with Lexus on Fresh Perspectives, a series that highlights work by six artists from different disciplines. Each artist created two pieces of art based on three themes — Challenge, Empower, and Escape — and each piece was made within 24 hours. Thanks to Lexus, this project not only supports art but also helps support Design Milk's efforts to promote emerging artists.

Design From Around The Web