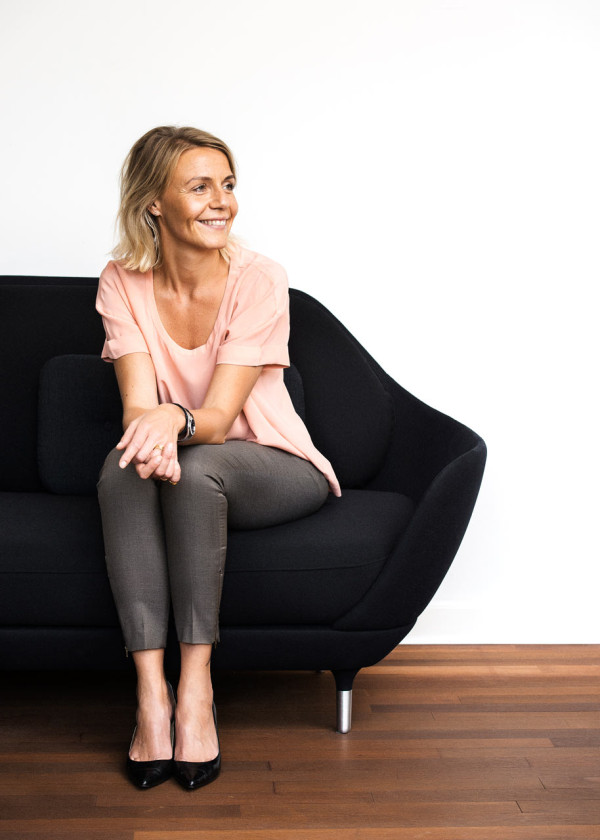 Chances are if you're a Design Milk reader, you're pretty familiar with the Danish electronics brand Bang & Olufsen, and while we've featured many of their products, we haven't showcased any of the talented folks behind the well-known name. For this Friday Five, we asked Marie Kristine Schmidt to step forward, as she leads design, insights, branding, and marketing across the brand's impressive portfolio. Schmidt joined the team in 2012 to run its Creative Center before moving into her current position. Her degree in business led to moving up the ranks in the Danish army where she achieved officer status, after which she spent over a decade at design consultancies. All of this prepared her for her gig at Bang & Olufsen where she most recently guided the design of the new BeoLab 90, one of the most technologically advanced speakers in the world. Take a look to see what keeps Schmidt happy.


1. Passionate people
The best sources of inspiration I find are passionate people…people who really believe that what they do matters. I am attracted by and surround myself with them. They push the boundaries of what I believe I can do, and they make me go places where I wouldn't have gone by myself. They give perspective, nuance, inspiration, meaning, and lots of energy. It's not that what they do must change the world, but that they care enough to go the extra mile for what they believe. I find this truly inspiring, and it's why passionate people bring out the best in me.
2. Seasons in Denmark
I love the changing seasons in Denmark, and the way each season completely changes not only the physical scenery of the landscape, but the atmosphere, colors, and even the sounds. There's also a spiritual dimension: Each season marks a new beginning, and it gives you something to look forward to. I also cherish every moment I can spend outside: The crispness of the winter, when every bush and tree awakes with green leaves at the first hint of spring, the colorful blossoms and butterflies during summer, and the amazing reds, yellows, and dark green colors of the autumn.
3. Alpine skiing
I have skied all of my life, and I love the combination of having my feet firmly on the ground, while at the same time having the freedom to push the limits of, literally, my place on the Earth just by changing the surface of my skis, my speed, or the incline of my stance. It makes me focus and be present in the moment. Also, the physical feeling after a full day of skiing and fresh air creates a relaxation that is emotional and mental, too. It leaves me open for new thoughts and ideas. In addition, alpine skiing is a passion I share with my family, which gives me a lot of joy.
4. The vibe of live music
There is something very special about live music. I remember the first time I heard Prince live, and he just owned the place…it was such a powerful experience. Music has this special quality that allows you to remember and lock down memories…I think everyone has a soundtrack to their lives, whether they know it or not. Live music experiences just reinforce those connections we make to places and people; for me, it magnifies them. Maybe that's why when I'm at a live concert, I'm overcome with the desire to go to more music events. Music is a connection to energy, too. It's a power source for my creativity.
5. Churches
I am fascinated by churches, and I always make sure to visit as many as I can when I travel. There is so much history, tradition and cultural context in churches, especially in medieval cathedrals and sanctuaries. I relish the craftsmanship, attention to detail, use of materials, and storytelling you find in a church, or a religious institution of any kind, irrespective of any country. They are control rooms, if you will, for connecting with other people, and with ideas that are bigger than yourself. I find them peaceful and powerful at the same time. And it doesn't hurt that music in some of those cathedrals is simply ethereal.