While multidisciplinary designer Noé Duchaufour-Lawrance was born in the South of France, he set up shop in Paris after earning a degree in Metal Sculpture from École Nationale Supérieure des Arts Appliqués before studying furniture design at Les Arts Décoratifs. His childhood rich in creativity, he was able to forge his own style, which he compares to niwa, the garden found in the heart of a Japanese home, as he brings an organic approach to the varied demands of each client or project. His furniture reflects his sculpture background, with a range of works for brands like Ciccotti, Hermès, and Bernhardt Design. Along with furniture design, Duchaufour-Lawrance designs restaurant, office, and retail space interiors, including the redesign of retail concept stores for heritage brand Montblanc. For this Friday Five, let's see where the French designer finds inspiration.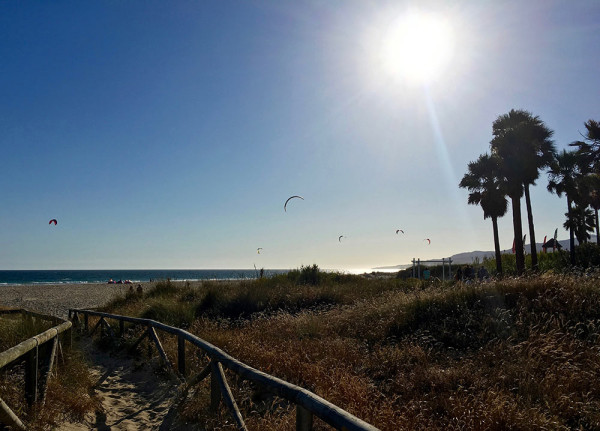 1. Kitesurfing
I've been doing kitesurfing for almost 6 years now. It is really inspiring, the more I do it the more I need it. It washes my brain, the pleasure of the pure moment more than the performance. This gives me another point of view on how I want to live, and work. The way you do things is more important than the result. I know now that my ideal life is the perfect combination between family and friends + work + kitesurfing. This picture was during my last session in Tarifa, Spain.
2. Materials
My father was a sculptor, I didn't have the chance to know him, but I had the legacy of some of his artwork and story. When I was around 13 years old, I decided to become a designer, but I wanted to understand the materials before designing anything. I did two years of sculpture on metal at school and then I went to art decorative school in Paris in the furniture design section. I don't have a proper workshop but anytime I can work with my hands I do it – it is the direct way to express what you have in mind, correct a detail.
It is also a pure moment of pleasure. It also helps me to understand and interact in a very constructive way with craftmen like in Manufacture de Sevres, Mobilier National, or high-end brands who are really focused on material and details like Hermes. This combined with the communication process and complicity with people as Jerry Helling from Bernhardt Design, Michel Roset from Ligne Roset, Franco Ceccotti / Ceccotti Collezioni is one of the main reasons I love my work.
3. Food and design are really connected
Not only from the last decade when all the chefs became the hype as designers were, and not only because all the restaurants now are designed by… but because chefs and designers are speaking the same languages. We are working with materials that we try to source in relation to a context, a place, to transform it to procure pleasure and emotion through a need.
Technique is a vector but mustn't hide the simplicity of the direct impact of elements. When a chef cooks a fish, if there is too much sauce around, you don't know what you are eating, even if it is tasty I prefer the direct sense and purity of elements. As a designer, when I work with a material, I try to keep its own characteristics.
I feel close to chefs like Alexandre Gauthier, or Armand Arnal, who work in a very close environment around their restaurants, and spend a lot of time with my close friend Jean-Denis Lebras, who is a chef working with Pierre Gagnaire, another incredible person.
These are some books where I find some inspirations, as the work of Notvital, Dan Pearson…
4. Museums
Dia Beacon, Noguchi Museum in Brooklyn, Louisiana Museum in Copenhagen, and Naoshima Island are the most beautiful museums I've ever seen. There is a sense of human scale in all of theses places, a direct connection with the art piece.
This room in the Chichu Art Museum on Naoshima with a tryptic of the nympheas from Claude Monet is a pure moment of grace. Tadao Ando did an incredible job. He really created the museum around the art pieces or with the artists, like James Turrell. The floor of this room is made of cubic blocks of marbles, seamless, you take your shoes off to go in. The floor is vibrating as the painting does. There is a direct relation between both, the room and the art piece.
5. Sketchbook
I try to begin everyday with a drawing session. Two hours minimum. I do it almost everyday in the same place close to my design studio in Paris.
I don't design on a computer. I share my drawings after these sessions with my team and we begin the 3D work or mock ups. I have a great team who understands my drawings, lines, we work very closely on every step of the projects.

Design From Around The Web