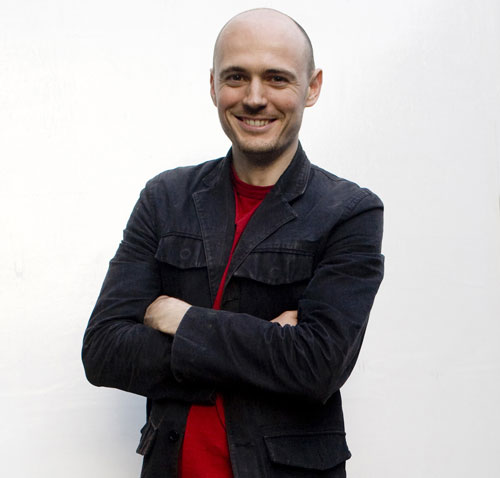 Dominic Wilcox is an artist, designer, inventor and "thinkerupper" who works within the territory of the everyday. Everyday objects, environments, buildings, human interaction, no area of normality is out of reach. His work, which is usually layered with an ultra dry wit, places a spotlight on the banal, always adding a new, alternative perspective on things we take for granted.
Since graduating from Ron Arad's Design Products MA course at the Royal College of Art in 2002, his work, which includes the notorious War bowl, has been exhibited widely around the world. He has been commissioned to create his unique and inventive creations by individuals and brands such as Nike, Esquire magazine, Paul Smith and Helena Christensen's Vipp charity auction where he created an automatic-playing xylophone bin.
Wilcox works under the philosophy of using creativity as a central hub from which to express his thoughts in whatever medium or technique is most appropriate, including objects,  installations and drawings. The design and architecture magazine Icon features Wilcox's sketched inventions each month under the title "The lost sketchbooks." He also adds a new idea each week to his popular blog Variations on normal.
Currently London's prestigious store Selfridges is showing Wilcox's Field made from 700 shoes at their newly launched luxury "World's largest shoe department." He will also be taking part in the much anticipated Anti Design Festival in London this September. For more on Dominic Wilcox's work visit dominicwilcox.com.
These are five things that have interested me recently during my visit to Cove Park.
1. Cove Park
I have just gave a talk about my work at the arts center Cove Park located in a remote and beautiful area of Scotland. Artists, writers, designers and crafts people can stay there to research or produce new work within a picturesque and secluded place overlooking the waters of Loch Long. I stayed a couple of nights in one of these great little dwellings called "Pods." I also had this Highland cow for company.
2. Mushroom
I went for a walk along a path by the side of the Pods and came across this huge fungus growing on the side of a tree.
3. Deirdre Nelson
Deirdre Nelson is a textile artist nearing completion of a 3-month residency at Cove Park. I visited her studio and saw this Highland cow with handmade listening cone that she had made. Nearby the arts center is a military base where nuclear submarines reside. The area around the base is patrolled and well guarded and some locals are occasionally stopped for polite questioning on their activities. Deirdre made a series of works that investigated the notion of surveillance which included this cow and various twigs with attached receptacles.
4. An old tractor
I like the idea that things should be used until they come to a natural death. I have shoes that I wear until they fall off. On my walk I came across this tractor that had clearly lived a long and hard working life and was surrounded by various parts of deceased vehicles dotted around like a mechanical graveyard.
5. Quartz
I walked along the side of the Loch with Deirdre and we came across these amazing rocks run though with straight veins of what looked like white quartz (to my untrained eye). The orange lichen on the rocks made them appear quite stunning as the sun set.