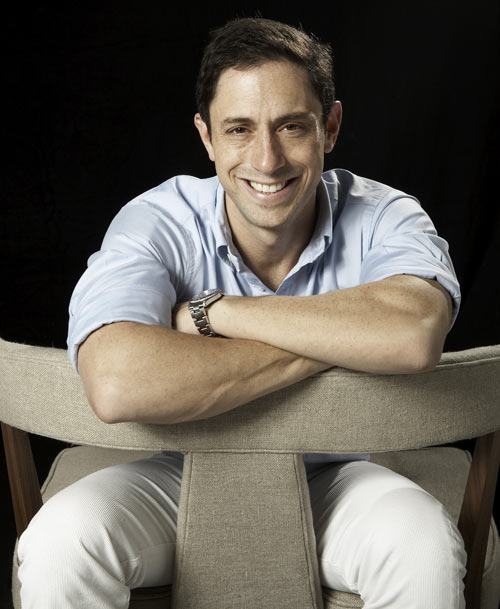 Jonathan Adler is the man behind the Jonathan Adler name. Jonathan Adler the company is dedicated to bringing style, craft, joy, and a general feeling of grooviness to your home.
Since receiving his first order for pottery from Barneys New York sixteen years ago, Jonathan Adler's eponymous company has grown to become an internationally recognized home and gift oriented lifestyle brand offering decorative objects, tabletop collections, bedding, bath accessories, candles, furniture, rugs, pillows and lighting. Jonathan Adler is known for a design aesthetic which pairs modernist forms with bold colors and groovy graphics.  The company motto, "If your heirs won't fight over it, we won't make it," reflects Jonathan's commitment to impeccable craftsmanship and panache.
Besides being an amazing potter, Jonathan has been the lead judge on Bravo's Top Design and last year he partnered with Barbie® to design the retro-glam and girl-chic interior for the "real" Malibu Dream House.
Favorite things:
1. Grim Reality TV
Hoarders, Intervention and Lockup are my Holy Trinity of TV fare. Dunno why but I find the grim conditions of other people's lives oddly relaxing. Every night after work my bloke and I tuck into an episode of one of these fine programs, followed by a bracing game of ping pong.
2. Hardcore Crafts

I was ecstatic when I stumbled across this fab book from the 60s that celebrates the freaky-ass erotic creations of the early craft movement.  From Feminist needlecrafts to Funk Ceramics phalluses, this book has got it all. Highly recommended.
3. The Scalinatella Hotel in Capri
Surreal, sublime and surprising, the Scalinatella is Heaven Hotel is heaven on earth! Visit the website for a mini vacation.
4. David Hicks
I know, I know, everybody loves David Hicks and his fab geometrics and bold color sense. But what I love the most about David Hicks is his sense of fun. I love how he used to mix old and new and bold and blue and always with a sense of wild abandon and a feel-good energy.  I find his work innately optimistic.
5. Beautiful People
by Simon Doonan
Yes, he's my husband, but Simon's book Beautiful People is my fave book of all time. It's hilarious and moving and gripping and everything a book should be. Every time I finish a book and think it's time to start a new one, I inevitably just pick up Beautiful People and give it another read. It's that good.