Melanie Carlson is the founder of lushpad.com, an online marketplace for used designer and mid-century modern furniture and art, and self admitted design enthusiast. Currently residing in Vancouver in a completely renovated "Vancouver Special", she and partner Jeff Macpherson of Tiki Bar TV look forward to the day they can build their own modernist home.
Today, Melanie's rounding up her five favorite pieces of architecture from around the world. Can you guess what they are before the jump?
1. The Stahl House
The Stahl House is one my Number 1 favorite piece of architecture, and I've visited it many times. The Stahl House, or Case Study House #22, was built in 1959 by Pierre Koenig for the Stahl family and made famous by photographer Julius Schulman.
The house is positioned on the side of an hill which gives it an unobstructed view of Los Angeles -– a particularly gorgeous view in the evening with plum colored sky and the faint orange glow from the city lights.
2. Kaufman House
The Kaufman House was designed by renowned architect Richard Neutra in 1946. I love this house because despite it's harsh angular lines it blends beautifully with the Desert environment. The large pool mirroring the sky and desertscape and feels like it almost folds its surroundings in on itself.
Despite the home being lauded as one of the most significant examples of International Style architecture in North America, the home has gone through many hands and some not-so-well thought-out renovations, however the last owner, and Architectural Historian, painstakingly restored it to its original glory.
3. Curtain Wall House
The same thing that draws me to the clean lines of mid-century modernism is the same thing that draws me to the beautiful simplicity of Japanese design. Architect Shigeru Ban's Curtain Wall House built in Tokyo, Japan is in my mind a ground-breaking piece of architecture. By eliminating outer walls, the house's temperature can be controlled by opening or closing the giant 2-story curtains that wraps the entire building thereby creating natural air conditioning. This is not a new idea by any means – the Japanese have been using shoji screens this way for centuries, but Shigeru's take on it is literally breathtaking.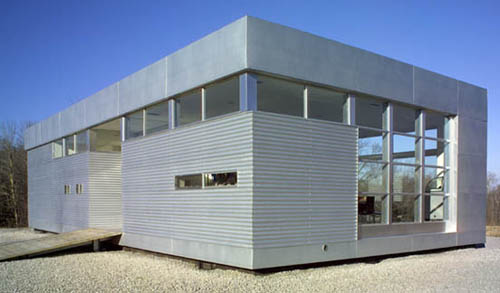 4. LV Series Prefab
Growing up in Scotland, I had a certain idea in my head of what a prefab house looks like. After WWII thousands of tiny bunglalow prefabs went up all over the UK. These were of course looked down upon at the time because of their non-traditional materials and the speed at which they were built. I have to admit that preconception about the humble prefab lingered with me until I saw Rocio Romero's modern take on it. I love the proportions and clean minimalist lines of the LV series. A no-apologies modernist piece of architecture, the rawness of the materials is a pleasing contrast to the natural setting I've always imagined it being placed in.
Romero's prefab celebrates what is so great about modernism – simple, efficient, modular – which is perhaps is why it works so well set with mid-century modern furniture.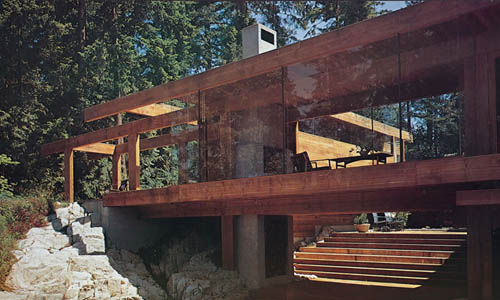 5. Smith House
The Gordon Smith House designed by the late Arthur Erickson is in my opinion one of the most beautiful examples of Canadian West Coast Modernism. Designed in 1964 for artist Gordon Smith, the home makes liberal use of glass and cedar wood with its post and beam style. This is one of the first residential homes said to be greatly influenced by Erickson's trip to Japan.
Yet another example of how modernism can be at one with its environment, and why its my favorite architectural style.