From Dirty Garage to a Modern, Flexible ADU for Guests + Work
From Dirty Garage to a Modern, Flexible ADU for Guests + Work
1/16 Photos
2/16 Photos
3/16 Photos
4/16 Photos
5/16 Photos
6/16 Photos
7/16 Photos
8/16 Photos
9/16 Photos
10/16 Photos
11/16 Photos
12/16 Photos
13/16 Photos
14/16 Photos
15/16 Photos
16/16 Photos
Amid the ever-increasing housing shortages and escalating costs in urban areas, innovative solutions are emerging that not only tackle these challenges but also align with sustainable practices. One such example is the Carlsbad ADU (Accessory Dwelling Unit) Garage Conversion by Modern Granny Flat – a versatile, eco-friendly, and adaptive space that addresses the need for more housing while offering the homeowner many options for the future.
The Carlsbad ADU/Garage Conversion project stands as a testament to innovation in sustainable housing. Rather than demolishing the old garage and building a new structure, this project embraced the existing one. By converting an existing garage into a flexible living space, the project cuts down on resource consumption, minimizes carbon emissions, and defies the cycle of urban sprawl.
The project capitalizes on recent legislative changes in California, pertaining to ADUs or Granny Flats. The state's legislation permits the construction of up to two ADU units on a single-family lot, and encourages homeowners to utilize existing structures creatively.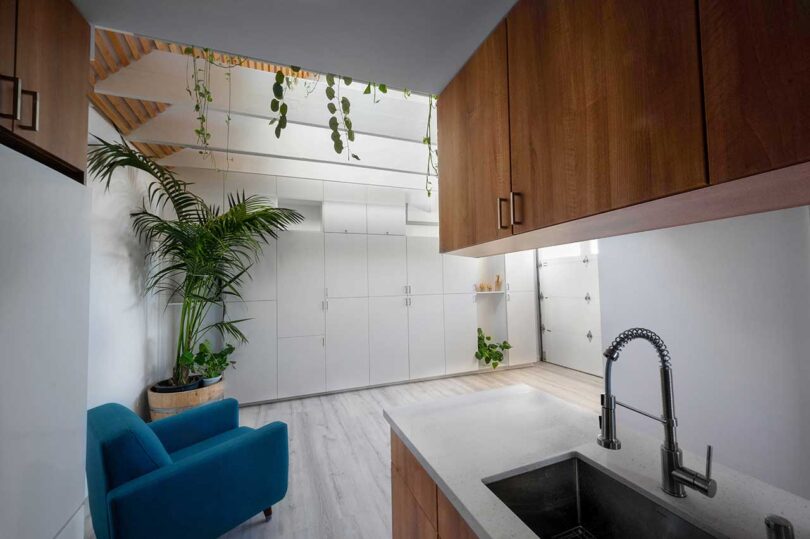 What sets this ADU apart is its adaptability. The space has been designed to morph and evolve with the ever-changing needs of its occupants. With a focus on sustainability and flexibility, the ADU features a multifunctional cabinet wall, a garage door that seamlessly expands the living area, and a mezzanine level for added privacy. This allows the space to shift effortlessly from a bedroom to an office, a dining area, or even a yoga studio – all in a single day. By reimagining the concept of living spaces, the Carlsbad ADU/Garage Conversion aligns with the principle that we do not need larger homes, but smarter ones that can evolve smoothly with our lives.
In addition to storage, the bank of cabinets hides a Murphy bed and folding table/workstation that easily transform the space into whatever is needed at the moment.
The pitched ceiling makes the space feel larger while also allowing for a mezzanine that could work as additional sleeping quarters, a quiet retreat, or even extra storage.
Garage before:
Photography by Rachel Pangi.