Leave it to a group of students to completely reimagine the bicycle! A group of students from TU Delft in the Netherlands spent three months designing and producing the fully functioning Arc Bicycle that's constructed with a 3D printed, stainless steel frame. Their goal was to demonstrate the potential of what could be made by 3D printing metal.
Take a look:
The students worked with Amsterdam-based MX3D to print the frame as part of a research project at the Industrial Design Engineering facility to explore the possibilities of producing medium to large scale metal projects using a welding process. This is the first bicycle that's ever been 3D printed using a welding process and the students encourage other to keep building on what they've started.
Being students living in the Netherlands, printing a bicycle seemed a natural choice, since they were hoping to design a functional object that people would actually use. The bicycle weighs about the same as a typical steel bicycle and rides well on the bumpy cobblestone streets it was tested on in Delft.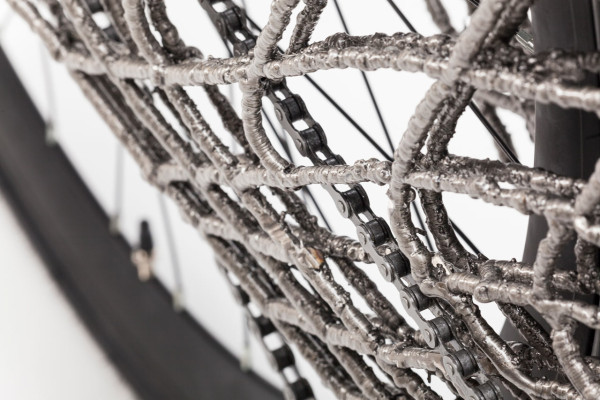 Student Team
Harry Anderson (Industrial Design, RMIT University, Melbourne)
Stef de Groot (Industrial Design Engineering, TU Delft)
Ainoa Areso Rossi (Civil Engineering, TU Delft)
Sjoerd van de Velde (Mechanical Engineering, TU Delft)
Joost Vreeken (Aerospace Engineering, TU Delft)
3D Printing
Filippo Gilardi, Project Manager, MX3D
Jakob Schmidt, Senior Software Engineer, MX3D
Simon Rudolph, Senior Software Engineer, MX3D
The project was coordinated by Dr. Jouke Verlinden, principal scientist of the 3D Building FieldLab & Researcher on Human-Centered Digital Fabrication at the Faculty of Industrial Design Engineering, TU Delft.