The recently completed offices of Istanbul-based eBay – GittiGidiyor were designed by OSO Architecture of Istanbul, Turkey. The company took over 2,000 square meters of office space and turned it into an open, modern environment that looks like a fun place to work.
The office is divided into four functions that include: the entrance & social areas, open offices, conference rooms, and technical and service spaces.
The entry and reception area is what gives the company's first impression to its visitors. Covered in wood on the floor and wood beams on the ceiling that guide visitors to the reception desk located in the back.
Another standout in this space is the black wall with white locations spelled out forming a map. In case you didn't already know you were in the Turkey office, the location is in red instead of white.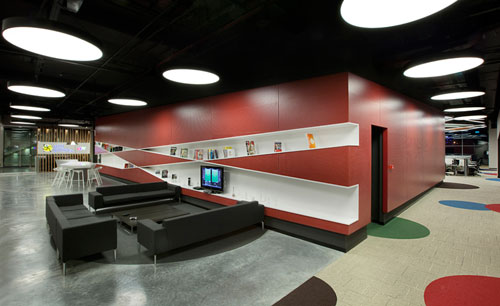 Directly past the reception area is the social space that's used for office gatherings, parties, and play.
Then it's time to get down to business in the open working space, which can have up to 164 people working. To help with the acoustics, a random pattern of colorful panels and lighting was installed in the suspended ceiling.
There are 12 conference rooms decked out with the latest in hi-tech equipment.
Photos by Gürkan Akay.