Worlds collide between California, Japan, and Thailand in the epic convergence that was FUTURE CRAFT Japan + Thailand. This two week field research trip and exhibition brought together students from ArtCenter College of Design in California and Tama Art University in Tokyo, Japan to envision opportunities for design with a social impact on the design community in Northern Thailand.
The purpose of the trip was to think about the intersection of handcraft and digital technology, natural material innovation and traditional Thai craftsmanship. The results of their work was then exhibited at Tama Art University in Tokyo.
The two-week trip allowed students to explore local crafts like weaving, metal, lantern-making, natural fiber & wood craft. The program was driven by new applications of eco-fiber and Lanna craft techniques.
Penny Herscovitch & Dan Gottlieb, Associate Professors, Environmental Design Department at ArtCenter College of Design said of the project:
The Future Craft Thailand studio challenged students to create designs that extend Northern Thai craft traditions to global markets, create value for artisan villages, and innovate with renewable natural materials. The exhibit at Tama Art University Tokyo showcased the Future Craft Thailand furniture, lighting & home goods with a dramatic backdrop of shadow projections of Thai crafts.

Collaboration across cultures is the heart of Future Craft Thailand. Design student teams from ArtCenter College of Design in Pasadena, CA and Tama Art University in Tokyo co-create together with Lanna craftspeople in Northern Thailand, thanks to our partnership with the Lanna Culture & Crafts Association and support from the Thai Ministry of Industry.
Muang Kung Ties
Lori Nishikawa (ArtCenter, Product Design)
Himawari Takaura (Tama, Ceramics)
Creating value for Muang Kung—a Lanna ceramic village—with a collection of 3D tiles that brings their traditional handcraft to contemporary interiors.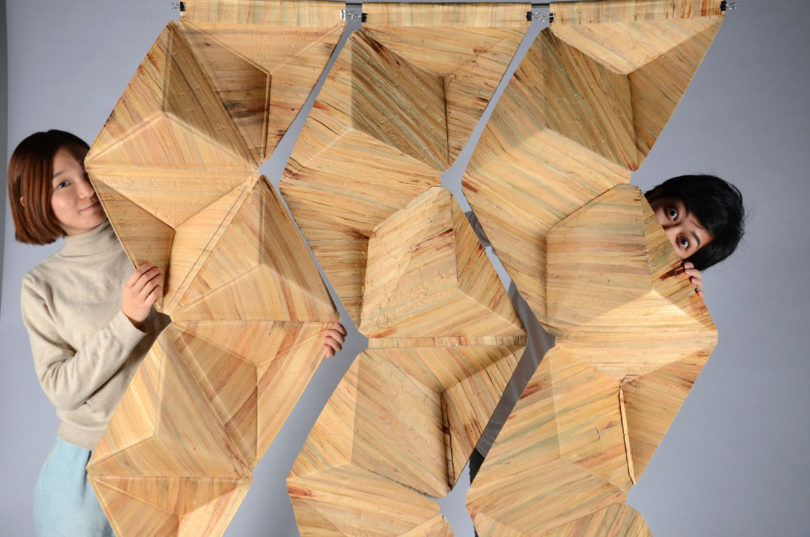 Warmth of Nature by BubuKoko
Busarin Chumnong (ArtCenter, Product Design)
Kou Wenyi Xiang (Tama, Product Design)
The Warmth of Nature project gives new life to water hyacinth−an invasive weed that pollutes Thailand's waterways−to bring warmth into urban life with modular partitions. A highly invasive species, water hyacinth poses a significant ecological, economic, and biological threat to Thailand and tropical regions around the world. Warmth of Nature's material innovations reimagine water hyacinth, taking full advantage of its properties to create a line of products including foldable modular partitions, acoustic panels, wall lighting, and tactile floor mats. Warmth of Nature offers the abundant, renewable resource of water hyacinth as a sustainable alternative to hardwood veneers often used for architectural surfaces and fiberglass or foam used for insulation; it supports the Thai economy by bringing value to an invasive species which is currently burned or discarded; and it provides income to Thai villages who can harvest and create products with this weed.
CloseKnit Lounge Seating
Kairi Nishimura (Tama, Product Design)
Michelle Sugeng (ArtCenter, Environmental Design)
Inspired by Lanna bamboo hat making, CloseKnit lounge seating embraces Thai culture's sense of community. The seat's wire frame provides a structure for artisans to handcraft natural materials, such as woven bamboo or cushions made from water hyacinth or Thai silk.
Open Hand Lighting
Hinako Kawasaki (Tama, Textile Design)
Anna Meddaugh (ArtCenter, Environmental Design)
Elevating banana fiber craft in Phayao, Thailand with elegant handmade lighting, radiating magical warmth while envisioning a sustainable future livelihood. The design team worked with craftswomen from the village of Baan Pa Fang, to preserve their fiber craft traditions, envision new applications for this renewable local resource, and keep the means of production within the hands of the makers.
Re-Generate
Arisa Nakayama (Tama, Media Arts)
Emily Nyburg (ArtCenter, Environmental Design)
Xiaoyi Xie (ArtCenter, Product Design)
Re-Generate envisions a new brand of products to promote the evolution of Lanna craft for the next generation of makers and buyers. Re-Generate's lounge and floor seating is made from hand-woven water hyacinth.
Sum Rap Thai
Brittany Lydster (ArtCenter, Product Design)
Baku Shunwen Mo (Tama, Graduate Woodblock Printmaking)
Sum Rap Thai transforms agricultural byproducts into organic, compostable tableware for considered edible experiences, inspired by Thai foodways. This project aims to positively affect environmental systems, re-imagining new applications for Thai water hyacinth and bio-plastic; providing compostable ship-flat alternatives to disposable tableware; as well as supporting Thai artisans communities.
Woven Stories
Mathew Simon (ArtCenter, Product Design)
Ayuri Tsunoda (Tama, Product Design)
Weaving the storied traditions of Chiang Mai's rich textile culture into playful and contemporary flatpack furniture. A digitally milled plywood frame provides structure for Northern Thai artisans to hand-weave cord into suspension for the seat, and to create unique color and textile cushion patterns.
Motion + Emotion
Rae Chye (ArtCenter, Environmental Design)
Tsubasa Koshide (Tama, Product Design)
Motion + Emotion Lighting translates the motion of traditional Lanna artisans' process into contemporary illumination that evokes emotion and creates mesmerizing experience. The dramatic motion of splitting bamboo and weaving it back together inspires a digitally-designed, hand-woven bamboo wall light that casts interweaving shadow patterns on the wall. A collection of wall and floor lights translates the motion of winding threads. The wall lights use induction to create an intuitive dimming interaction, like a loom's shuttle, allowing people to create shadow patterns and weave color and light together on the wall.
Reflecting Color
Hae Jun Eum (ArtCenter, Environmental Design)
Dan TANAKA (Tama, Product Design)
A warm entering experience for the urban home that translates Thai color symbolism and Lanna hospitality into lighting. Based on Thai astrological color theory, where each day of the week has its own color, the Color Clock projects hues of light to show the color of the day, along with an illuminated hour hand and minute hand. Inspired by the warm Thai welcoming ceremony and Lanna architectural ornaments that emphasize the entrance area and to protect the house, the porcelain wall light is lined with gold leaf to create a warm welcoming glow.
More exhibition images: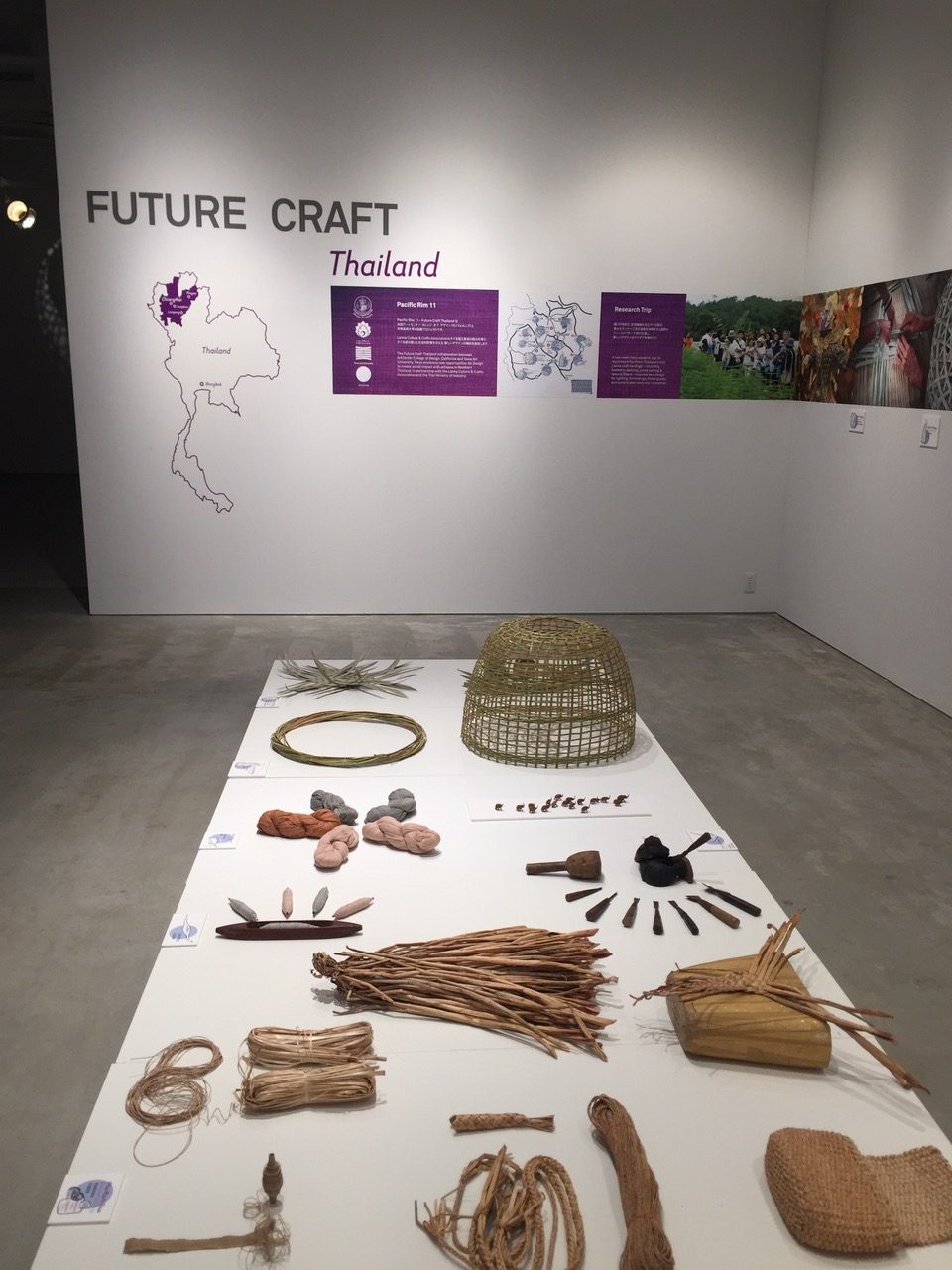 The program faculty were Penny Herscovitch & Dan Gottlieb – Environmental Design (Art Center), Charles Tsunashima and Hayakawa Kazuhiko (Tama Art University in Tokyo). The program leadership was David Mocarski, Chair, Graduate & Undergraduate Environmental Design and Mariana Amatullo, Vice President, Designmatters Department (ArtCenter); Tatsuya Wada, Chair Product Design (Tama).
Students included:
Busarin Chumnong – Product Design
Rae Chye – Environmental Design
Hae Jun Eum – Environmental Design
Brittany Lydster – Product Design
Anna Meddaugh – Environmental Design
Emily Nyburg – Environmental Design
Mathew Simon – Product Design
Michelle Sugeng – Environmental Design
Xiaoyi Xie – Product Design
Lori Nishikawa – Product Design