Back in 1938, Charlotte Perriand worked with Pierre Jeanneret to develop a futuristic mountain shelter called the Refuge Tonneau. Her love of the mountains, plus inspiration from a children's fairground ride that was photographed in Croatia, led to the idea of a space shuttle-like structure with a metal frame and a central pole, much like that of a carousel. After careful research, Cassina created a reproduction based on the drawings, notes, and furnishings that were already produced by Perriand for other projects.
The dodecahedron structure was ahead of its time as decades later, similar structures were used in the Antarctic in 2002 and at the Mars Society Desert Research Station in 2011. The metal framework is made from industrial materials, like aluminum for the panels due to them being lightweight and easy to assemble and disassemble. The shape is meant to not resist the wind and the adjustable piles help bring stability on uneven land.
The interior is made from pinewood giving the space a warm, natural feel that's welcoming to visitors.
Inside, the bottom floor can sleep two with single beds that fold down and on the mezzanine level, there are two double beds and two single beds. Overall, the shelter can sleep eight people!
Perriand thought carefully of the layout and made sure everything had a place in the small residence. The heater fits inside the central steel pillar taking up very room but providing heat for the whole interior. The tiny kitchen has a small area to work and a steel sink where snow from above melts down to provide running water. There's also a shelf for a camping stove and space for food items.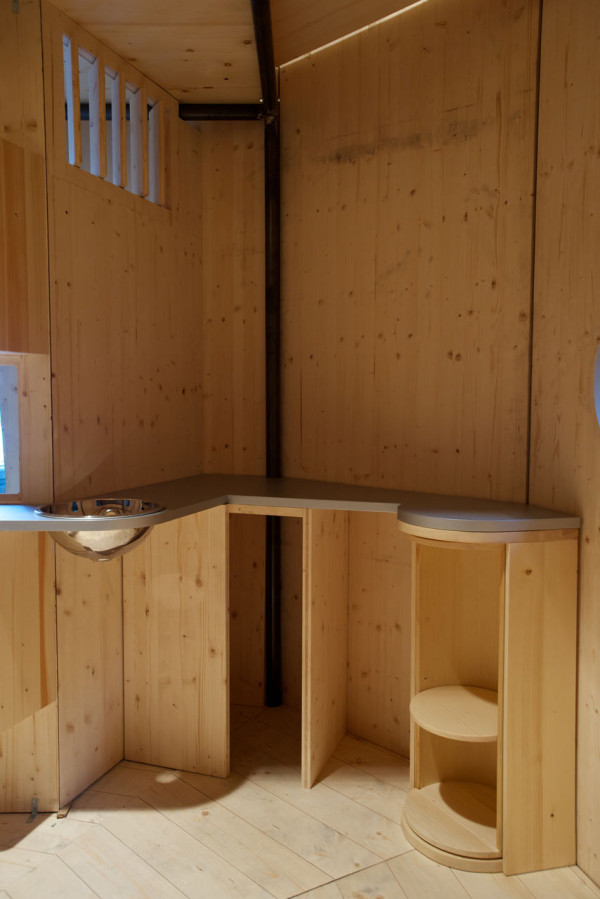 By the front door, there's a rack to hang your skies with a drip tray underneath.
The single beds can be folded away when not in use thanks to a system of leather belts that mimic those on sleeper cars on trains at that time. During the day they can be used as seating.
A ladder leads to the upstairs sleeping quarters.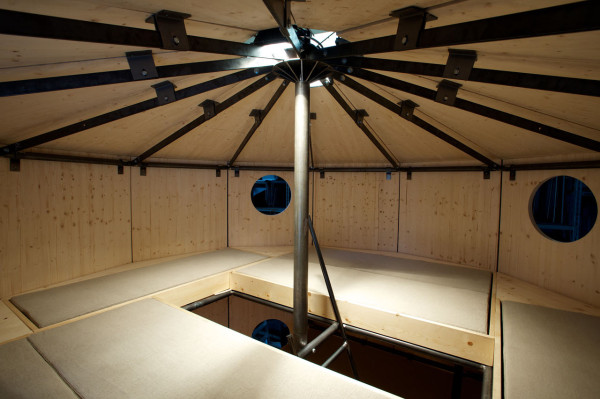 Cassina worked closely with Perriand's daughter, Pernette Perriand-Barsac, her assistant of 20 years to make the reproduction happen.