Even if you love traveling, you probably don't love airport hotels (does anyone ever?). Those words alone conjure up images of beige walls, subpar amenities and stark rooms that lack any warmth. Airport hotels are usually just a blip on the itinerary, a necessary but unwanted stop in order to get to your end destination. Female-founded Finnish interior design studio Fyra wants to change that. At the very least, they want to make your mid-trip stop as comfortable and appealing as your final destination. Fyra recently completed the new interior redesign for the Cumulus Resort Airport Congress Hotel next to the Helsinki Airport that now sets the bar high for all hotel airports.
The basis for Fyra's interiors concept was solution-driven design. "We wanted to put emphasis on details that truly bring additional value to people," says interior architect Emma Keränen. For example, since guests of the hotel don't usually stay very long, Fyra wanted to maximize space since guests most likely won't fully unpack, but also accommodate guests traveling in groups. The solution was built-in wall beds that can be easily pulled out for larger groups and open space shelving that lets you easily unpack and pack.
The hotel also offers a small kitchen on each floor equipped with a microwave oven and a faucet with boiling hot water. For larger luggage that you probably won't need to get into and would take up space in your room, the hotel offers a luggage storage that can secure your belongings with a chain and lock.
Fyra wanted to create a warm, inviting hotel for weary travelers, so they infused the hotel with Finnish and Scandinavian design elements, like natural wood materials, a giant media wall in the lobby showing clips of Finnish nature scenes, and of course, lots of modern furniture to make public spaces more appealing.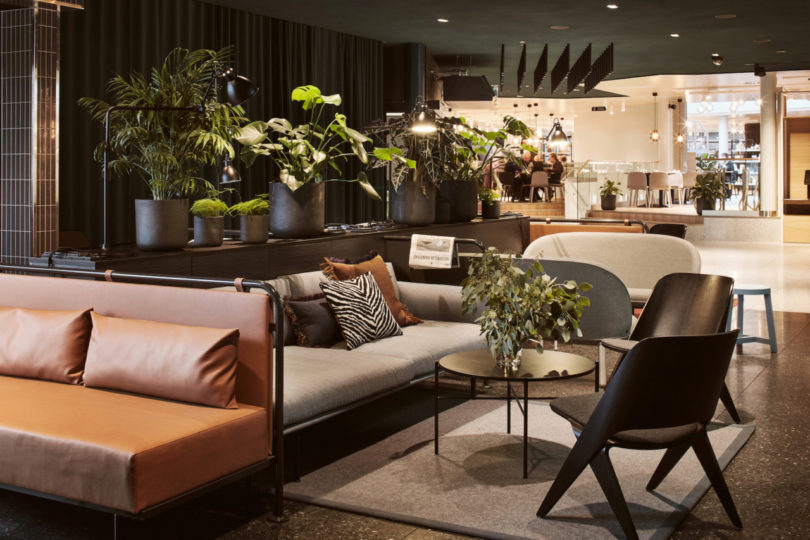 What: Cumulus Resort Airport Congress Hotel
Where: Robert Huberin tie 4, 01510 Vantaa, Finland
How much? Rooms start at approximately $107 per night.
Highlights: Fyra designed the interiors of this hotel to be warm and inviting instead of just a mid-trip pit stop to your final destination.
Design draw: Inspired by Finnish and Scandinavian design, the hotel is full of warm natural wood, Finnish nature scenes and modern furnishings.
Book it: Visit the Cumulus Resort Airport Congress Hotel
Photos by Sampsa Pärnänen.