The last time we caught up with Scotti Sitz, we were visiting her Los Angeles storefront GARDE which has become a renowned mecca for Los Angelenos (including Ellen DeGeneres, Ellen Pompeo and Kelly Wearstler) looking for avant-garde design by contemporary brands and makers. Since then, she has opened a second location with GARDE co-founder John Davidson in idyllic Santa Barbara, California. GARDE Summerland takes place inside a historic, two-story farmhouse from the 1920s that's been restored to its former glory and transformed into a concept store/Airbnb rental hybrid where roaming Silkie chickens and modern design are aplenty.
The first floor is modern backdrop for the curated collection of furniture, lighting, and home accessories, offering works by APPARATUS, Egg Collective, When Objects Work, Heather Rosenman, Workstead, Giopato & Coombes, Emilie Lemardeley, DIM Atelier, KBH Denmark, Gubi, Faye Toogood, Karen Chekerdjian, Arno Declercq, Malgorzata Bany, Editions Milano, Celestino and Chiara Andreatti, cc-tapis, Nika Zupanc, Zanat, and Ben & Aja Blanc.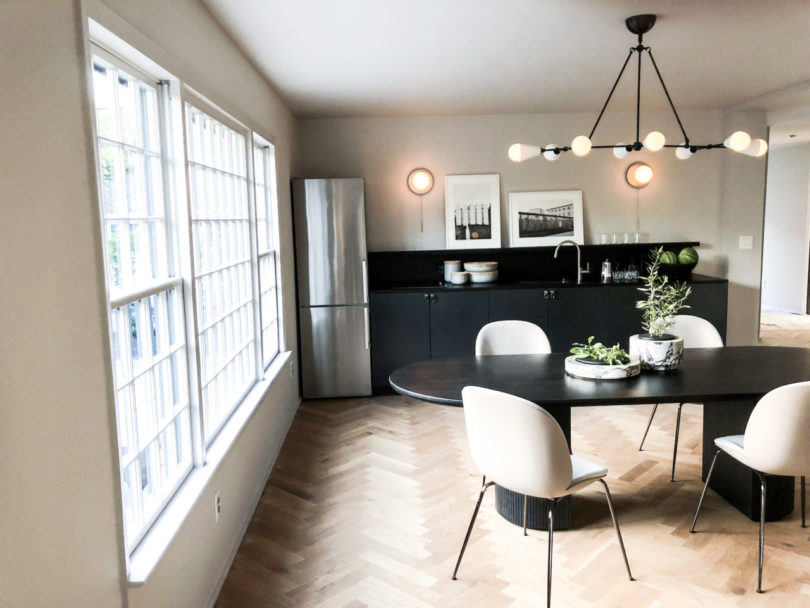 On the second floor, GARDE HOUSE is GARDE's first foray in the hospitality space. Guests can rent out the 1,000-square-foot, one-bedroom apartment which has been tastefully furnished with Anglepoise lighting, a Casper bed frame and mattress, When Objects Work cookware designed by John Pawson, Lefroy Brooks kitchen and bath fixtures, Piet Boon Base dishware, Mad et Len custom scented candle, and a GARDE HOUSE sofa (all of which are shoppable, of course).
We caught up with Scotti Sitz to find out more about GARDE's coastal outpost in Southern California's wine country.
Why did you pick this storefront?
After exploring many other options (cities), I knew that I wanted something different and special, not a development or anything planned. I also wanted something with architectural interest and a place I knew my husband and I would be happy going to everyday. Summerland represented all of this, although it was purely by accident that a timely visit evolved into a lease on this space.
Where did you get the name for the store?
GARDE came about after our original shop name was taken by someone with deep pockets and big plans to open many retail shops (although I don't think they are still around). We went back to the drawing board and just started playing with names. We liked the definition of Avant-garde, and engarde as it defined something new, and a stance or preparedness. It eventually all fit, and became GARDE.
Has it changed much since it opened? How?
GARDE has evolved and changed as we grew (by demand) into more "home", and less personal. When we first opened we were defined as a concept shop, with an emphasis on gifts. We are now 90% home (although I personally must of wrapped a half dozen gifts today), with our biggest growth in lighting and furniture. We still continue to represent many designers and artists for objects, and that has expanded as well.
What's one of the challenges you have with the business?
The website continues to be a challenge as it is a whole other business demanding non stop attention. I never envisioned the challenges, many of which are technical. With a strong retail and customer service background, I wasn't prepared for the maintenance of the web business.
What other stores have you worked in before opening this one?
My background was mostly on the wholesale side of luxury brands as a liaison with retailers such as Neiman Marcus, Saks Fifth Avenue and Barneys New York.
What's your favorite item in the store right now?
I'm very excited about the new collection of ceramics we just received from Dimore Studio produced by the Italian company Bitossi. They are absolutely stunning, and true to Dimore Studio, different and original especially in their use of colors.
What is this season's inspiration?
I love the combination of a traditional mood translated into a clean and modern space. For me, it isn't so much about trying to be eclectic, but rather to incorporate a wonderful combination of complementary designs, then a layer of your own personality. In our vacation rental apartment, I mixed the original 12 pane windows (built in 1921) with classic white oak herringbone floors, but then chose to create an all black kitchenette, and an all white bathroom. The colors are neutral, but with black accents mixed with soft greys and beiges, it become more classic, even with new design. Linens are a soft white which will change with the season, giving a cozier feel for the fall and winter.
Are you carrying any new products and/or undiscovered gems you're particularly excited about?
We are actually representing a couple of new designers and artists. The launch of Mandy Graham's first furniture collection was a wonderful discovery, and the artist Shahla Friberg's mirror and glass sculptures are stunning. We have also been working with Vladimir Slavov of Dim Atelier who created our custom outdoor sconces for the shop.
What's been a consistent best seller?
For objects, Michael Verheyden continues to be our shining star. Apparatus is always first in lighting, and I can't have enough of Vincent Van Duysen's functional ceramic pots and bowls.
Does the store have its own line?
We just introduced our first collection of GARDE Basics consisting of a washed linen slipcovered sofa.
Any special events/exhibits/pop ups/collaborations coming up?
As we are still a lifestyle and concept shop at our core, we are hosting a trunk show the 17/18 of August for the new apparel collection by Keehn Deutch.
Do you have anything from the store in your own home?
I did finally start to bring in pieces from GARDE for my home last year when we moved. I now have a coveted rug by Faye Toogood (by CC- Tapis), along with her Roly Poly charcoal lounge chair. I also have two limited edition Avifauna Birds from Thomas Eyck, and of course linens and towels.
What's next for you and your store?
Juggling two shops is a big job. We will continue to find new and relevant collections to complete our curation for GARDE, as well as continue to teach and introduce new artists and designers to our customers. My next challenge is gardening and learning about how to care for the four Silkie chickens on Summerland property.
What's one lesson you've learned since opening your store?
Stay true to yourself (in terms of design and curation). Whenever I veer off course, the shop loses its message. I can't be all things to all people, I need to be me.
If you could give one piece of advice to someone who wants to follow a similar path to yours, what would it be?
I hope you're young, be prepared and organized. Your success will come from hard work and diligence, no way to avoid it, the journey is up hill, and you may never get to the top, but the challenges are what keep you motivated and interesting. You never want to hear, "bore me".
Visit GARDE Summerland at 2280 Lillie Avenue, Summerland, CA 93067.

Design From Around The Web