Gawthorne's Hut Is An Off-Grid Cabin in Mudgee With an Angular Roof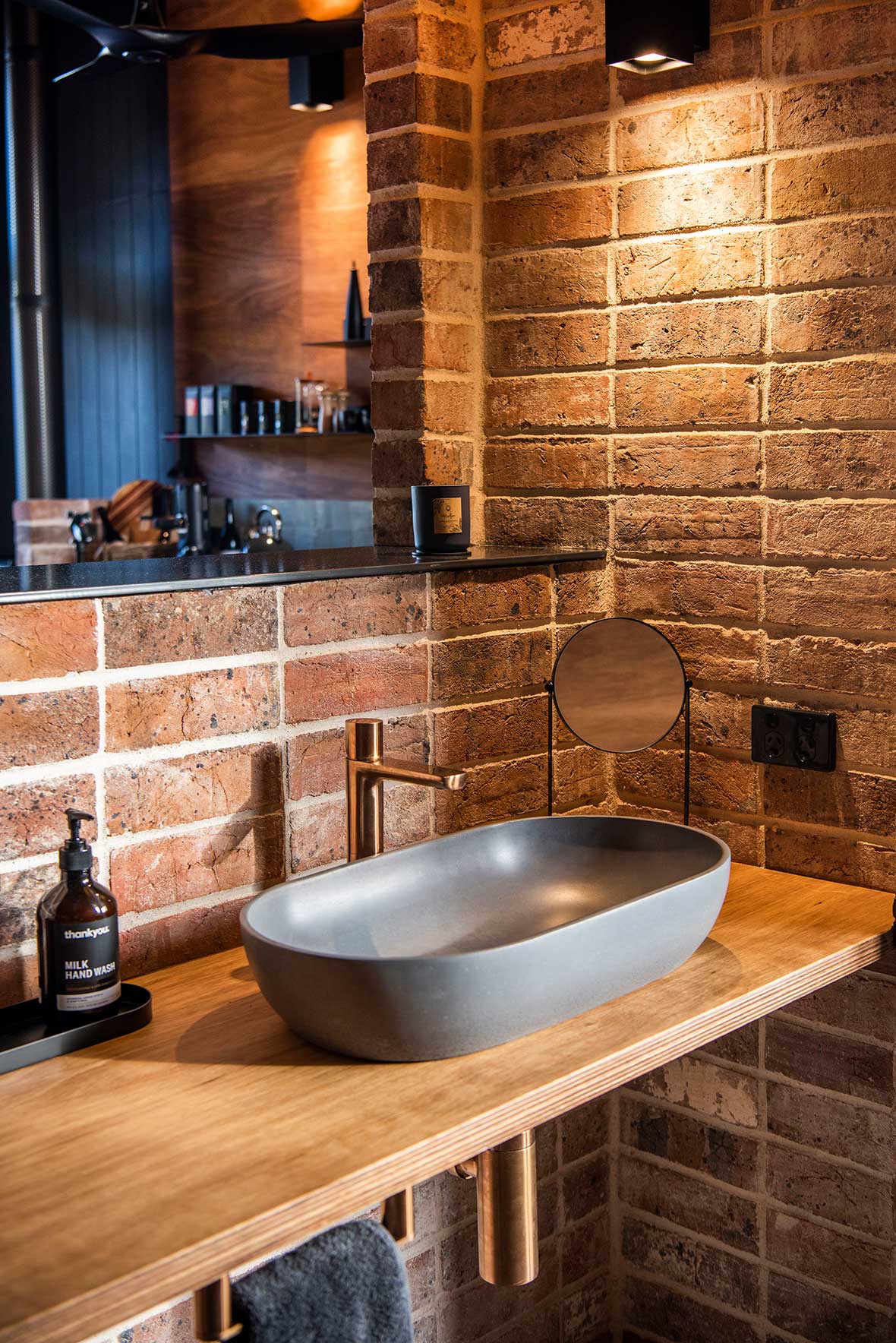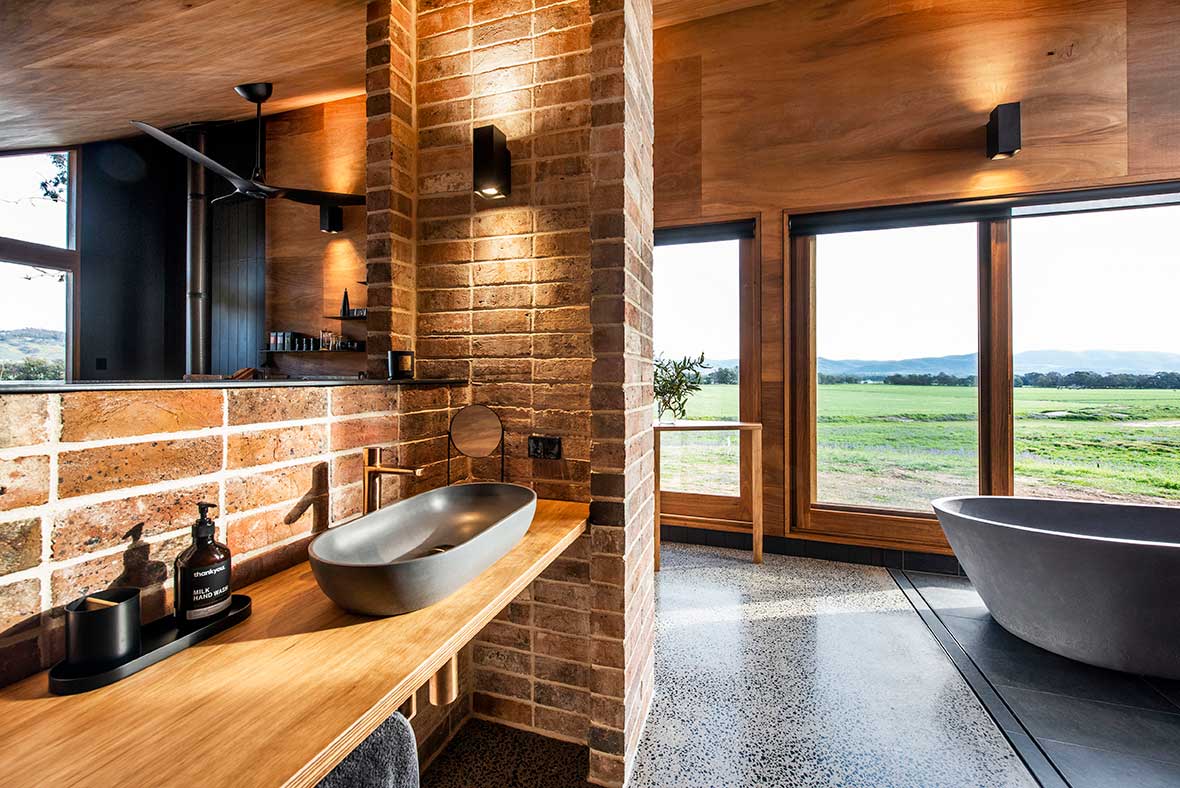 Gawthorne's Hut Is An Off-Grid Cabin in Mudgee With an Angular Roof
1/20 Photos
2/20 Photos
3/20 Photos
4/20 Photos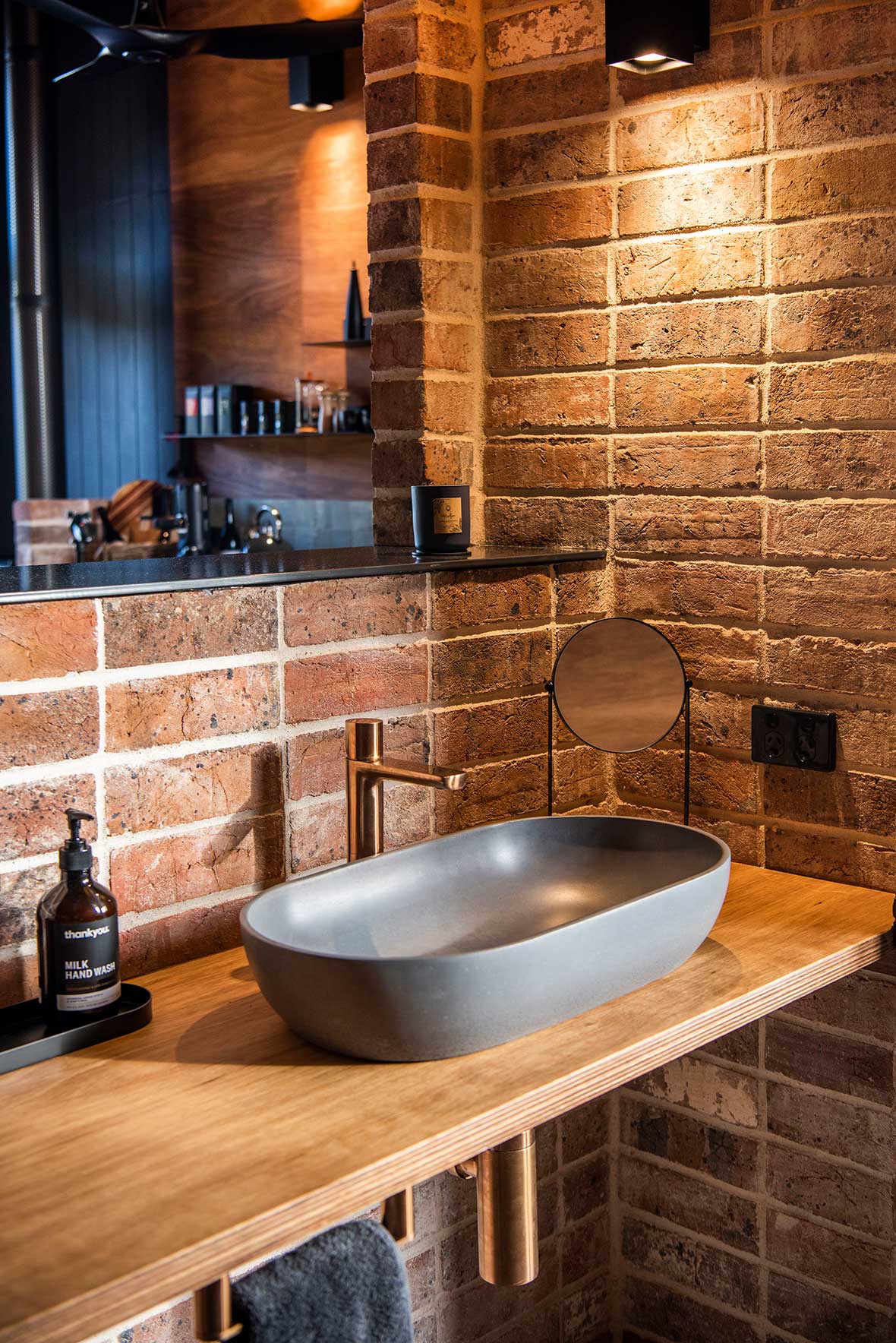 5/20 Photos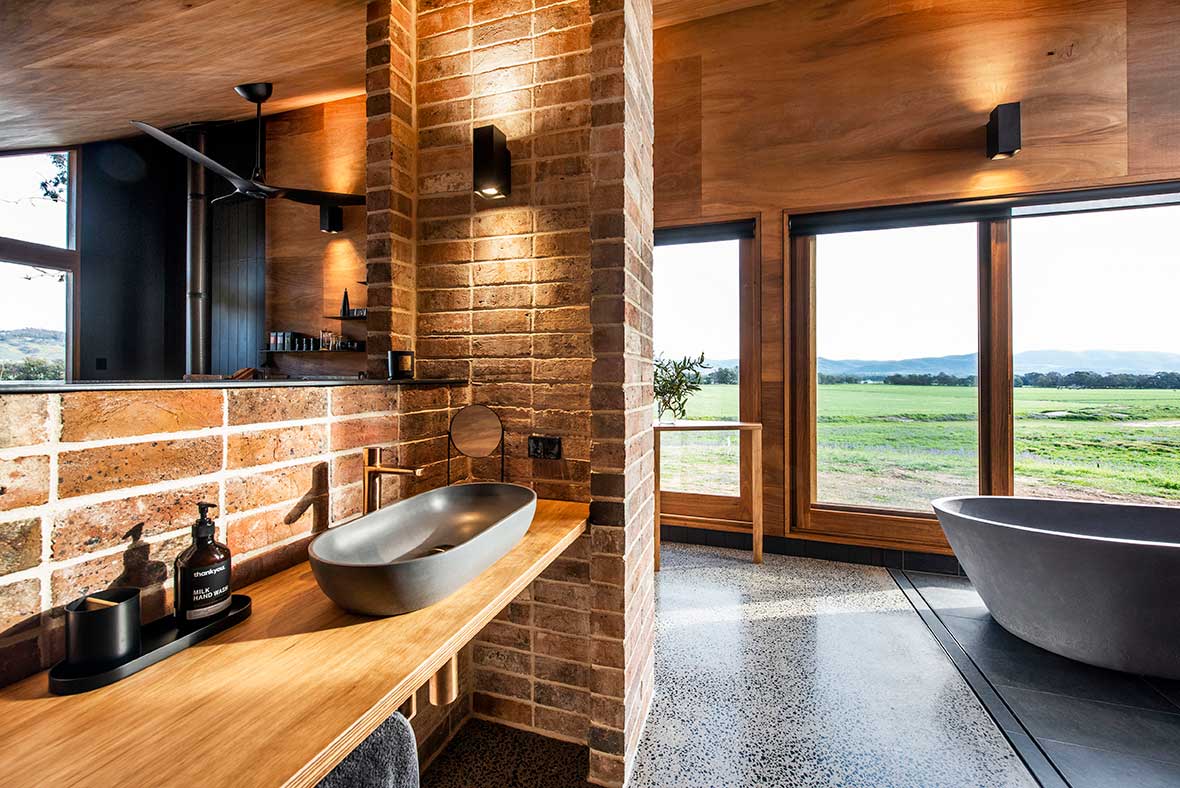 6/20 Photos
7/20 Photos
8/20 Photos
9/20 Photos
10/20 Photos
11/20 Photos
12/20 Photos
13/20 Photos
14/20 Photos
15/20 Photos
16/20 Photos
17/20 Photos
18/20 Photos
19/20 Photos
20/20 Photos
Cameron Anderson Architects designed a unique off-grid cabin just outside of Mudgee, NSW, Australia, with plans for it to be used as a vacation rental. Gawthorne's Hut features a striking angled roof with an interior clad in wood, making for a cozy stay. Spanning approximately 430 square feet, the hut is designed with an open floor plan making the most of every inch.
The slanted, galvanized metal roof houses solar panels, while a large western side door hides storage, solar batteries and inverter, electrical board, and a gas water unit. In addition to the 6.6kw off grid solar system and 12kw battery storage, the hut incorporates other sustainability features, including 40,000 liters of rain water storage, double glazed windows and doors, concrete slab and brick for thermal mass, reused brick, gas hot water, low water use bath fixtures, and passive solar shading.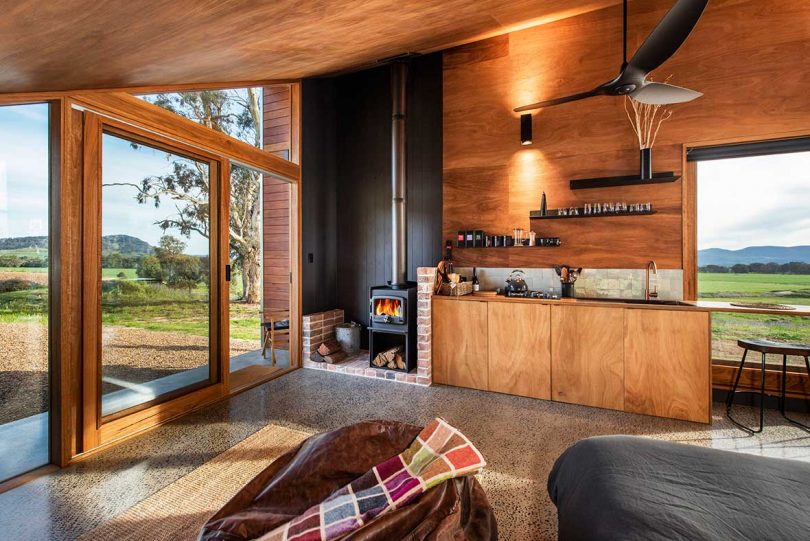 Inside, the ceiling, walls, and window frames are made from Australian blackbutt wood with warm tones that contrast the polished concrete floor and galvanized roof.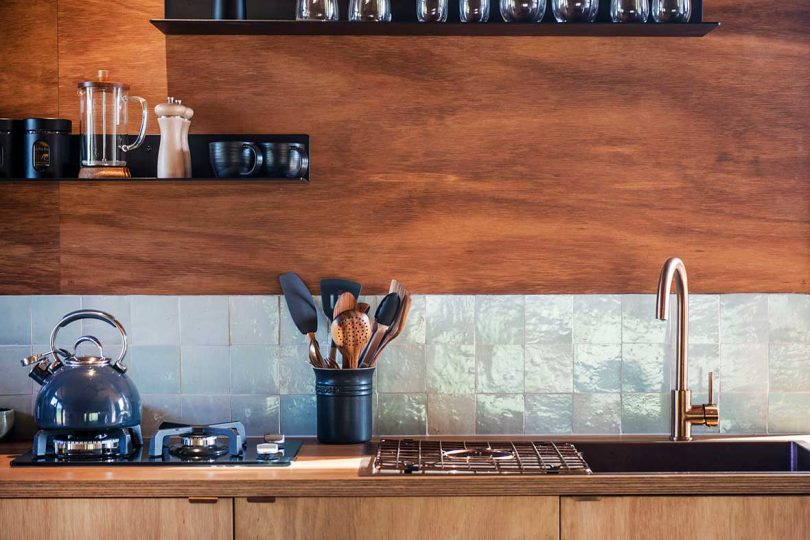 A kitchenette runs along the main wall with minimalist black metal shelves and copper accents. Opposite the kitchen is the bed which faces the end wall of glass framing views of the valley to the east.
The bed backs up to a partial brick wall which offers separation from the bathroom.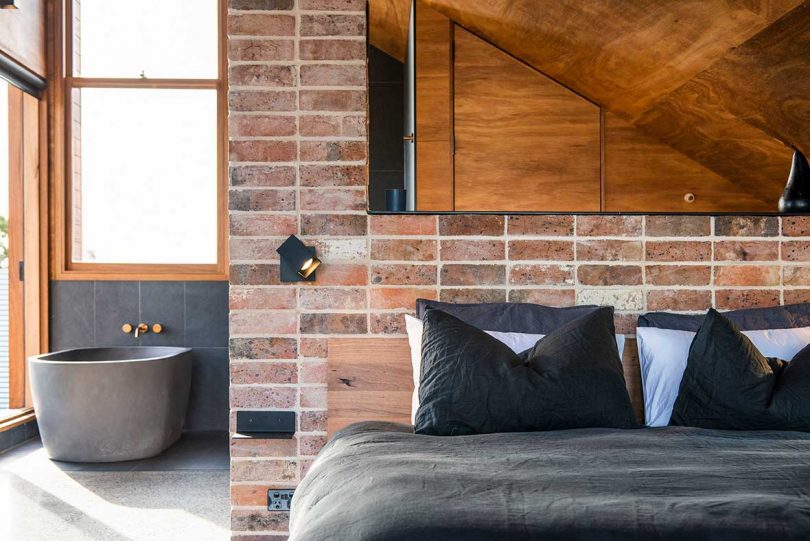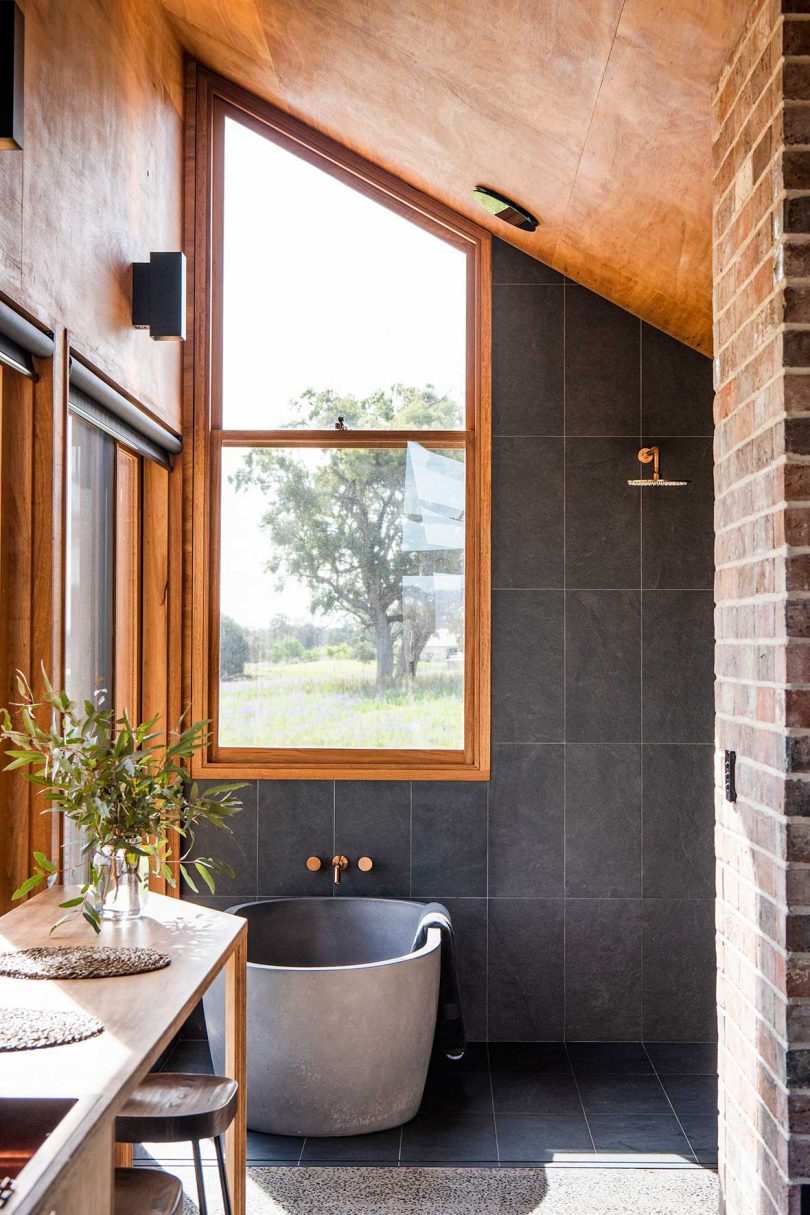 The spacious bathroom includes both a shower and bathtub with large windows that overlook the countryside.
Wish you could run away and escape to the Gawthorne's Hut? You can as it's available to rent via Airbnb here!
Photos by Amber Hooper.