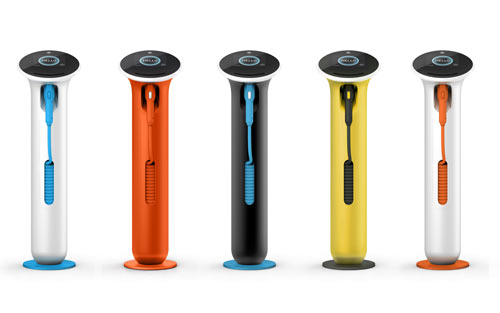 fuseproject, the communication and design studio founded by Yves Béhar, has designed the Wattstation, an electric vehicle (EV) charging station for GE. The Wattstation is an easy-to-use EV charging station that's basically plug-n-play. The design comes in the wake of the terrible oil spill in the hopes that the consumer-friendly design will encourage the adoption of electric vehicles. Certainly one of the main concerns of those of use considering buying an EV is where do we charge? The Wattstation might just be the answer.
This new charging station claims to significantly decreases time needed for vehicle charging and, with the use of smart grid technology, allows utility companies to manage the impact of electric vehicles on the local and regional grids. On average the WattStation decreases EV charging time from 12-18 hours to as little as 4-8 hours compared to standard charging, assuming a 24 kWh battery and a full-cycle charge.
The prototype GE WattStation will be available in the late this year in the US and Europe. Commercial and residential WattStations will be available in 2011 in markets in the US, Europe, and Asia, and can be purchased through a number of distributions channels.
Among its standards and features:
UL Certified
Charger and vehicle communication in accordance with NEC 625
Cord connection in accordance with SAE J1772
Indoor and outdoor enclosures
Wall and pedestal mount
Commerce and card reader capability
User authentication
Network communications
Revenue grade metering with AMI communications
LED lights and display
Level 2 (208-240 VAC) charging capability
Watch Yves talk about the design: