13&9 Design is an offshoot of architect Martin Lesjak's INNOCAD, and along with fashion designer Anastasia Su, they launched in 2013 following a collaboration where they redesigned an historic building in Graz, Austria and we discovered them at 2014's WantedDesign. The label designs everything from furniture, lighting, and apparel, but it's their Geometric Collection accessories that really make our jaws drop and our wallets want to open. Their innovative use of materials and unconventional shapes will probably have you whipping out your credit card faster than it takes you to read the rest of this post.
First up is the Geometric Collection jewelry. Consisting of bracelets and rings for women and rings for men, the bold, geometric designs are made from Corian®. Each of the pieces was inspired by nature – stone for its permanence and the honeycomb for its modular functionality.
The shapes of those natural elements are the basis of the collection, which are the ellipse and the hexagon. Each unique design has an understated elegance about it with a downplayed complexity, making them completely wearable for everyday.
The jewelry combines modern CNC technology with traditional craftsmanship, as each piece is finished by hand. The line is manufactured by Günter in St. Margarethen, Austria.
The jewelry and bags are available for purchase at Stillfried Wien in NYC.
The Geometric Collection Bags merge architecture with fashion by utilizing geometric principles and CAD to design each of the pieces, which include messenger bags and handbags. The leather bags begin as hexagonal shapes that when zipped up form a half hexagon. Unzipped, they lie flat.
Each bag is made by skilled manufacturers, Onur and Veysat, from Istanbul, Turkey, who finish them by hand.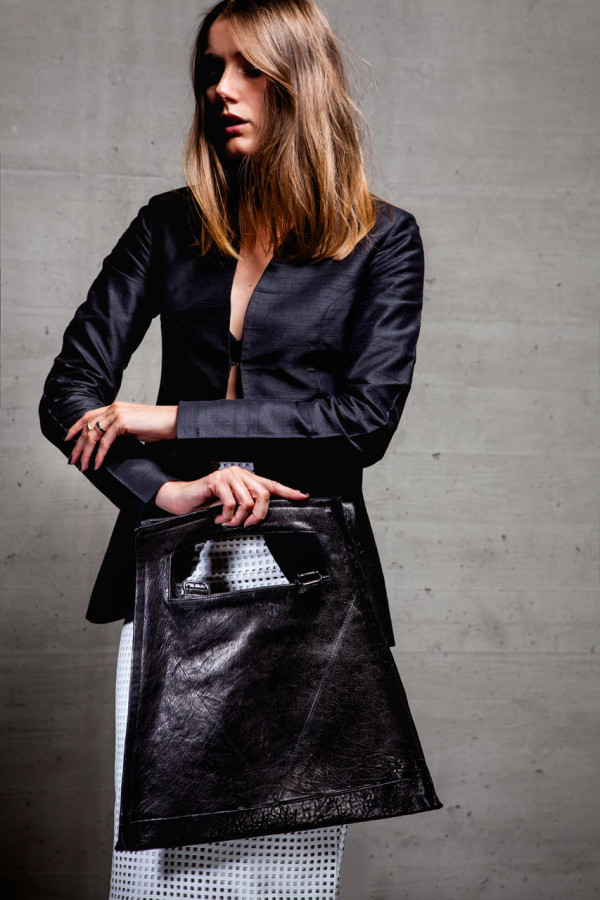 Above photos by Markus Mansi.
And last, but not least, are the Geometric Collection "Diamond Shades", a limited edition sunglasses collection for Robert La Roche, which was inspired by architecture. Each pair is constructed with geometric precision strictly using converging lines to result in their faceted frames.
Sunglasses photos by Gerald Liebminger.