German Play Maker Stapelstein Makes Its Official US Debut
German Play Maker Stapelstein Makes Its Official US Debut
1/20 Photos
2/20 Photos
3/20 Photos
4/20 Photos
5/20 Photos
6/20 Photos
7/20 Photos
8/20 Photos
9/20 Photos
10/20 Photos
11/20 Photos
12/20 Photos
13/20 Photos
14/20 Photos
15/20 Photos
16/20 Photos
17/20 Photos
18/20 Photos
19/20 Photos
20/20 Photos
Toys that capture kids' attention with their whizzing noises and flashing lights are a dime a dozen. Toys that excite a child's eye, pique their curiosity, and encourage creative play are much harder to find. That search is now a little easier with the official debut of Stapelstein in the United States. The Germany-based play brand was founded in 2016 by designers Stephan Schenk and Hannah König who saw a void in the market for toy products that bettered a child's physical, emotional, and mental health through the power of play. Coupled with the fact that there is a lack of activity amongst children, Schenk and König sought out to solve the problem with a colorful and ingenious product line.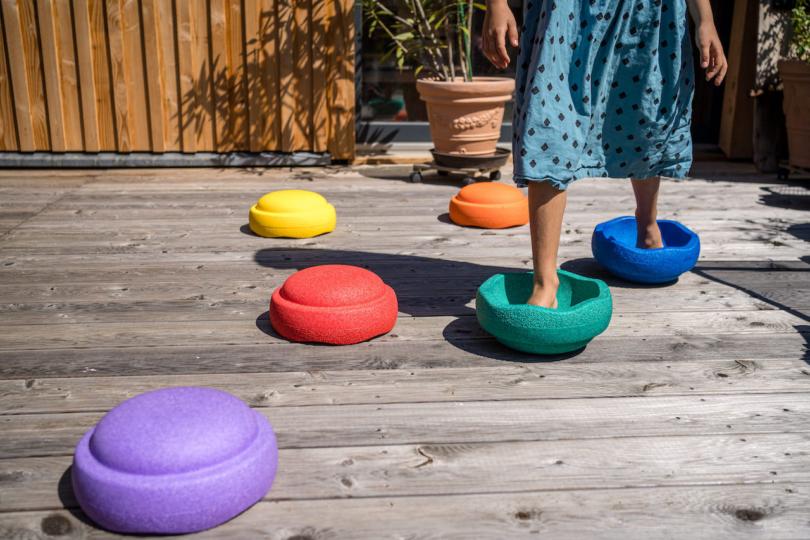 Stapelstein, which translates into "stacking stones," is composed of Originals (stacking elements) and the Board (a balance board that doubles as a base for stacking). Manufactured in Germany using climate-neutral production methods, the pieces are made from eco-friendly EPP (expanded polypropylene) foam in an innovative process that uses pure air and water vapor. The result is a "stone" that's light enough for even the littlest hands and remarkably strong that even a full grown adult can stand on it. They're food-grade, odorless, toxic-free, and entirely recyclable. Since its launch, Stapelstein has garnered several awards, including the spiel gut® seal, a renowned award for children's toys in Germany presented by the German Committee for Children's Play and Toys, and the certification of being "Besonders entwicklungsfördernd" (particularly development-promoting) by the Federal Association for Posture and Physical Activity Promotion. Not many toys can check off such an impressive list.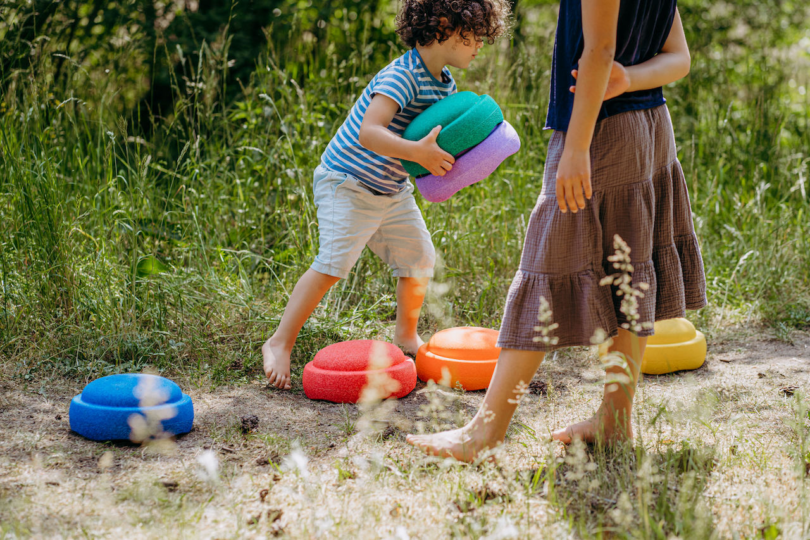 The only question left is, do kids actually like them? We gave Stapelstein a spin and the results were highly satisfying, for both parents and children. Stapelstein granted us over an hour of free play without rules or directions and the pieces took on multiple forms: a crib for their dolls, a bowl, a mushroom hat, a rock, a chair, stepping stones, a balance board, a surf board, an element in an obstacle course, and a booster seat to sit at the right height at picnic tables. Endless imaginative play was had, validating Schenk and König's well-placed value in open-ended, active play as a practice.
Stapelstein is available for pre-orders now.