Paint it! It's eco and eco: Eco-nomical  and eco-friendly.
Yes we knew Spring was going to come around sooner or later, as it does every year ;-)
However, many of us have actually waited for solid proof that the sunshine was here to stay. Suddenly, we're in panic mode looking at an unkempt, sad outdoor space that could otherwise be a fabulous stay-cation option!
The glitch in such a scenario may be the realization that one has not budgeted any work. At this point, it seems like the only way out of the rut is rushing to IKEA to buy a few decor elements like new throws and cushions to update the look.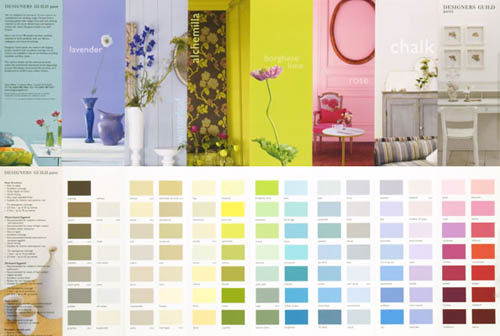 However, even on a tiny budget, you can make a truly uplifting change with a simple gallon of exterior paint. The variety of outdoor paints has exploded and so have the color options. It's worth researching, as you can go far beyond the colors you are used to seeing outside. For example, you can go zingy with outdoor variations of the indoor stunning palette of paint by designer brands such as Designer's Guild.
The best brands have invested in making paint toxicity virtually nil. Volatile Organic Compounds (VOCs) in everyday household products are harmful to your health and the environment, so eco-finishes have been formulated to ensure they contain low or minimal, or — as classified by the US Environmental Protection Agency — "zero VOC" levels.
Once you have pot and brush in hand you can go for a painted wall.
You could even paint your furniture to match the wall and play on the color schemes, or just use the same color in your accessories.
Or, if you have the extravagance of Carolinda Tolstoy go for dashing wall flower power:

Photos: Studio G
Another option is to create an art-like installation that will run you through a couple of seasons…

Photo: French Garden designers Regis Juvigny
Voila! I hope you will explore the amazing new colors available and design something very personal for your outdoor space.

Design From Around The Web