As a rule of thumb, a traditional garden is made with 80% plants and 20% hardscaping and accessories. Modern gardens have the opposite ratios, which means that they still have at least some plant growing happening within them! It was only a matter of time to see rustic "gardening" accessories revamped by the new generation. Here are a few novelties which also make great gift ideas.
Re-Leaf rain collectors by Teracrea. With water being such an issue, this clever device really brings home the message that every drop matters! Inspiring and useful…
Tutrix by design duo Hetzel and David for az&mut is a modular plant growing aid inspired by frosted/frozen gardens with plants caught in time. It is available in three colors and comes with a set of clip-on pieces to attach the plant to the element without harming it.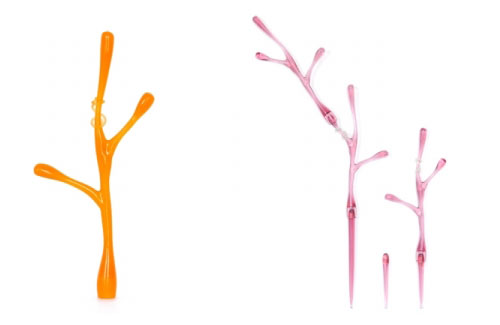 This planter with clever pop-up element was designed by Arik Levy. It is available in grey and orange, and I think you will agree, it works well even without a plant. It also matches that trellis I talked about last week.