To the design-conscious patio owners, outdoor showers have become rather commonplace and a bit limited. Designers have seen the opportunity and rising demand for more complete options for true outdoor bathing and scrubbing up!
The natural evolution was for them to take the idea of outdoor bathing a step further and truly mimic indoor bathrooms. To get going, I thought I would share two ways to play the trend.
The all-in-one wash station
Designed by Belgian brand Living in Style, the Shower TOTEM FO2000 has it all. To my knowledge it is the only true alternative to any indoor set up. It can be equipped with sink, mirror, towel holder, sink and shower accessories holder, iroko wood anti-slip footboard and footstall.
The tub
And, as the world is divided in two camps: the shower addict and the bath lovers, it is only fair to provide a few options to the latter:
The Sundeck Bath by Duravit is an in/out bath tub designed by the EOOS group of designers. Made with luxurious real wood paneling, Sundeck can be sealed thanks to an ingenious cover designed to keep the bath water warm. When folded, the cover serves as a comfortable headrest. Opened out, it's a relaxing lounger — a true sun deck.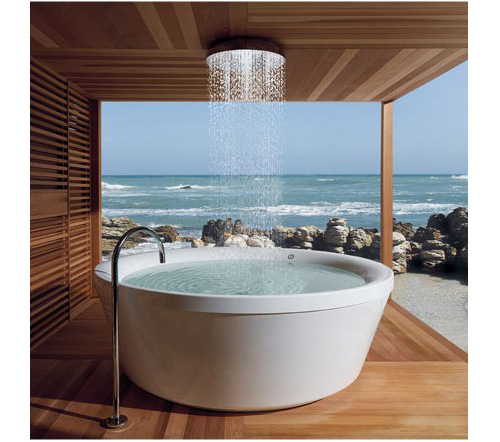 The Geo 180 by KOS Italia is another outdoor option that just screams luxury. There is a regular tub filler as well as a rain-like stream from above.
If you are in the market for a more playful and extravagant tub design, check out the fiberglass Dutchtub. Granted, its use may be more occasional because of the volume of water required and the need to use wood to heat it, but its charm and possible use for parties make it a real winner.
If a more ecological and economical design is your preference, be inspired by Paulina Wojciechowska, a  qualified architect and active promoter of sustainable living who creates earth-made homes.  I love her earth tub — a great option if the other options are a bit out of touch!