Outdoor lighting is no longer a functional necessity to help you find your way to the front door. With the outdoor design revolution, these lights also become mood tools. The first designs to appear on the market were about surprising shapes (globes, cones, stars, waves, and fake stones) and colors (funky blues, pinks and greens). However, if they were fulfilling the same function, the designs were clearly not those you would find inside. This is no longer the case. The floor lamp has become the new sophisticated must-have decorative item.
Here a just a few options to look out for.
The classic floor lamp with a base:
Grande Costanza Open Air by Luceplan
Amax Floor Lamp by FontanaArte
The portable floor lamp:
The high performance solar floor lamp: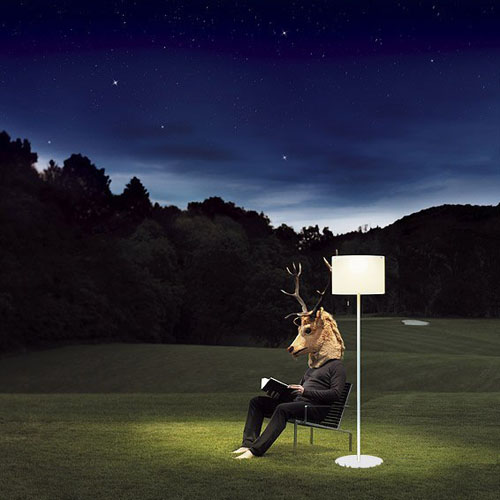 The first generation of solar lights are too often very weak and not powerful enough to be true replacements or alternatives. It is not surprising that one of the outdoor design leading brands, Viteo, would take on the challenge to change this. Their Zoe lamp is powered by solar energy. The lamp will provide about five hours of light once fully charged (after about 15-16 hours of sunlight). The energy is stored in rechargeable batteries located in the lamp-shade. New in 2009 is an additional connector in the lamp shade, which enables you to charge Zoe by electricity and to use it also indoors.
These are just a few options and I hope they encourage you to have the patience to do some research and find the best option to suit your space.