I discovered Fringe Studio at this year's Dwell on Design and I'm so glad I stopped to take a closer look. They were one of my best in show picks, but on top of that, they won Dwell on Design's Best Furniture award. There's something special about this Bay Area design duo that you should be taking note of. I caught up with the husband-and-wife team of George Bennett and Stacy Binns to chat a little more about their design studio and philosophy:
What started your interest in designing and building furniture and how long have you been at it?
Stacy took a class in furniture design while in architecture school at CCA. As part of his architecture work, George has been detailing custom cabinets for over 20 years. He also built furniture to fit in some of the smaller apartments he lived in. Both of us have always been willing to design anything, not just buildings, and furniture is an obvious area to draw our attention. When we started Fringe Studio over 6 years ago, we quickly found ourselves designing and building custom furniture for our clients, because the right pieces either did not exist, or they were from too far away and would take too long to get. When others saw the results, they encouraged us to do more. In the past few years, we have created over 50 custom pieces for clients. Furniture happens quicker than architecture, but can be just as rigorous from a design perspective. We find it very rewarding.
What made you want to design a piece of furniture wrapped in pattern?
As a painter, Stacy has always loved gorgeous color combinations. Fornasetti, who finished cabinets and other items in beautifully rendered Italian cityscapes, is also a big influence. We are also always looking for ways to do things differently. A friend of ours has a printing business, so we were aware that the materials that we work with could be printed on. We experimented with photographs on drawer fronts with very fun results, but this time Stacy wanted to wrap the whole cabinet in an image. In order for it to wrap around the corners each way, yet still have the image align on every edge, we realized a pattern would work better. We found one that we liked, but had no idea how complicated it would be transforming it into a three-dimensional wrap. Once we started, though, we had to see it through. We knew we were doing something special.
What's it like working as a husband-and-wife team? What are the challenges? Benefits?
For us, it's a given. We work as a family, shifting responsibilities as needed to get things done. Our strong points are different, so being aware of those and using them well is important to create a strong team. The challenges are that we are all we've got. We have to work super hard to move forward and when we take risks, we share them. We have to avoid blaming one half of the team when problems arise. When things go well, credit has to go where it is due, too. The benefits are immeasurable. We enjoy being together and we get to do that a lot. It's also great to work on projects that we both have a passion for. We understand (most of the time!) where we are and what the next steps need to be. Working together, we come up with solutions that neither of us would have thought of on our own.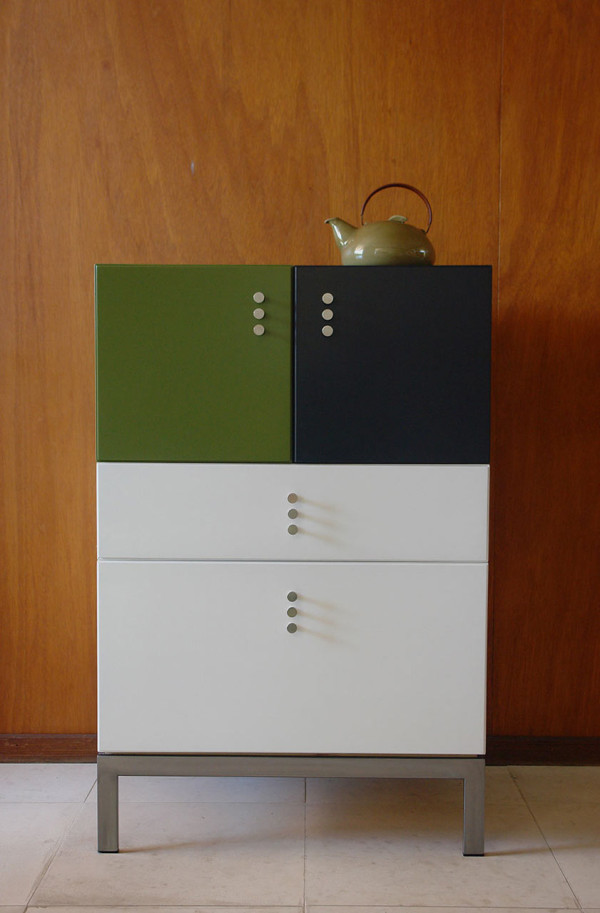 Why is it important to you to use sustainable materials?
George is the son of an environmental scientist and visited his first solar-heated house as a child in the 1970's. He has known about human effects on the environment and sustainable building practices since long before the word Green was anything other than a color. We also see how crowded the planet is becoming and how destructive climate change is and will be. We happen to be in a position where can make choices. We choose not to use toxic materials. We choose to minimize how much transportation is behind our goods. We choose to make pieces that will be kept a long time, rather than thrown away. Why wouldn't we? We think it's critical to use materials that are healthy for our customers in the environments they inhabit. We think it's critical to have as little negative and as much positive impact on the planet as we can. Our part may be small, but if everyone acts similarly, the cumulative effect will make a difference.
Your pieces are very colorful – where does this sense of adventure come from?
Stacy really loves the science of color and its effect on people and their environments. For some time now we have seen the direction of furniture as being quiet. She felt that it was time to give people the choice to either go for it with color or stay zen with their pieces. We both like to give our designs a warm feeling, avoiding being sterile, and color is one way to do that. Adding color to Mixi combinations for customers has led to some really exciting pieces that we may not have thought of, and that is really thrilling. People responded really well to our lush color combinations we put together specifically for the Dwell on Design show in LA. Mixi's color line was designed specifically for modern and eclectic environments.
What are you most inspired by?
A short answer would be problems and solutions. Those are the essence of the creative process. That said, we look at design and nature and the world around us all the time. We love seeing beautiful design, whether it is from the mid-century modern masters or our contemporaries. It's always wonderful to see something done really well. We also love to travel. Whether we are seeing great design we are not familiar with, or a great environment that's different, be it natural or urban, we will usually come away with new ideas.