The Action Method? In essence, it's the process of breaking down a project into three primary components: action steps (specific tasks; "do this"), reference (notes, sketches, research, links), and things on the backburner ("for later, but worth keeping"). It's a creative procedural and organizational system designed to navigate brainstorm sessions into executable tasks – the equivalent of wrangling a chaotic ant swarm into a focused line.
The system has been around since 2006, developed internally by design promotional, consulting, and online portfolio site, Behance and grew out externally to be shared online and in printed form. Once developed into a full fledged online tool, but recently shuttered, the Action Method lives on in perhaps its still superior pen-to-paper format using pre-printed Action Pads to organize brainstorming sessions. Each Action Book motivates users to:
Capture Action steps, relentlessly. During a brainstorm/meeting or on the run, ideas can come and go unless they are captured as action steps.
Tend to your Backburner. Keep a "Backburner" to catch ideas that may someday become actions. Whether it is an idea for the future or some small errand you want to remember, put it in the backburner and then forget about it.
Think beyond lines and boxes. The dot matrix on the front and back of each page serves as a subtle guide for your notations and sketches.
Preparation and Focus Items. Plan for meetings beforehand and be sure to address your focus items.
Behance recently announced it found itself a spiritual creative partner in record label and art company, Ghostly, adding a refreshed and apparition branded Action Book and Dot Gridded Book amongst several other Action Method notebooks.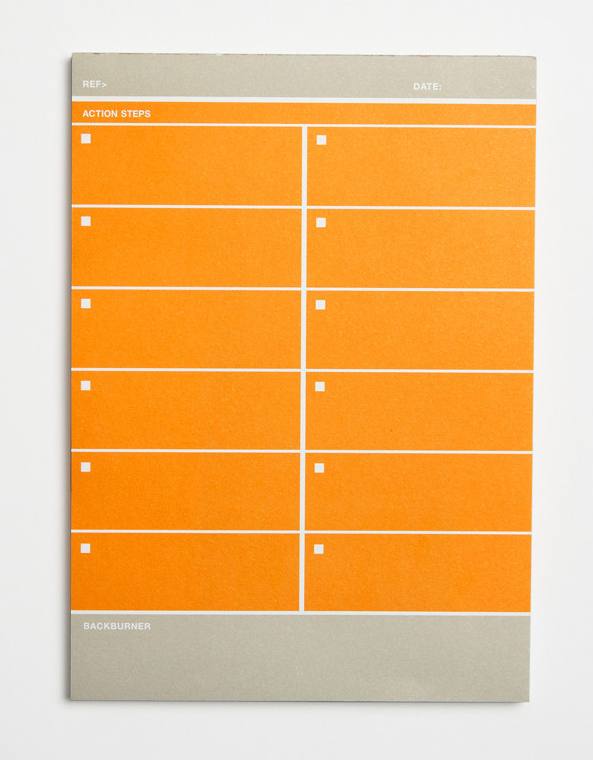 "Brainstorming from our apartments during the hours outside our day jobs, we used our personal Action Pads to capture and complete countless action steps that ultimately pushed Behance from vision to reality."
As a designer/writer who has been dabbling in using other actionable daily/weekly planners using free online templates to good success, I'm excited about using something a little more self-contained and aesthetically executed beyond the binder clipped collections of paper that can quickly accumulate while keeping tabs on projects throughout the weeks, months, and year.
These new printed Action Method notebooks will especially appeal to those who believe writing or drawing something down helps memory retention when compared to typing or copying and pasting resources.