Giant Coats + Abstracted Echos: The Sculpture of Jacqueline Kiyomi Gork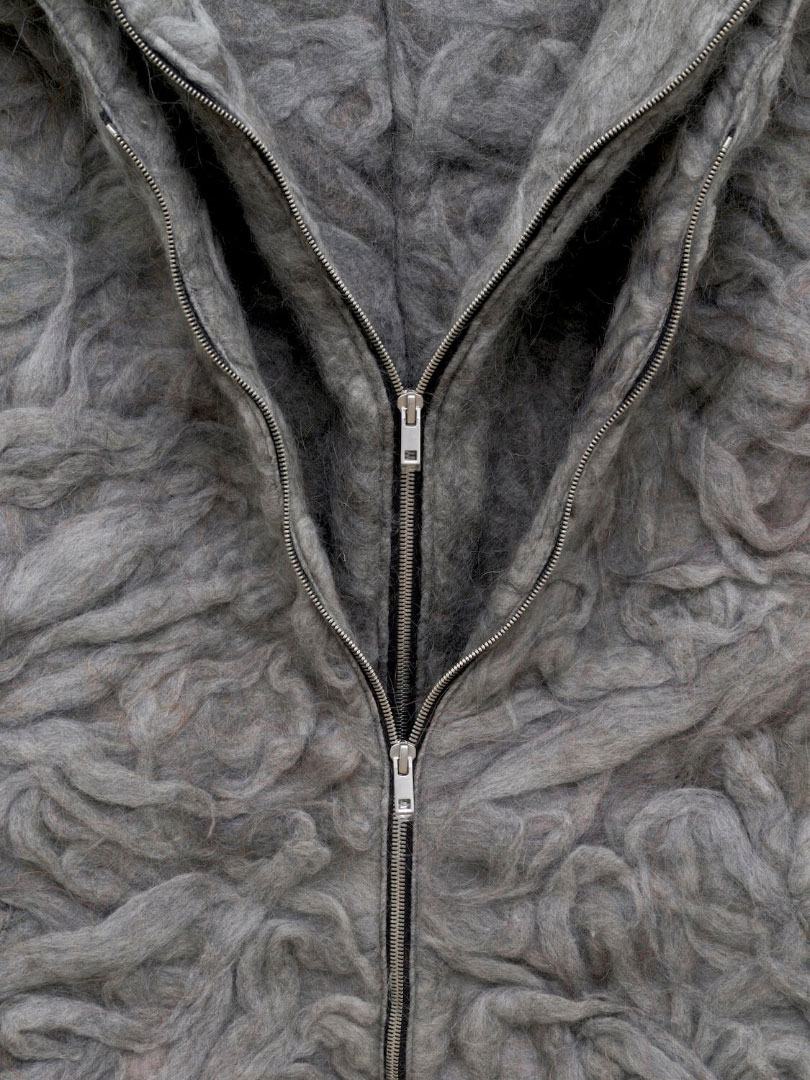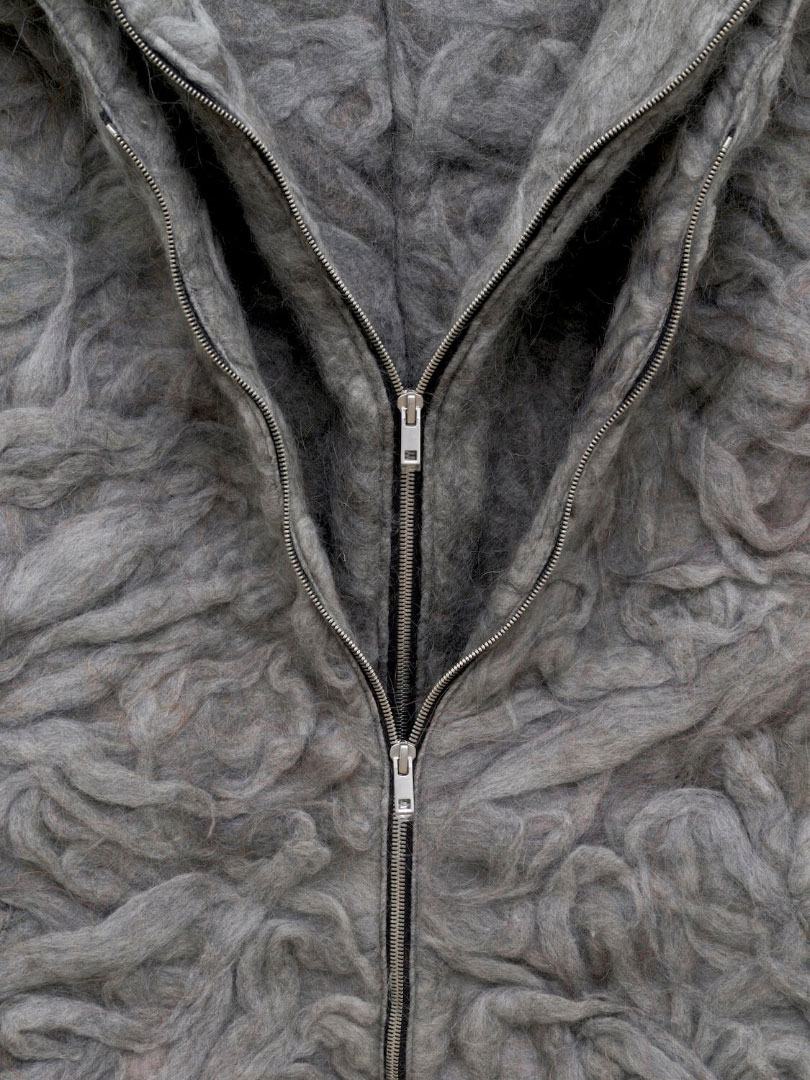 Giant Coats + Abstracted Echos: The Sculpture of Jacqueline Kiyomi Gork
1/13 Photos
2/13 Photos
3/13 Photos
4/13 Photos
5/13 Photos
6/13 Photos
7/13 Photos
8/13 Photos
9/13 Photos
10/13 Photos
11/13 Photos
12/13 Photos
13/13 Photos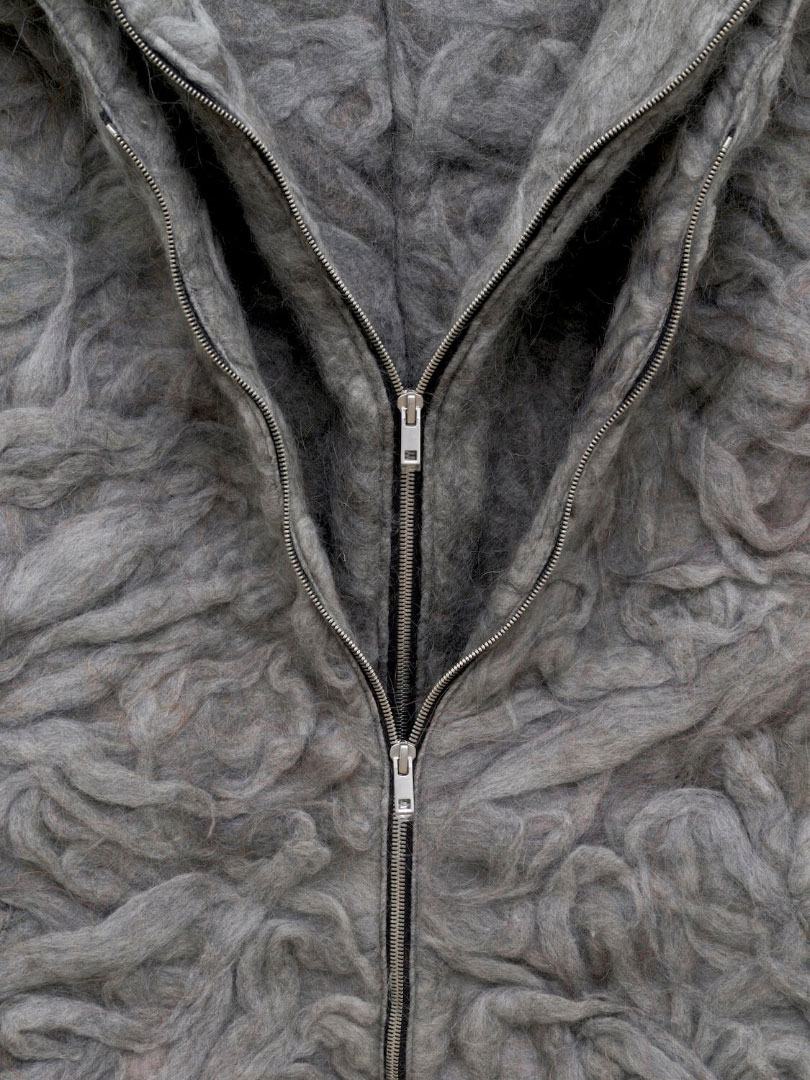 Great sculpture has the magical potential to deconstruct and reconfigure common object relationships to allow us to re-see our daily experience with a fresh new fascination. A new exhibition by artist Jacqueline Kiyomi Gork at François Ghebaly Gallery in New York offers multiple layers of surprises, including a strange swirl of sound that is produced by your own footsteps in real time. Solutions to Common Noise Problems is on view through March 5th.
François Ghebaly Gallery is a hidden gem of a gallery (find the welcoming entrance near the back of a wine shop). On view now is Jacqueline Kiyomi Gork's Solutions to Common Noise Problems which contains several giant-sized "coats" made from hand-felted wool, human hair, and synthetic hair with amazing surfaces recalling storm clouds on various planets. The sculptures are part of Kiyomi Gork's "Sound Blanket" series, which hints at the second major element in the room: sound.
The ceiling holds multiple microphones and speakers that capture, process, and broadcast sounds of viewers in real time. But it's not exactly what you'd expect. The artist has calibrated the software to remove frequencies of speech and music, often leaving only the shuffle of feet (or my raised hand snapping) that are abstracted into strange unexpected echos that swirl throughout the room.
In other words, the coat-resembling "sound blankets" are invisibly interacting with the sound to dampen or alter its path. It's worth noting that the position and placement of the coats are highly intentional. So as I walked through the space to create a reasonable level of noise (with frequent stops to admire the surprisingly beautiful felt) I began to consider a deeper meaning – perhaps a larger anxiety or political/societal "noise" and a desire for the symbolic comfort of a warm oversized coat.
Jacqueline's investigation of sound, material, and meaning is highly intelligent while also providing a visual treat of craftsmanship. It's beautiful to witness.
Dive deeper and meet the artist in this 3-minute interview and studio visit that includes Jacqueline in the process of felting and their thoughts about the power of sound.
What: Jacqueline Kiyomi Gork: Solutions to Common Noise Problems
Where: François Ghebaly Gallery, 391 Grand Street, New York, NY
When: January 29 – March 5, 2022
Images courtesy the artist & François Ghebaly Gallery.