Gingko's Smart Vase Light Beautifully Offers Double Duty
Gingko's Smart Vase Light Beautifully Offers Double Duty
1/9 Photos
2/9 Photos
3/9 Photos
4/9 Photos
5/9 Photos
6/9 Photos
7/9 Photos
8/9 Photos
9/9 Photos
When designers double up on designs they can oftentimes have a result that just doesn't work. Then there are cases like Gingko's Smart Vase Light that come together to form a clever idea, in this case a beautiful lamp with a hidden vase. The two-for-one design saves space on any table where light is needed, while the vase adds an unexpected detail. Change the flowers up regularly for a new aesthetic, with or without the light on.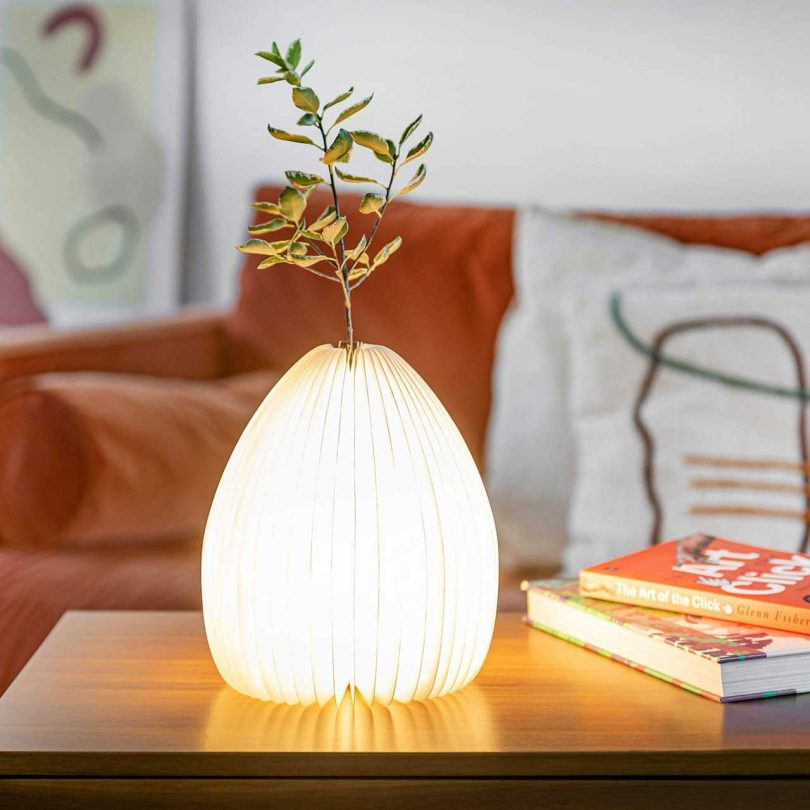 Using heat-safe, waterproof Tyvek paper, the lamp emits a warm ambient glow through its accordion-like folds. Inside, a heat- and water-safe tube hides allowing you the option to fill it with your favorite stems. Use it as a modern lamp when you don't have flowers, as just a vase, or both for a dramatic design statement.
It operates with a 3W LED light source producing 6-10 hours of battery life before it needs a recharge.
When not in use the lamp folds up like a book, and when you're ready to bring it out, unfold the lamp around until the magnets meet. It comes in both Walnut and Bamboo.
>>> To purchase the Smart Vase Light, visit the Design Milk Shop! <<<