You may remember Fabrica for their innovative designs that we've featured before. They're back with their new limited edition glass collection that they created for Secondome gallery. The collection debuted at Salone del Mobile 2012 and it's quite impressive.
"Flood" is a set of two house-like vases designed by David Raffoul. Meant to reflect houses flooded and damaged by storms and from that, a flower grew through its chimney.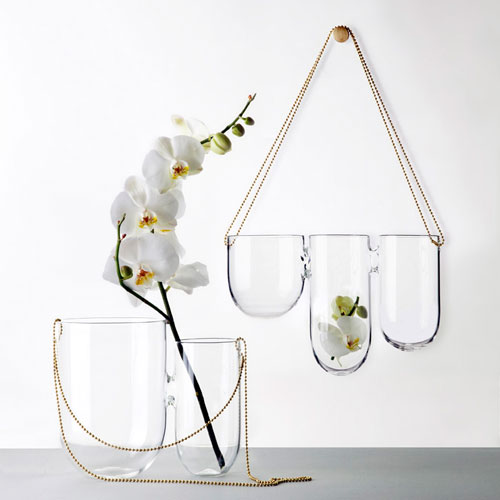 "Necklaces" is a set of two or three connected vases that hang from a chain by Catarina Carreiras. Can be hung on a wall to hold flowers or if you feel so inclined, it can be used like a necklace to take a flower for a walk.
"Triangoli" is a vase by Mariana Fernandes that plays with perspective by using geometric shapes.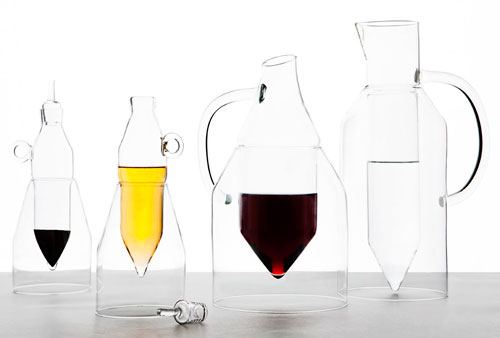 "Uplifting" is a set of carafes by Dean Brown that were inspired by the ritual of drinking with others and how that lifts one's spirits. The liquids appear to be suspended in air as if they are also celebrating.
"Uccia Ina", designed by Valentina Carretta, are carafes that were inspired by traditional coffee pots and oil containers.
"Vasone" is a three-part vase by Giorgia Zanellato, in which the center part has a sandblasted finish to show diverse texture.
"Vessel" is a vase designed by Kirsty Minns that was inspired by 19th century scientific instruments. It also features an attached smaller vase and candleholder in which the liquid balances out to the same level in all three volumes.
Photos by Serena Eller.

Design From Around The Web