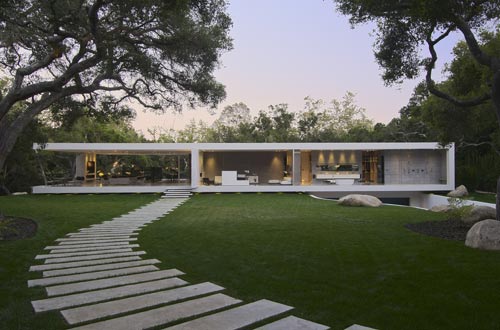 Steve Hermann is best known in the Los Angeles area as a high-end architectural designer and developer, having created some spectacular homes in the Beverly Hills area for celebrities, entertainment executives and other wealthy, design-savvy clients.
His newest project is called The Glass Pavilion, a modern structure that makes a nod to Philip Johnson. Located on a 3.5-acre estate of oak groves in Montecito, this 14,000-square foot home is almost made entirely of glass. The expanse of land and trees offers ample privacy despite the barely existent walls. The idea is to unite the homeowners and their cars with nature. Check out that garage with a view! And, did you see that the overhead lighting in the hallway reflects onto the floor like a highway — nice detail.
Photos courtesy of Steve Hermann Design.